Apple accused of stealing dual-camera technology used in latest iPhones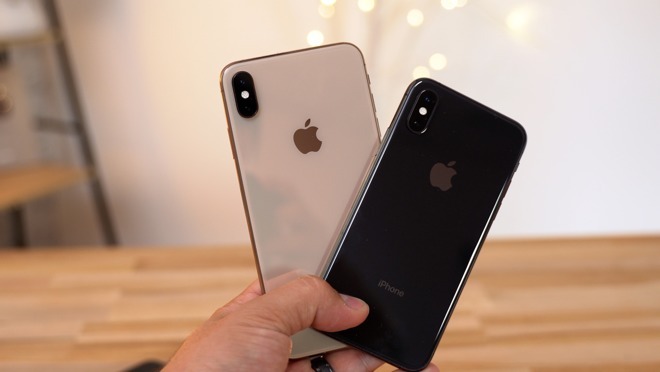 Israeli-based camera technology firm Corephotonics is back with a massive lawsuit claiming Apple knowingly used patented dual-camera technology in iPhone, then attempted to cover its tracks with largely similar intellectual property filings.
Lodged with the U.S. District Court for the Northern District of California, Corephotonics' suit claims infringement of ten separate patents covering methods of deploying dual-camera systems in handheld devices, as well as technology related to the advanced imaging hardware. Apple's iPhone 7 Plus, iPhone 8 Plus, iPhone X, iPhone XS and iPhone XS Max, along with accompanying imaging features, are named as accused products.
Included in the claims are Corephotonics IP U.S. Patent Nos. 9,661,233, 10,230,898, 10,288,840, 10,317,647, 10,324,277, 10,330,897, 10,225,479, 10,015,408, 10,356,332 and 10,326,942.
Technology covered ranges from dual-camera setups with dynamic switching between lenses to methods of conducting zoom operations using two sensors. A number of filings also detail miniature telephoto lens arrays similar to those used in Apple's iPhone products.
Echoing two prior lawsuits filed in California court, Corephotonics says the company was set up in 2012 with the goal of developing next-generation smartphone camera technology. Founded by imaging industry veterans, the company's employees were led by Dr. David Mendlovic, a Professor at Tel Aviv University and former Chief Scientist of the Israeli Ministry of Science.
According to the filing, a founding member of the company in 2012 reached out to former colleague Graham Townsend, then Senior Director of Camera Hardware at Apple, in hopes of establishing a partnership. In May, Apple signaled interest in Corephotonics' dual-aperture solution, with Townsend and other engineers ultimately visiting the firm's headquarters in Tel Aviv to discuss technical details in June. Also presented was a design layout for a five-element telephoto lens, technology Apple had yet to deploy in an iPhone product.
Townsend left the meeting with a USB drive containing presentation materials, as well as pending patent applications and patent plans, according to the filing.
Apple later sent a larger team of engineers to Tel Aviv to discuss the dual-camera array in more detail. Corephotonics also sent personnel to Apple facilities in California on multiple occasions through late 2014, where they presented simulations and technical demonstrations to Apple's hardware and software teams.
Apple was granted access to Corephotonics test boards, lens modules and simulation files, and in 2014 attempted to secretly procure samples of a prototype telephoto lens module from the firm's manufacturing contractor. Upon learning about Apple's actions, Corephotonics provided the parts on its own volition. Apple was also furnished with "black box" simulation files for lens designs, a software simulator and access to system prototypes.
Following what appeared to be positive reactions from high-level Apple staff, the two companies met to discuss a potential business agreement in July 2014.
Negotiations were halted in August 2014, though technical discussions continued engineering teams for a few weeks. Apple was incommunicado until 2016, when Mendlovic reached out to a "high level hardware executive" offering to discuss collaboration on future projects. The unnamed executive said he was "looking into it" and referred Mendlovic to a system engineer.
Meetings resumed, with Apple said to have expressed interest in formalizing a business agreement in August 2016. A month later the tech giant introduced iPhone 7 Plus, the first of its handsets to feature a dual-camera array. Corephotonics examined the smartphone and deemed the camera technology to be in infringement of its patents.
By October 2016, negotiations had again cooled and two subsequent meetings relating to potential licensing agreements bore no fruit. Corephotonics met with members of Apple's camera team in 2017, but it was clear that the iPhone maker was not interested in striking a deal.
Corephotonics leveled its first infringement suit against Apple in November 2017, claiming iPhone 7 Plus and iPhone 8 Plus relied on patented camera and zoom technology. A second lawsuit in April 2018 targeted iPhone X. Both cases are administratively stayed pending inter partes review of the leveraged patents.
In the suit filed today, Corephotonics alleges Apple was "well aware" of the Israeli firm's patents and associated technology as it sought to file its own patents covering similar camera solutions. Evaluation of certain dual camera patents filed by Apple yield reference to Corephotonics IP as prior art. The two previous lawsuits note Apple in some cases duplicates exact specifications from Corephotonics filings.
Corephotonics seeks damages, a permanent injunction against further sales and court fees in its current case.
Adding a wrinkle to the ongoing legal battle, rumors in January claimed Samsung was looking to acquire Corephotonics for between $150 million and $160 million. A subsequent report said the deal went through, though neither company issued official word of the purchase.
Apple is predicted to update its iPhone camera tech in 2019 with models bearing three rear-facing sensors, one of which will be covered by a super-wide lens.