Trump 'regrets' not applying tougher tariffs in China trade war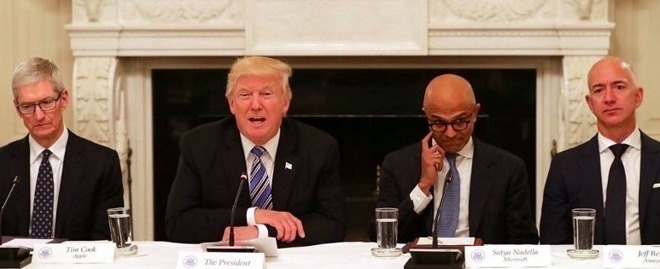 A clarification over an admission by President Donald Trump that he had "second thoughts" about his handling of the trade war with China suggests more could be in store, with the White House Press Secretary insisting Trump wanted to be tougher on the tariffs.
Attending the Group of Seven summit on Sunday, Trump was asked if he had "any second thoughts on escalating the trade war" with China, reports Bloomberg. Trump's response was "Yeah, sure, why not?," following up with "Might as well, might as well," then admitting "I have second thoughts about everything."
Later, White House Press Secretary Stephanie Grisham claims the headline-setting admission was misinterpreted by the media. Trump didn't regret starting a trade war at all, but does have second thoughts about setting the tariff levels too low.
"The president was asked if he had 'any second thought on escalating the trade war with China," a statement from Grisham reads. "His answer has been greatly misinterpreted. President Trump responded in the affirmative - because he regrets not raising the tariffs higher."
The question on regret was made following a communication made by Trump advising he intended to raise existing tariffs applied to approximately $250 billion worth of Chinese goods from 25% to 30% on October 1. A new tariff round on another $300 billion will start from September 1.
During the Group of Seven meeting, Trump was also asked if other nations in attendance were telling him to give up on the trade war entirely. Trump advised "No, not at all, I haven't heard that at all."
British Prime Minister Boris Johnson begged the differ, telling the media "Just to register the faint, sheep-like note of our view on the trade war, we're in favor of trade peace on the whole, and dialing it down a beat."
Along with the tariffs, Trump has recently stepped up his efforts in trying to win against China. On Friday, a series of tweets from the President claimed the United States has lost "trillions of dollars" to China over many years, that "We don't need China," and telling American firms they are "hereby ordered to immediately start looking for an alternative to China."
The ongoing trade battle with China has led to numerous tariffs being applied to many items imported to the United States form the country. An initiative driven by President Trump, the latest addition to the list has been a 10% levy on electronics, one that has been postponed until December, and would affect important products like Apple's iPhone.
Neither the China government nor Chinese companies pay the tariffs directly, despite what President Trump claims. The tariffs are applied to the companies importing the goods from China. In theory, the tariffs may decrease orders to Chinese companies, but they do not appear to be having that effect.
Consumers have already been impacted by prior rounds of tariffs. Wal-mart has already increased pricing as a result of previous tariffs, and Sony has said that it will pass on any tariffs to the US consumer.
Apple analyst Ming-Chi Kuo believes that Apple's consumer-facing pricing isn't going to change as a result of the tariffs. He believes that Apple will choose to absorb the pricing taking a hit to profits, rather than increase them as a response to the tariffs — but it isn't clear what he bases his assumption on.
AppleInsider has affiliate partnerships and may earn commission on products purchased through affiliate links. These partnerships do not influence our editorial content.