US companies 'hereby ordered' in a Tweet by President Trump to exit China manufacturing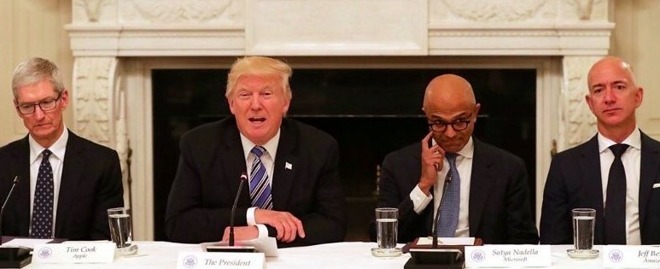 AppleInsider is supported by its audience and may earn commission as an Amazon Associate and affiliate partner on qualifying purchases. These affiliate partnerships do not influence our editorial content.
Through a series of tweets, President Trump has escalated the trade war with China by claiming that the US has lost trillions of dollars to the country, and has ordered American companies to look for manufacturing alternatives.
President Donald Trump has announced on Twitter that he is ordering American companies to move away from production in China. He said they must start looking for alternatives immediately, and that they should make their products in the US. The President also directed courier firms such as FedEx to look out for consignments of the opioid Fentanyl in deliveries from China.
"Our Country has lost, stupidly, Trillions of Dollars with China over many years," he tweeted. "We don't need China and, frankly, would be far better off without them. The vast amounts of money made and stolen by China from the United States, year after year, for decades, will and must STOP."
"Our great American companies are hereby ordered to immediately start looking for an alternative to China," he continued, "including bringing your companies HOME and making your products in the USA."
The president does not have the authority to unilaterally order US companies to look for alternatives to China. It is theoretically possible to do so with legislation, but none is forthcoming.
Additionally, despite the administration's stance on manufacturing, Trump campaign materials including signs and hats are still printed and manufactured in China. Most of the Trump family's business ventures rely on Chinese manufacturing, with no signs of abatement.
The tweets on Friday follow many months of rising tensions between the US and China, during which time President Trump has variously implemented and announced tariffs on goods imported into the States.
In a series of Tweets on August 1, President Trump promised a 10% tariffs application on toys, games, and consumer electronics. The Tweet was in response to China apparently not following through on promises to buy "large quantities" of US agriculture, forcing the move by the US.
The president said that he would apply a 25% tariff in May, but those ultimately weren't applied. Tariffs aren't generally absorbed by companies like Apple, Sony, Microsoft, and others, nor are they paid by Chinese companies. As a general rule, companies impacted by these tariffs, including Wal-mart, have historically passed the costs on to US consumers of the goods. However, Apple analyst Ming-Chi Kuo believes that Apple will choose to absorb any tariffs to prevent a price hike for the consumer — but it isn't clear how he has come to that conclusion.
"In terms of the exclusions, we've been making the Mac Pro in the U.S. and we want to continue to do that," Cook said during the earnings report. "so we're working and investing currently in capacity to do so, because we want to continue to be here."
On August 16, Apple's Tim Cook met with the President to discuss the tariffs. Afterwards, President Trump had said that Cook made "a good case" that Apple should avoid paying tariffs.
"The problem was that Samsung, a competitor, his competitor, wouldn't be paying tariffs, and Tim Cook would," Trump said. "I gotta help him out short-term, because it's a great American company."
Set-asides by the US Trade Representative have delayed tariffs on the iPhone and iPad until December 15. Other products like AirPods, the HomePod, and the Apple Watch will still see tariffs applied come September 1.
The Dow Jones industrial average plummeted 400 points — a 1.7% drop — in 20 minutes as a result of Friday's tweets. The NASDAQ composite is down 2% immediately following the tweets as well. Apple stock itself plummeted 4% in the same 20 minutes.