Editorial: Apple has a huge opportunity with its rumored Bluetooth trackers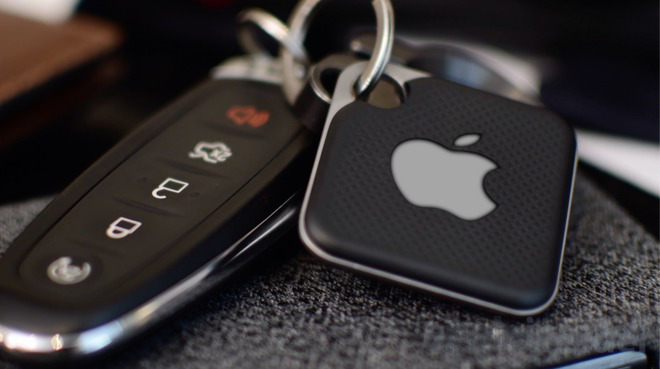 Rumors have ramped up regarding Apple's Bluetooth tracking devices, and if true, Apple Sherlocking Tile could be a huge feature for absent-minded Apple fans.
What we know
As it stands, rumors have pointed to these "Apple Tags" being standalone devices that can be attached to keys, bags, and other personal devices. The as-yet-unannounced trackers appear to be similar to the Tile Bluetooth Low Energy tracking devices, allowing users to locate misplaced items.
Tracking items associated with the trackers will be done from the revamped "Find My" app as part of iOS 13. Just like Tile, or like AirPods, it looks like Apple's trackers can emit an audible tone when being located. So, in theory, they can sound an alert if they are left behind, and can be placed in a white zone that will disable the tether feature.
A crowd-sourced feature is also outlined, where any iPhone can send back a location if a device is placed in lost mode. It isn't yet clear if this spans all devices, or just a user's fleet of devices registered with iCloud — but more on that in a bit.
More unique, and similar to what appears to be the now-defunct Pixie tracker system, an augmented reality feature could be in the cards. In this mode, we envision scanning an area with the iPhone camera, and an augmented reality indicator showing us where the item is located in the space.
What is possible
Pondering these rumored devices, what has piqued our interest is the potential Apple has to do more with the technology.
An attachable tag on some devices, like a keyring, makes sense. On other objects, like headphones, this becomes more difficult. These are the devices Apple can really do something with — and they may already have.
Apple already sells many devices with Bluetooth wireless connectivity that are prone to be misplaced. AirPods, Beats headphones, and even possibly the Apple Watch could benefit from not just tracking abilities, but the ability to hunt it down inside a space.
It could be possible with merely a software update to allow these accessories to work in the same way as standalone trackers.
As an example, after a software update, you may able to use your iPhone to scan your living room for the Apple TV remote. Or, it could allow you to get notified if you leave the gym without your AirPods with geofencing similar to what HomeKit allows.
Pushing the envelope even further, Apple could easily open this up to third-parties to integrate into their products. Other headphones and Bluetooth devices could integrate right into the Find My app as all of Apple's own devices would.
Tile is already doing this, including the feature with select Bose headphones, the Keysmart keychain organizer, Samsonite luggage, and more.
Apple's control of the stack is what makes this
All of this comes together in a way only Apple can do well. Given Apple's control of the entire iOS stack, from hardware to software, the company could even have more clout in convincing companies to come on board versus Tile. And, if it wants, it could collect some added licensing fees similar to the MFi program each time too.
The crowdsourcing feature at first glance can be incredible, but there are aspects of it that puzzle us. Apple has been working on ad hoc networking, using multiple iPhones, and it appears that the Apple tracker can leverage this to some extent. If the rumors are correct, if you lose your pair of headphones, any time a person with an iPhone walks near them you could get the location sent to you.
We have privacy and bandwidth concerns about the practical application of this, but we'll see how it goes. And, we'll see if that aspect of the tracking is true, or extends beyond your own personal network.
Tracking for the rest of us
There is a clear and documented history of Apple "Sherlocking" features it likes — most recently with SideCar in macOS Catalina — and integrating them deep within the OS. This is yet another example.
With an update, millions of users would have powerful device tracking right from their phones. Apple offers unparalleled privacy and synchronization via iCloud. It could work across Mac, iPhone, and iPad.
The object tracking market is huge — just do a quick Amazon search. But most are half baked, don't have the install base, or have gone under like the augmented reality Pixie tracker. Tile has easily been the most successful of the bunch, but Apple is poised to take it to a whole new level.
If we were Tile, we'd be concerned about the prospect of Apple coming in and launching a tracking alternative. A system that works and is integrated with iOS is clearly a feature that users want. Apple may be best positioned to deliver that feature with a huge install base, existing work in augmented reality, and expertise in Bluetooth,