Review: Mophie's new multi-device chargers help you cut the cords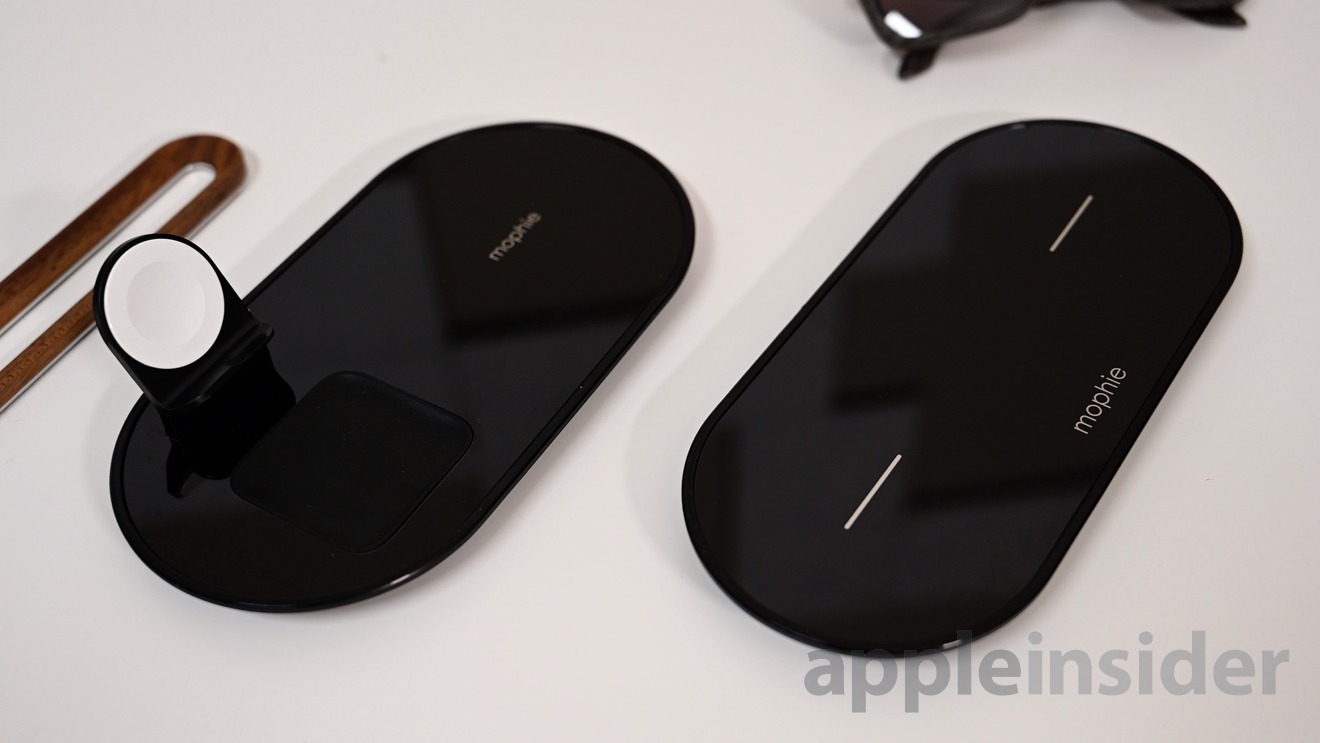 Mophie is the first to bring multi-device wireless chargers to the Apple retail store, and AppleInsider goes hands on with all three of the new Qi-enabled devices.
There are three chargers in Mophie's new lineup. The three include a solo wireless charging pad, a dual wireless charger, and a dual wireless charger with an integrated Apple Watch dock.
All three of these share many similar design elements such as the glossy top, soft-touch plastic body, support for 7.5W of wireless fast charge. Let's first dive into what sets them apart from each other.
The solo charger
The most basic of them all is the simple updated Mophie charging pad. It can charge one device at a time and has no additional USB outputs.
iPhones, AirPods, etc can all be charged. This works best if you have no other accessories to charge and need the smallest footprint possible.
The dual charger
Stepping things up is the dual wireless charger. Again, it follows the same design albeit now with two charging positions on one pad. Each of the two is capable of Apple's 7.5W maximum, and is great for two phones or a solo phone and a set of AirPods with the wireless charging case.
For additional charging options for devices, a USB-A port resides around back. It can be used to charge a battery pack or Apple Watch.
Three-in-one
The most capable of the three includes two wireless chargers as well as an Apple Watch charging puck. This nixes the need for any additional wires, but doesn't have the USB output seen on the dual wireless pad.
This second coil is slightly recessed into the dock, leaving a rubberized nest for AirPods to rest in — and only AirPods. While the groove helps keep the small AirPods charging case in place, it makes putting a different device on that coil impossible.
Out of the box, the charger comes in two pieces with the Apple Watch puck snapping into place behind the AirPods groove.
Pros and cons
We have a couple of issues with Mophie's new line, though nothing that is a dealbreaker.
The finish of the chargers isn't nearly as nice as with the original Mophie charger that debuted in Apple Stores with the launch of the iPhone X — Apple's first Qi-enabled phone. That model was metal with a soft silicone pad covering the top. Conversely, the new line is primarily plastic, with a glossy top.
They feel lighter and collect and show dust far faster than before. Still, in isolation, the build of the Mophie line is superior to most — it just doesn't feel as premium as its first go around.
We're not fond of the included, massive, power bricks. Mophie chose once more to use a proprietary barrel connector rather than something more open such as USB-C. This makes it harder to replace the power cable should something happen.
Mophie did its best to streamline the chargers, including keeping them narrow as to not take up additional space on a surge protector, but they are far from compact. Had the company gone with USB-C, smaller chargers would have been available, even if not from Mophie directly.
Regardless of the superficial pain points, we can't help but like the Mophie chargers. They are well thought out and have appropriate outputs and speeds that fit a variety of different use cases.
Whether you have an iPhone, an iPhone and AirPods, or an iPhone, AirPods, and an Apple Watch, one of these docks will fit your needs.
Rating: 4 out of 5
Where to buy