Here are the Apple TV+ shows that you can watch at launch, and what's coming soon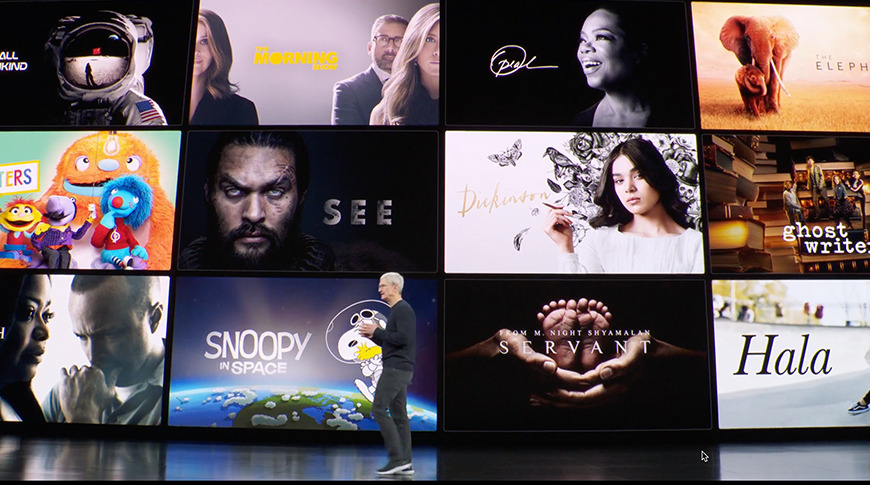 Apple TV+ is coming out on November 1, boasting an attractive $4.99 per month price tag and a lineup of top talent. Here is a quick look at the shows that will be available at launch and shortly after, updated on October 22 with information on "Foundation".
Announced at the September Apple Event, Apple TV+ will boast a wide range of shows for everyone from children to adults, including comedies, dramas, thrillers, documentaries and more.
Apple TV+ will be available for $4.99 a month, though if you buy new hardware, such as a new Apple TV, iPhone, or Mac, you'll get a year for free. Additionally, even if you don't own any Apple devices, you will be able to watch Apple TV+ from your favorite browser at tv.apple.com.
In a press release, Apple has highlighted some of the shows available at launch, and given us the titles and synopses of those to be available shortly after. While these are not the only shows that will be available at launch, it does offer a look into what Apple has in the works.
See
"See," starring Jason Momoa, had a new trailer featured at the Apple Event. The story is set 600 years in the future, after a pandemic has decimated the Earth's population and left the remaining humans blind. When the newest generation is born sighted, those without sight question what this will mean for their society.
The Morning Show
"The Morning Show," is a drama featuring Reese Witherspoon, Steve Carell, and Jennifer Aniston in her first TV role since "Friends." The show takes a look at the world of morning news and the ambitions of those involved in helping America wake up. "The Morning Show" is written and executively produced by "House of Cards" political consultant Jay Carson.
Dickinson
"Dickinson," is a dark comedy that explores the life of poet Emily Dickinson, played by Hailee Steinfeld. Five-time Emmy nominee Jane Krakowski, known for her rolls in "Unbreakable Kimmy Schmidt" and "30 Rock" will co-star as Mrs. Dickinson, Emily's mother.
Stand-up comedian and "Saturday Night Live" writer John Mulaney will be playing the role of writer Henry David Thoreau in the show.
AppleInsider will be at the debut of the show at the Tribeca film festival in New York City.
For All Mankind
"What if the space race never ended?" Is the question asked by "For All Mankind." The series is set in an alternative reality where the United States had been beaten to the moon by the Soviet Union. The U.S. must now race to be the first to perform other space endeavors. The series is created by Ronald D. Moore, known for his work on "Star Trek," "Outlander," and his 21st century reboot of "Battlestar Galactica." The series stars Joel Kinnaman, Michal Dorman, Wrenn Schmidt, Shantel VanSanten, Sarah Jones, and Jodi Balfour.
Helpsters
A new series created by the makers of "Sesame Street", "Helpsters" follows Cody and a team of monsters who love to solve problems.
Snoopy in Space
A new original from Peanuts Worldwide and DHX Media, "Snoopy In Space" follows Snoopy and Woodstock on a trip with the gang to NASA. Snoopy and the Peanuts Crew take command of the International Space Station and explore space like never before.
Ghostwriter
"Ghostwriter" is a reinvention of the much-loved PBS original series. This time, it follows four kids who are brought together by a mysterious ghost who helps them release fictional characters from works of literature.
Elephant Queen
A documentary that follows the Matriarch of an elephant herd, described as "[a] cinematic love letter to a species on the verge of extinction." "The Elephant Queen" follows the herd on a journey of life, loss, and homecoming.
Untitled Oprah Winfrey Project
Oprah Winfrey joins up with Apple as she builds a global book club and other projects in hopes of connecting with those around the world. The project could potentially include interviews with famous icons as hinted at by Oprah herself earlier in the year.
Coming soon
While not available at launch, Apple has stated that more Apple TV+ originals will be added every month, including titles such as:
Servant
A psychological thriller from M. Night Shyamalan. "Servant" tells the story of a Philadelphia couple in mourning after a tragedy causes a rift in their marriage and allowing a mysterious force to enter their home.
Truth be Told
"Truth be Told" tackles America's obsession with true crime podcasts and shines a light on concerns about privacy, media, and race. The series stars Academy Award winner Octavia Spencer and Emmy Award winner Aaron Paul.
Little America
Inspired by stories featured in Epic Magazine, "Little America" showcases heartfelt, romantic, funny, inspiring, and surprising stories of immigrants in America.
The Banker
Inspired by a true story, "The Banker" follows two African American entrepreneurs working to overcome the racial limitations of the 1950s. The main characters, played by Anthony Mackie and Samuel L. Jackson, quietly try to provide housing loans to the African American community in Jim Crow Texas.
Hala
"Hala" follows a high school senior who struggles with being a teenager growing up in the suburbs with a traditional Muslim upbringing. The film received accolades at both 2019 Sundance Film Festival and 2019 Toronto International Film Festival.
Swagger
Inspired by NBA Champion Kevin Durant, "Swagger" features Winston Duke ("Black Panther," "Avengers: Infinity War") as a youth basketball coach and former player. The series explores AAU basketball in Washington D.C., focusing on themes of dreams, ambition, opportunism, and corruption. The series will be directed by Reggie Rock Bythewood, who wrote and produced the Fox miniseries "Shots Fired."
Foundation
Based on Isaac Asimov's novel series, "Foundation" will follow the saga of the Hari Seldon, a mathematician as he creates a new mathematical sociology that predicts an oncoming dark age and the fall of the Empire. Jarrad Harris ("Chernobyl," "Mad Men") and Lee Pace ("The Hobbit," "Halt and Catch Fire") will star, and David S. Goyer will serve as the showrunner.