iPhone 11 — hands on and first impressions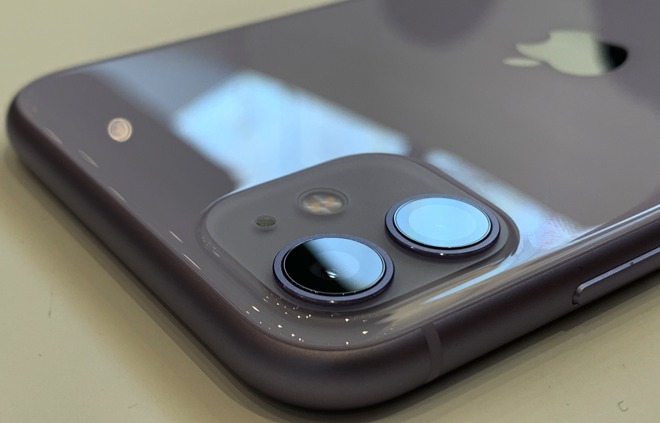 AppleInsider may earn an affiliate commission on purchases made through links on our site.
Apple has made the iPhone 11 official and AppleInsider goes hands on with the new features, colors, and new dual camera system. Here are our first impressions.
A year ago we got the iPhone XR alongside Apple's flagship handset, the iPhone XS. The iPhone 11 is Apple's newest affordable iPhone that starts at just $699 — $50 less than last year's iPhone XR.
Similar look and feel
The overall look hasn't changed much from last year's iPhone XR. However the iPhone 11 now features a more shatter-resistant chassis.
Two new colors are available for the iPhone 11 — Purple, and Green — which replaces the iPhone XR Coral and Blue shades. These two new colors look stunning in photos, but look even better in person.
Dual 12MP cameras
Most noticeably, there's also two camera lenses instead of just one wide angle camera. The outgoing iPhone XR was only equipped with one camera.
These cameras are 12 megapixels shooters, and instead of adding a telephoto lens, Apple opted to use an ultra wide angle lens, alongside the standard wide lens. These cameras let you shoot sharper photos and they'll also allow you to shoot new ways thanks to that ultra wide angle lens.
There's also a new portrait option for the iPhone 11 which allows you to not only take wide angle portraits, but you can now shoot in Portrait Mode with pets or objects. There's also a new Night mode which happens automatically when there's not enough light in the scene, we haven't tested it ourselves, but we're really looking forward to trying this out.
The front facing camera also features slow-motion selfies up to 120fps, which Apple is calling a "slofie." Beyond that, the front facing camera can also record in 4K up to 60fps.
Apple's new 64-bit A13 Bionic CPU
The iPhone 11 is also equipped with Apple's 64-bit A13 Bionic processor, made using a 7-nanometer fabrication process and said to be the fastest CPU in a smartphone, in part due to its faster Neural Engine and Machine Learning Accelerators that enable more than a trillion operations per second to be performed. Apple says that the A13 has the fastest GPU in a smartphone, building on top of the speed offered by the A12's version.
An iPhone XR-like Liquid Retina display
The display is similar to last year's iPhone XR with its Liquid Retina HD display. It still features up to 625 nits of max brightness which isn't as bright as the iPhone 11 Pro's 800 nits of brightness, and also features P3 Wide Color Gamut, and Haptic Touch.
We can't wait to get our hands-on the iPhone 11 here in our studio to conduct more testing, and how the new cameras stack up to the iPhone XR, and how much better the A13 Bionic is versus last year's A12.
iPhone 11 pre-orders starts Friday September 13th at 5AM Pacific Standard Time, and will be available in stores on September 20.