'Apple Tags' user interface discovered in internal build of iOS 13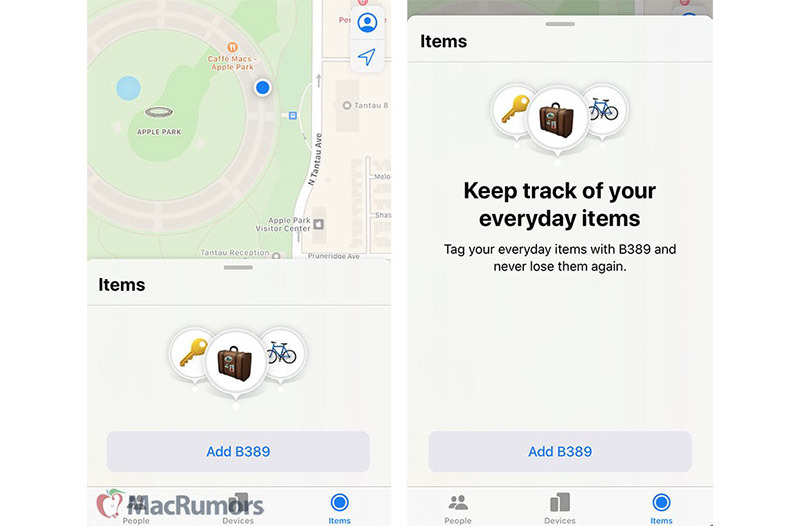 A report on Thursday offers additional detail about how users might interact with Apple's "tag" style tracking accessory, an as-yet-unannounced device initially rumored to debut alongside iPhone 11 in September.
Update: This article was published in September 2019. See our Apple "AirTags" page for the most current information on Apple's forthcoming wireless trackers.
According to fresh screenshots unearthed by MacRumors, users will be able to add, manage and monitor so-called "Apple Tags" from a new "Items" tab in iOS 13's Find My app.
Seen above, graphical assets from an unreleased internal version of iOS 13 reveal the Find My app with three distinct categories: "People," "Devices" and "Items." The "Me" tab currently available in the just released iOS 13 takes the place of an informational navigation icon situated above a "center map on position" arrow, both of which remain as persistent assets on the Apple Maps view.
Tapping on the "Items" button appears to invoke a setup pane from which users can "Add B389," a reference to what is thought to be a codename for Apple's tracking device. Existence of the supposed tracker, also designated as device "Tag1,1" in iOS 13 beta code, was discovered in June. Apple was granted a U.S. patent for a similar tag-tracking solution in 2016.
Expanding the setup pane reveals text that reads, "Keep track of your everyday items [. . .] Tag your everyday items with B389 and never lose them again." Accompanying the text is iconography depicting a key, luggage and bicycle, each of which is contained within their own Find My location bubbles.
Previous leaks, assumedly culled from one or more internal iOS 13 builds, suggest B389 is a wireless tracking device similar to popular Tile tracker in both form and function. As outlined in the unreleased OS, B389 can be affixed to common objects or easily misplaced items for later retrieval.
Through the Find My app, users can arrange for notifications to be triggered when a tag moves outside of a paired iPhone's range. Alternatively, the tag device might support audio playback capabilities, allowing users to recover a lost item by sounding a chime. A similar technique is currently employed by AirPods.
Further, tags could feature ARKit integration and support for Apple's new "Lost Mode." The crowd-sourced recovery system sends Bluetooth signals from a lost device, or in this case tag, to nearby iPhones, which then relay the ping along with anonymized geolocation data to iCloud.
The internal version of Find My containing the B389 assets is not included in today's release of iOS 13, according to the report. When Apple plans to unveil the tracking device remains unknown, but the project is presumed to be fairly mature considering reference to "Tag1,1" was spotted in an iOS 13 beta version in June.