Bearish Apple analyst continues trend of bashing iPhone sales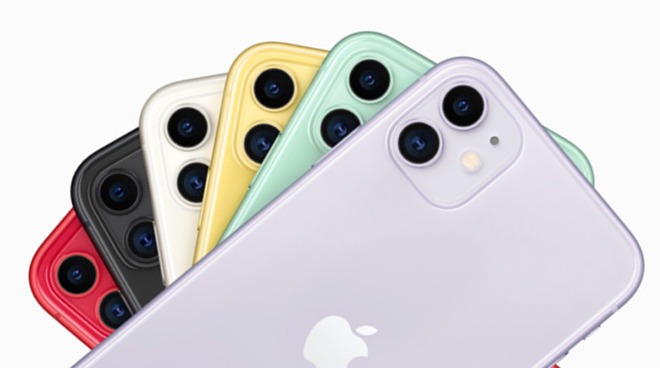 AppleInsider may earn an affiliate commission on purchases made through links on our site.
Continually bearish analysis from Rosenblatt Securities paints Apple as a company that disappoints with its latest iPhone launch, and is predicting low sales for the iPhone 11 and Pro models versus the 2018 releases, along with expressing concerns over sales momentum.
Analysis of Apple's fortunes from Jun Zhang, published in notes to investors from Rosenblatt Securities, typically warns of doom and gloom for the iPhone maker, and in a new note seen by AppleInsider, the trend continues. In the latest essay, provided to investors on Monday, Zhang offers dour opinions on the sales of the new iPhones.
The iPhone 11 is estimated to make up around 60% of total new model sales, with the iPhone 11 Pro Max at around 22% and the iPhone 11 Pro at 18%. The product mix is skewed towards the iPhone 11 in Rosenblatt's view more than last year, which saw iPhone XR sales make up 55% of the total, with the iPhone XS Max at about 30% and the iPhone XS at around 15%.
The change in mix is obviously going to affect the average selling price (ASP), which Zhang predicts will be between 10% and 15% lower than the second half of 2018, with between 68 and 70 million new iPhones thought to ship this year.
The two week to three week wait time is attributed to lower initial production for the new models in September compared with 2018, when Apple's launch of three models rather than delaying one until later meant more had to be produced in the month. The squeeze forced a reduction of the two Pro model's production to accommodate the iPhone 11, "which is why there are lines out of retailer stores again this year," Zhang muses.
On average, Zhang suggests a 30% reduction in production for each model, with the iPhone 11 Pro and Pro Max thought to be at 12 million units versus the iPhone XS and XS Max's 16 million in September, while the iPhone 11's September run is 9 million against the iPhone XR's 12 million in October.
While expressing a belief the launch of the trio "makes initial sales look stronger compared to last year," the claim is immediately tempered, by suggesting "if we compare three models versus three models, sales would have declined year on year." Zhang goes on to reference the sales of the iPhone 11 as being similar with weekly sales of the iPhone XR during a January price cut, and while iPhone XR sales were around 2.5 million per month after said cut in China, initial weekend sales of the iPhone 11 were 500,000 in the country.
Apple "may be able to report better than expected September revenues" thanks to a faster production ramp and shipments, suggests Rosenblatt, with ASP declines remaining a "main concern" for iPhone sales this year. Shipments in December and January are tipped to be "below seasonally normal," albeit with shipments to the US likely to remain at current levels until December when tariffs against the iPhone kick in.
Stating the obvious, "Older model sales dropped dramatically since last week," the firm adds, due to the cheaper price of the iPhone 11 and its dual camera, and that it "does not make sense for consumers to buy the iPhone XS or XS Max." Given that Apple isn't selling iPhone XS or iPhone XS Max, this is another obvious statement from the analyst.
There is added concern about iPhone sale sustainability, as Rosenblatt says there won't be "a new product launching in October this year," leaving a long time without added promotion until potential January price cuts. Historically, however, even on years without a late iPhone launch, Apple's biggest selling periods are a very short period of time after initial launch, with a dramatic uptick following the "Black Friday" buying period, though the end of the year.
Rosenblatt and Zhang's pessimism extends to the AirPods too. While on the one hand the note advises shipments of the AirPods doubled year-on-year and is on target for 50 million units this year, as well as having built some inventory in the US ahead of the September tariff application, the firm also claims "we do not believe AirPod shipments will grow in a meaningful way in 2020."
Rosenblatt maintains its considerably low price target of $150 and "Sell" rating for Apple's shares. Apple opened trading for Monday at $221.38.
Zhang's notes are well known for presenting one of the most pessimistic views of Apple out of major analysts, and has generally been that way for the last few years. The notes have included various pronouncements about iPhone production levels being down or delayed. Notably, Zhang was among the analysts to completely botch predictions surrounding iPhone X demand.
Price targets from Rosenblatt set by Zhang and the rest of the analyst team typically trend below the share price of Apple itself, with the current $150 price target installed since the end of January, down from the prior $165, and has remained unchanged throughout the year.