Apple leads the entire US PC market in consumer satisfaction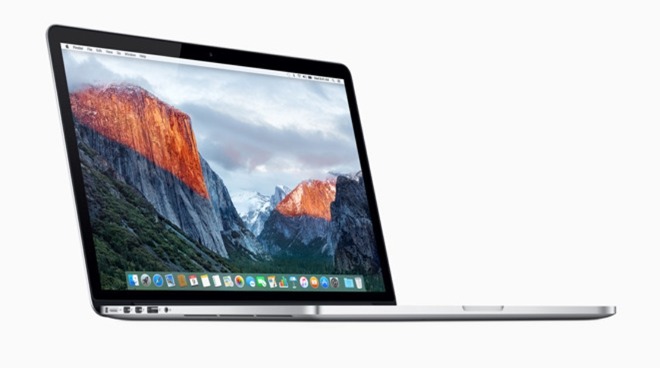 AppleInsider may earn an affiliate commission on purchases made through links on our site.
Apple is continuing to be one of the top-performing computer producers in the PC market, customer satisfaction ratings reveal, with it topping the ACSI rankings for the second year in a row.
The latest American Customer Satisfaction Index Household Appliance and Electronics Report for 2018 to 2019 shows Apple is the best PC supplier in the entire industry in the United States, achieving a "stable" ACSI score of 83 overall. This is the same score Apple attained in the previous year's survey, where it also secured first place.
For the overall chart, Samsung is in second with 81 points, down from 82 scored last year, Amazon is down from 82 to 79, HP is level at 78 points, and Acer, Dell, and Toshiba all saw improvements to 77 points from 75, 73, and 71 points respectively.
As a whole, the personal computers segment saw customer satisfaction rise from 77 points on average to 78 points. ACSI also advises the score puts Apple at the top of the charts for the notebook and tablet segments, for the MacBook and iPad ranges respectively, meanwhile, Samsung is rated the best in desktop satisfaction, closely followed by Apple.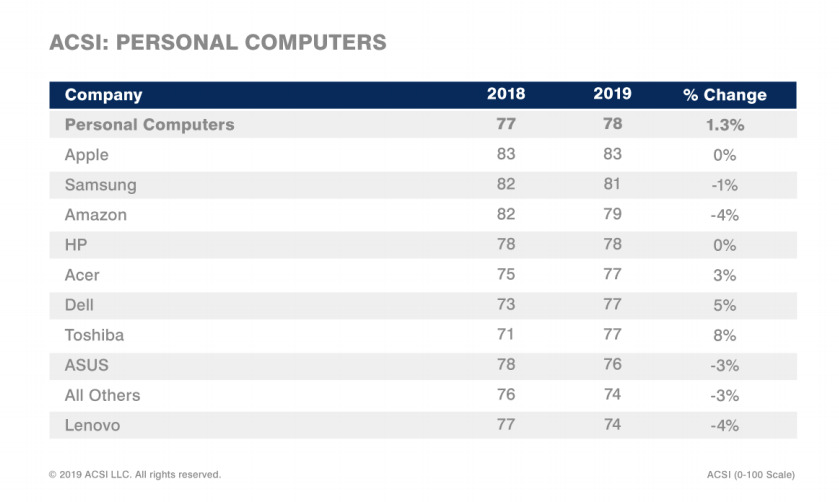 The data is thought to show "higher perceptions of value are driving this year's improvement" for PCs, though ACSI warns this may be short-lived.
"While U.S. and China trade disputes have yet to negatively impact consumer demand, the imposition of tariffs could drive up prices, causing customers to forgo or delay purchases," said ACSI managing director David VanAmburg. "Now more than ever, computer manufacturers must demonstrate their value and necessity to overcome pricing concerns. That means focusing more on design and ease of operation, and creating more accessories."
While the tariffs will apply to most of Apple's Mac and MacBook lineup, certain computer parts imported from China destined for the Mac Pro will not receive the extra charges.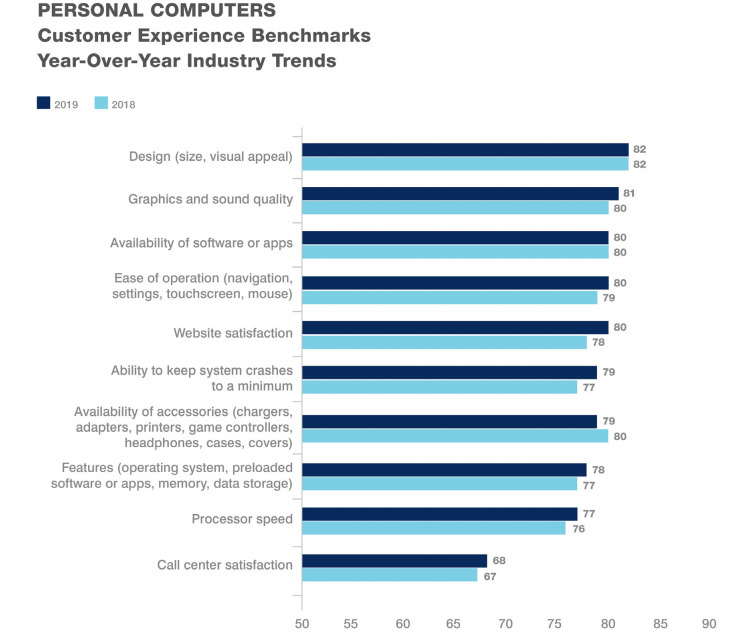 Consumers continue to be appreciative of the design of a computer, with the experience relating to it maintained at 82 points out of 100 for the industry as a whole. Graphics and sound quality has improved from 80 to 81, with software availability maintained at 80. Reliability is also up, with the "ability to keep system crashes to a minimum" up from 77 to 79 points.
Support continues to be a problem for the industry, but it is improving, with call center satisfaction up from 67 to 68 points. ACSI highlights a difference in support quality across the board, with Apple, Samsung, and Amazon the top three and leading the field "by a wide margin."
Apple's high consumer satisfaction results are not just for its tablets and computers. In June, an ACSI survey of US smartphone users saw Apple and Samsung tied with a score of 81, but while the iPhone X, 8 Plus, and SE tied with the Moto G, Samsung Galaxy J7 Prime, and S8+ with 83 points, the Samsung Galaxy Note 9 was at the top with 86.