Disney CEO Bob Iger says left Apple board because 'paths were conflicting'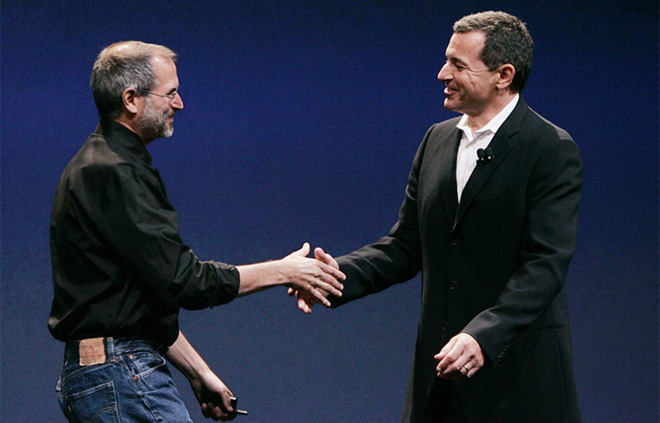 AppleInsider may earn an affiliate commission on purchases made through links on our site.
Disney CEO Bob Iger in an interview on Tuesday explained his departure from Apple's board of directors, saying the tech giant's recent interest in the entertainment industry puts the companies on "conflicting rather than converging" paths.
"The reason I got off the board as they got more and more into creating television shows and movies, it became more clear to me our paths were conflicting rather than converging," Iger said. "I just thought it was the right thing to do."
He went on to repeat a broad assessment of Apple's position in the streaming industry, saying the sector is not yet a major focus for the company. It is, however, important for Disney.
"The business is still relatively small for Apple, but meaningful for Disney, and it wasn't right," Iger said.
In November, Apple will launch the for-pay Apple TV+ with a slate of original content, a product designed to compete with stalwarts Netflix, Amazon and Hulu, as well as the forthcoming Disney+ service that also debuts this fall.
Iger officially stepped down from Apple's board on Sept. 10, though the departure was not publicly revealed until the iPhone maker filed a mandatory report with the U.S. Securities and Exchange Commission three days later. While Iger issued a statement lauding Apple, his eight years on the company's board, current CEO Tim Cook and fellow board members, Apple has not yet commented on the matter.
"Tim has done a great job," Iger reiterated during Tuesday's CNBC interview. "No matter what direction you look, I think you'd conclude that company is one of the great companies of the world."
Apple and Iger share a long history dating back to late co-founder Steve Jobs, who first dealt with the Disney executive through his dealings with Pixar. Jobs became Disney's largest individual stakeholder following its purchase of Pixar, and the tech guru quickly became a trusted board member who often chimed in on critical decisions. He also built a close personal relationship with Iger.
In an excerpt from his upcoming memoir, "The Ride of A Lifetime: Lessons Learned from 15 Years as CEO of the Walt Disney Company," Iger posited that Disney and Apple would have "combined" if Jobs were still alive, an outcome that bears no resemblance to today's reality.
Disney will continue to distribute content through iTunes and maintain a presence on the App Store.