Compared: The 2019 Amazon Fire HD 10 versus the 10.2-inch 7th gen iPad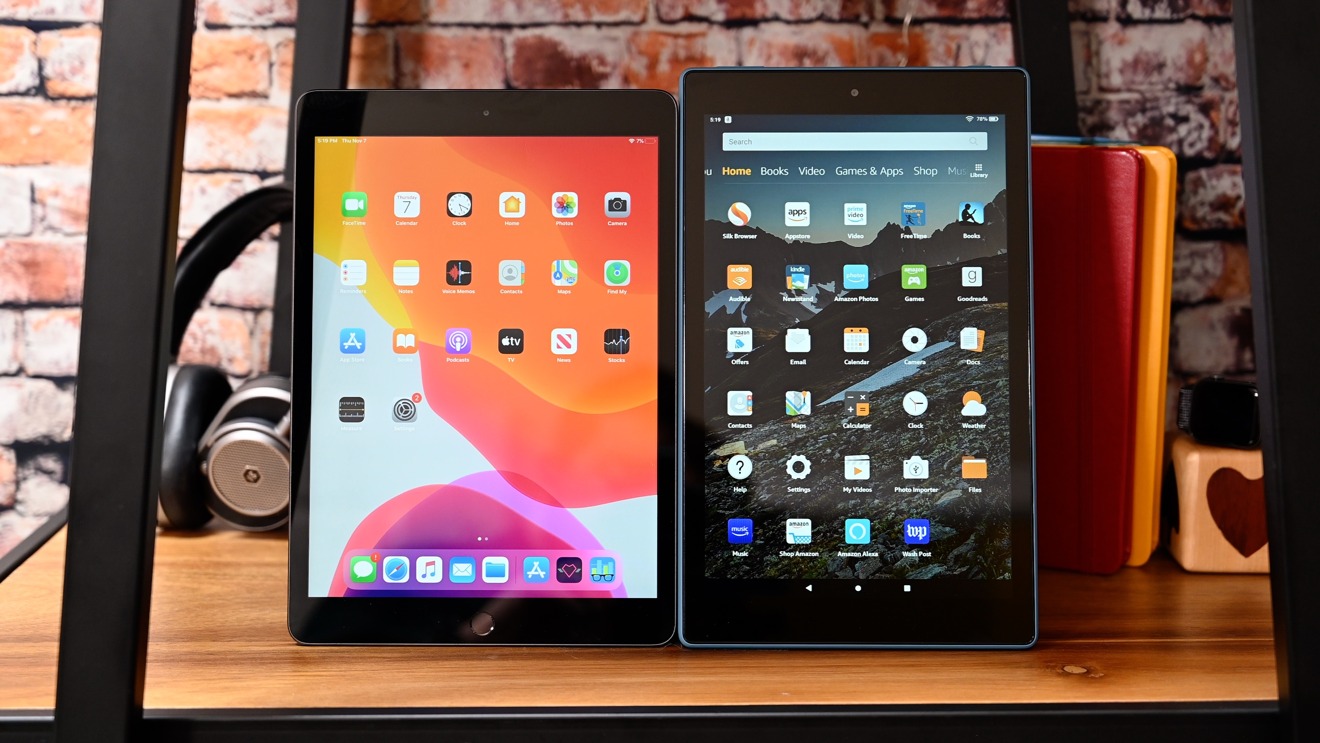 On Monday, Amazon updated the Fire HD 10 tablet line with a new processor and USB-C. It can be a compelling alternative to the 10.2-inch seventh generation iPad, but only if you solely want to consume media on it.
It's the perfect illustration of the cost being just one part of the equation. True, it is invariably going to be an urgently important part, and maybe even an overriding one, as if you can't afford an iPad, all other comparisons are irrelevant.
Equally, though, if you can afford an iPad and you buy the Amazon tablet solely because it's cheaper, you've not saved money. Instead, you've thrown cash away, because when you need an iPad, an Amazon Fire HD 10 is not going to cut it.
Apple iPad (2019)
Amazon Fire HD 10 (2019)
Price (cheapest)
$329
$149
Screen size (ins)
10.2
10.1
Resolution
2160 x 1620 at 264ppi
1920 x 1200 at 224ppi
Memory
3GB
2GB
Processor
A10 Fusion Quad-core 2.34GHz
Octa-core 2GHz
Capacity
32GB, 128GB
32GB, 64GB with microSD expansion
Stylus Support
Yes
No
Dimensions (ins)
9.8 x 6.8 x 0.29
10.3 x 6.3 x 0.4
Weight (ounces)
17.12
17.8
Rear Camera
8MP
2MP
Video recording
1080p
720p
Front Camera
1.2MP
2MP
Biometric
Touch ID
None
Speakers
Stereo
Dual stereo, Dolby Atmos
Amazon is narrowing the gap and the latest update for the Fire HD 10 is a big improvement. Amazon claims longer battery life and generally better performance from its new 2GHz octa-core processor. We'll have to wait to learn how that works in the real world, but one thing that's undeniably better is that the tablet now has a USB-C power connector.
That means it will charge faster, and also that we're finally rid of the old micro-USB cable. Even so, choosing between them is less about specifications and more about use cases.
Where the new Fire 10 HD wins
There is one more thing about the cost. Even though the newly updated Amazon Fire HD 10 costs $150 and that's not an amount you'd casually throw away, you'd be somewhat less happy if you broke a $329 iPad.
So, you could be a bit rougher with your Fire HD 10, just about. Amazon expects something like this, though, as it is also going to offer a Fire HD 10 Kid's Edition. It's the same device, but for $50 extra you get a protective case, two years of accidental damage cover, and one year's subscription to Amazon Fire for Kids.
Unquestionably, you could use the new Fire HD 10 as a family tablet, though the iPad would do more for everyone, and it's built more sturdily. Where the Fire HD 10 wins out is in using Amazon software or services. If you want to watch Amazon Prime video or read Kindle books, this tablet was explicitly built for you.
It's also running a fork of Android, which means there's an app store with a great many Android apps that the table can run, albeit from Amazon's own store and not Google Play. Plus, it has voice-activated Alexa.
Amazon hasn't improved the screen this time, as it remains a 10.1-inch 1,920 x 1,200 pixels display. It has added a Picture-in-Picture mode so you can watch videos as you work, which is a nice plus point.
There are also claims of an improved battery life, rising from 10 hours to 12, so you can work more. Plus the processor has been updated from a quad-core 1.8GHz to an octa-core 2.0GHz. It might not sound spectacular, and it isn't startling, but at least it is moving in the right direction.
Where the iPad wins
Everywhere else. Seriously, we came into this thinking that the tablets were roughly the same size, they might be very different in their operating systems and apps, but they were broadly similar. It was going to be a pretty fine line between which device would suit which people.
If you want to do any actual work, like writing or editing, you need to choose the iPad. We're less concerned with how Amazon's app store lacks the giant number of titles that regular Android users can have, and more with how it hasn't got Microsoft Word. You can cross-load apps on the Amazon tablet, but it is a pain.
It's not a surprise that it lacks, say, Pages, but Word is an extraordinary omission when Microsoft's app is on regular Android.
Apple's iPad is like a superset of the Amazon Fire HD 10. Everything you can do on the Amazon device, the iPad can do, and it does more.
Then if Kindle books do always look best on Amazon Kindle devices — the Fire HD 10 included — than on the iOS Kindle app, the iPad wins in the looks and quality department every other way.
The HD in Fire HD 10 does still stand for High Definition, and Amazon has improved the display over the years. However, the 10.1-inch screen is 1,920 by 1,200 pixels.
In comparison, the iPad's screen is 2,160 x 1,620 pixels.
Creation, not consumption
The iPad has often been criticized for being solely about reading or viewing rather than creating anything, but that must be by people who haven't seen the Fire HD 10. Any tablet that's lightweight and around the 10-inch mark is going to be good for reading and viewing. Yet even so, the iPad wins for the sheer visual quality of what you're watching.
You can't easily get away from the fact that you could buy two Amazon tablets for the cost of one 10.2-inch iPad. But, equally, you can't get away from how if you placed a Fire HD 10 next to an iPad, you'd buy the iPad.
The Amazon Fire HD 10 is available now starting at $149.99 in your choice of four colors. Meanwhile, Apple's 10.2-inch iPad is currently on sale with prices as low as $299.
Updated November 8, 2019 with video