Half of all compatible iPhones now run iOS 13, iPadOS adoption hits 33%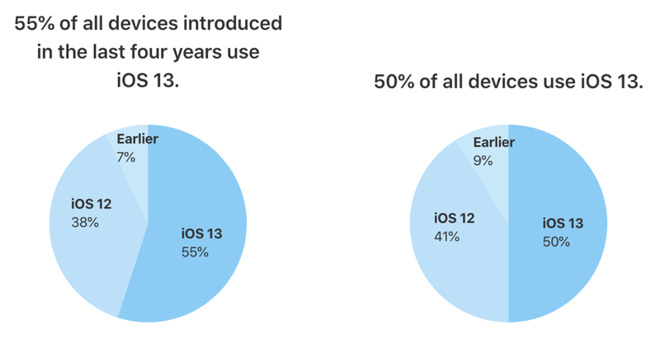 AppleInsider may earn an affiliate commission on purchases made through links on our site.
Apple on Wednesday offered its first peek at iOS 13 install rates, noting the current-generation operating system is now installed on 50% of compatible iPhones.
Statistics revealed in a post to an Apple developer support webpage also show iOS 13 adoption at 55% for devices released in the last four years.
Overall usage of Apple's last-generation iOS 12 is down to 41%, a figure that shrinks to 38% for recently introduced devices. Earlier versions of the mobile operating system occupy a 9% share of all compatible devices and 7% of hardware introduced over the past four years.
Apple's numbers were gleaned from App Store visits logged on Oct. 15, 2019.
This year's iOS 13 launch is on a trajectory similar to that of iOS 12, which after a month of availability was running on 50% of all devices and 53% of devices released in the four years prior to 2018. Last year's iOS release enjoyed rapid adoption after initial release, with installs jumping to 70% in three months. By comparison, iOS 11 was installed on only 59% of devices over the same period. It should be noted that Apple now breaks out iPad statistics from iOS adoption rates.
Apple notes iPadOS is now running on 33% of all compatible iPads. The majority of iPads, some 51%, are still operating iOS 12, while another 16% are on older versions of iOS. Those figures see a slight bump for devices released in the last four years, with 41% running iPadOS, 51% on iOS 12 and 8% on earlier versions.
Apple has since issued multiple point updates to patch bugs and security holes discovered after launch. The operating system is now up to version iOS 13.13, which saw release on Tuesday.