AMD Radeon RX 5700 works in macOS Catalina 10.15.1 beta 2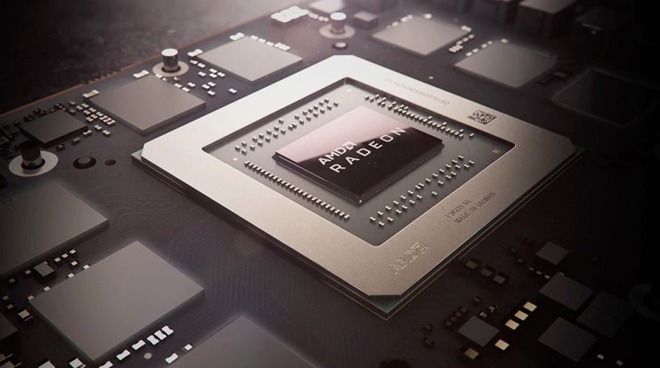 AppleInsider may earn an affiliate commission on purchases made through links on our site.
Apple is extending its support of AMD GPUs to macOS Catalina, with the second developer beta for macOS 10.15.1 enabling Radeon RX5700 compatibility with the operating system, possibly as a first step ahead of support for the Mac Pro's Radeon Pro Vega II and Duo cards.
Apple issued the second developer beta of macOS Catalina 10.15.1 on Thursday, with the release notes advising of changes to its graphics card support. According to the notes, support has been added for the AMD Navi RDNA architecture, used in the company's newest graphics cards.
Posts made to the egpu.io enthusiast forums reveal the support includes recognition for the RX 5700 XT, via an external graphics card enclosure. In one user's case, the card was recognized in Bootcamp in Windows 10, but had to install the Windows driver for the card as it wasn't available as part of the Windows installation.
This has since been confirmed by AppleInsider testing, with a Sapphire AMD RX5700 card working in a Mantiz MZ-02 eGPU, the Sonnet eGFX Breakaway Box 650, and a Razer Core X enclosure.
The inclusion of support is likely to be welcomed by Mac users who rely on high-powered graphics cards for games and work applications that demand as much performance as possible, such as those in creative industries.
Due to the way Apple handles hardware support for items like GPUs, consumers cannot simply buy any graphics card and install it into an eGPU enclosure and expect it to work, with Apple needing to include support in macOS for it to function properly. This support effectively consists of cards from AMD's catalog, with Apple seemingly avoiding adding support for Nvidia equivalents for unknown reasons.
Apple's eGPU support is also not entirely perfect, with it still being a relatively new function officially supported within macOS, and it occasionally throws up some compatibility issues. Recently it was discovered some combinations of Mac, GPUs, and eGPU enclosures have issues, such as the Mac mini with Radeon 570 and 580-based eGPUs, and with some held within the Sonnet eGPU enclosure.
The latest support for the RX 5700 XT is a good sign other cards using RDNA will be supported in the operating system soon. RDNA cards are 7-nanometer-based GPUs with a refined graphics pipeline that utilizes a multi-level cache to minimize bottlenecks, support GDDR6 memory, and PCIe 4.0.
The timing of the support rollout is also apt, as Apple is anticipated to open up orders for the new Mac Pro in the near future. As the new Mac Pro will include options including the Radeon Pro Vega II and Radeon Pro Vega II Duo, it is highly likely Apple wants support for the cards to be added and perfected as much as possible before the Mac Pro actually ships.