Adobe 'all-in' on Photoshop for iPad despite missing features, Illustrator for iPad reportedly due in 2020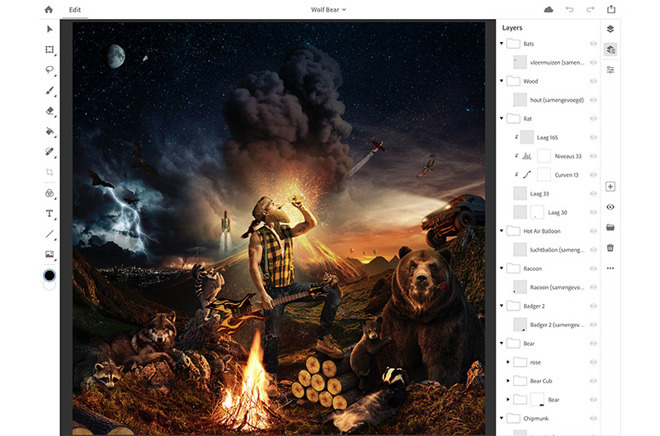 A report on Monday confirms Adobe's ambitions for Photoshop CC for iPad, saying the company is "all-in" on what is billed as a "real" version of Photoshop tailored for tablet use. Separate rumblings claim the firm is readying an iteration of Illustrator for iPad slated to launch in 2020.
Citing sources familiar with Adobe's plans, Daring Fireball's John Gruber reports the company is taking the Photoshop CC for iPad effort seriously ahead of an expected release this fall.
"They view it as a serious, top-shelf project for creative professionals," Gruber writes. "The team of engineers working on it has grown significantly from a year ago, and they have plans to add features iteratively on an aggressive schedule."
The comments come on the heels of a Bloomberg report last week that claimed beta testers were left wanting more from the hotly anticipated creative app. Part of the issue, according to testers, is a dearth of desktop features which seemingly runs counter to Adobe's claims that the app will be a "real" version of Photoshop built for a touch-based user interface.
As noted by Gruber, the problem appears to be a misunderstanding of what Adobe is promising. When the company announced Photoshop for iPad last October, it said the app is "real Photoshop" insofar as it shares a code base with its desktop counterpart. Consumers, testers and apparently media outlets like Bloomberg took that to mean Photoshop for iPad would boast a complete complement of features. It will not, at least not at launch.
Scott Belsky, chief product officer of Adobe Creative Cloud, explained the limited feature set in a statement last week.
"Launching every single feature that was accumulated over 25 years on the iPad on day one would not best serve our customers and the needs they have," Belsky said, adding that Adobe plans to make additions in the future. "I want to say it's the best product in the world for specific workflows and not have to apologize that it's not full because that's not what the customer needs."
As customers await official word on a Photoshop for iPad release date, Bloomberg on Monday reports Adobe is moving forward with plans to expand Creative Cloud's presence on iOS and is developing an iPad version of drawing tool Illustrator.
According to sources, the app will be previewed at Photoshop's Max conference next month. Whether Illustrator for iPad will follow in the footsteps of Photoshop for iPad and utilize a "real" desktop-class engine remains unclear. Features are also unknown, though it can be presumed Adobe is working in support for Apple Pencil.
After developing a litany of bite-sized mobile apps, Adobe appears ready to take on the decidedly monumental task of delivering "real" versions of its most popular software to users of iPad and other portable slates. The company continues to develop mobile-first offerings alongside those efforts, the most recent being digital painting and drawing app Adobe Fresco.