Adobe refutes reports that Photoshop for iPad is 'rudimentary'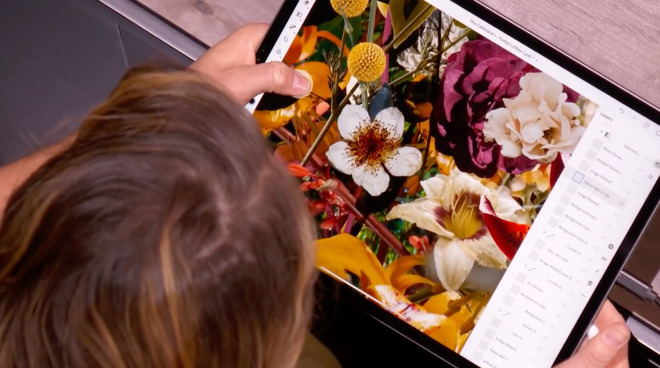 AppleInsider may earn an affiliate commission on purchases made through links on our site.
Photoshop for iPad is still expected before the end of this year, but beta testers are complaining that it is lacking. Adobe says the beta doesn't include many features that will be in the shipping version, and that the company plans to continuously develop the app.
According Bloomberg, testers are claiming that despite Adobe saying it would be a full version of Photoshop instead of its previous scaled-down iPad apps, certain core functions are missing.
"Feature-wise, it feels like a beefed-up cloud-based version of their existing iPad apps and not 'real Photoshop' as advertised," said an unnamed tester. "I understand it is based on desktop Photoshop code, but it doesn't feel like it right now."
In response, Adobe has told Bloomberg that the beta test version does lack many features that couldn't be deployed yet. A need to produce them in collaboration with Apple means many are "coming in hot," according to Scott Belsky, chief product officer of Adobe Creative Cloud.
Adobe demonstrated Photoshop on iPad in October 2018
He added that while the first official release would contain these unspecified features, it would still not be a complete duplicate of the desktop Photoshop.
"Launching every single feature that was accumulated over 25 years on the iPad on day one would not best serve our customers and the needs they have," he said. He added that Adobe sees this as very much a version 1 and would develop it further.
"I want to say it's the best product in the world for specific workflows and not have to apologize that it's not full because that's not what the customer needs," he said. "I couldn't be more proud of where we landed. People will see for themselves."