Apple Pay overtakes Starbucks for in-store mobile payments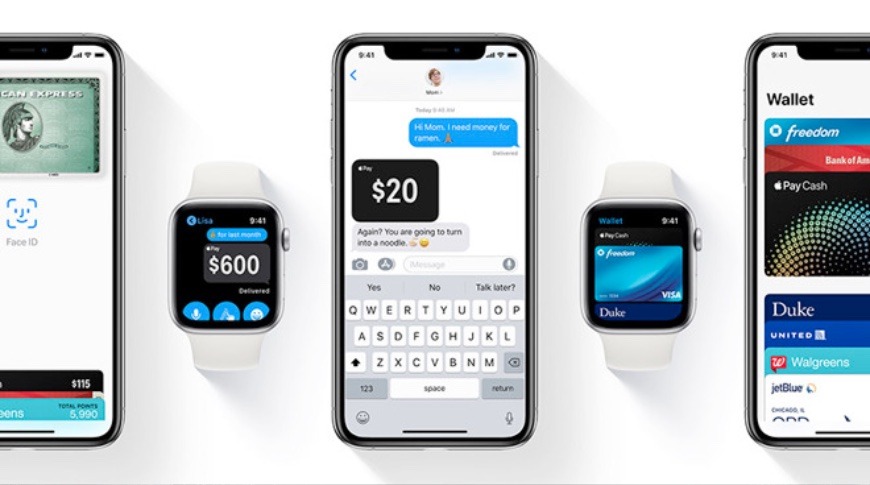 AppleInsider is supported by its audience and may earn commission as an Amazon Associate and affiliate partner on qualifying purchases. These affiliate partnerships do not influence our editorial content.
Apple Pay is the most-used mobile payment app in the United States, a new analysis claims, with the growth of Apple's payment platform in the country allowing it to overtake the Starbucks mobile app for the first time.
A study into the United States mobile payments market reveals almost 30% of smartphone users will use a mobile payment app of some description. While there are general payment platforms like Apple Pay, Google Pay, and Samsung Pay, the top spot in terms of usage has been occupied by Starbucks, with the app used solely to pay for coffee and other items within the store chain's outlets.
In a new study by eMarketer, Apple Pay's continued growth has allowed it to pass by Starbucks at a faster rate than first thought, with the single-store app failing to keep up for once.
According to the study of mobile phone users who have made at least one proximity mobile payment transaction in the last six months using a smartphone, approximately 30.3 million people will be classed as Apple Pay users by the end of 2019, representing 47.3% of proximity mobile payment users. This is up from the last study of May 2018, where Apple Pay users by the end of the year was forecast at 22 million people, though eMarketer believes the actual number was 27.7 million people.
By contrast, Starbucks was in first place in 2018's study with 23.4 million users, while in 2019 it rose to 25.2 million, giving it a representation of 39.4%. Google Pay grew from 11.1 million in 2018 to 12.2 million in 2019, and Samsung Pay from 9.9 million to 10.8 million.
The improvements were due to a "spread of new point-of-sale systems that work with the NFC signals Apple Pay runs on," eMarketer principal analyst Yory Wurmser claims. The same POS upgrades should also aid Google Pay and Samsung Pay, but Wurmser suggests "they will continue to split the Android market."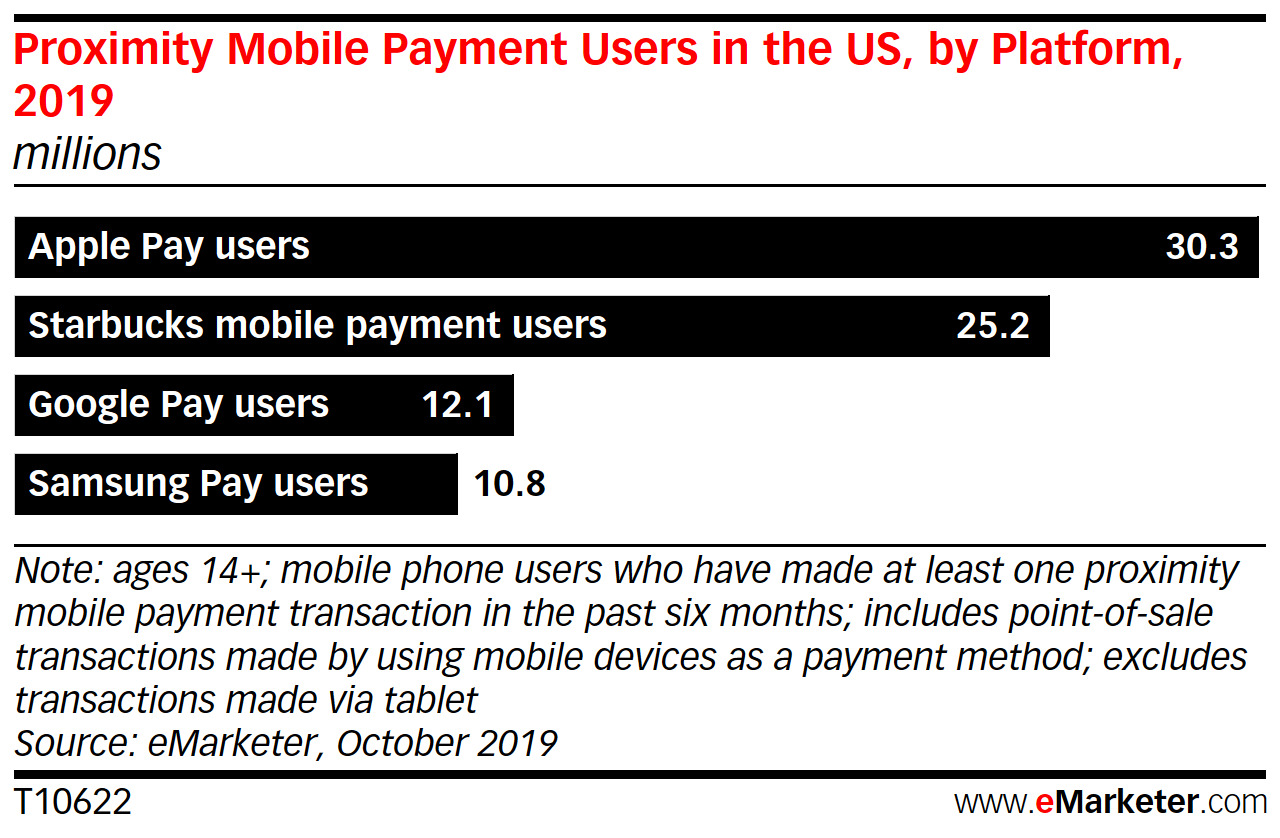 Referencing a report from Digital Trends, the analysts highlight the availability of Apple Pay could reach 70% of US retailers by the end of 2019. Starbucks, meanwhile, can only increase the number of sales systems by adding more stores, due to the app being used just within that specific retailer, significantly limiting its potential reach.
Total spending in the US market will approach $100 billion in the United States for 2019, eMarketer reckons, with users increasing their average spend 24% year-on-year to $1,545. The overall total number of proximity mobile payment users in the United States should grow 9.1% to 64 million.
On a demographic level, adults aged 25 to 34 are the largest market in terms of size and penetration with 21.2 million users and almost 50% of smartphone users. The fastest growth demographic are users aged 55 to 64, albeit with a smaller user base.
Despite the growth improvement, junior forecasting analyst Vincent Yip suggests there is still a long way to go before it becomes a dominant payment method. "Although a growing number of millennials feel secure using payment apps, virtually all still find credit and debit cards equally convenient," said the analyst.
Apple's launch of Apple Card in the United States may help sway some of those who have more faith in physical cards, given its use of both mobile-based contactless payment and a titanium card, and so far it seems to be helping. On October 15, financial partner Goldman Sachs reported Apple Card was the "most successful credit card launch ever," with a "high level" of demand for the card a few months after launch.
Despite the improvements in the United States, the adoption rates of mobile payments in other markets continue to be far higher in other countries. One study in August revealed some 80% of Chinese consumers have made some form of smartphone payment in the last year.