Review: ColorWare custom-painted AirPods look stellar, for a price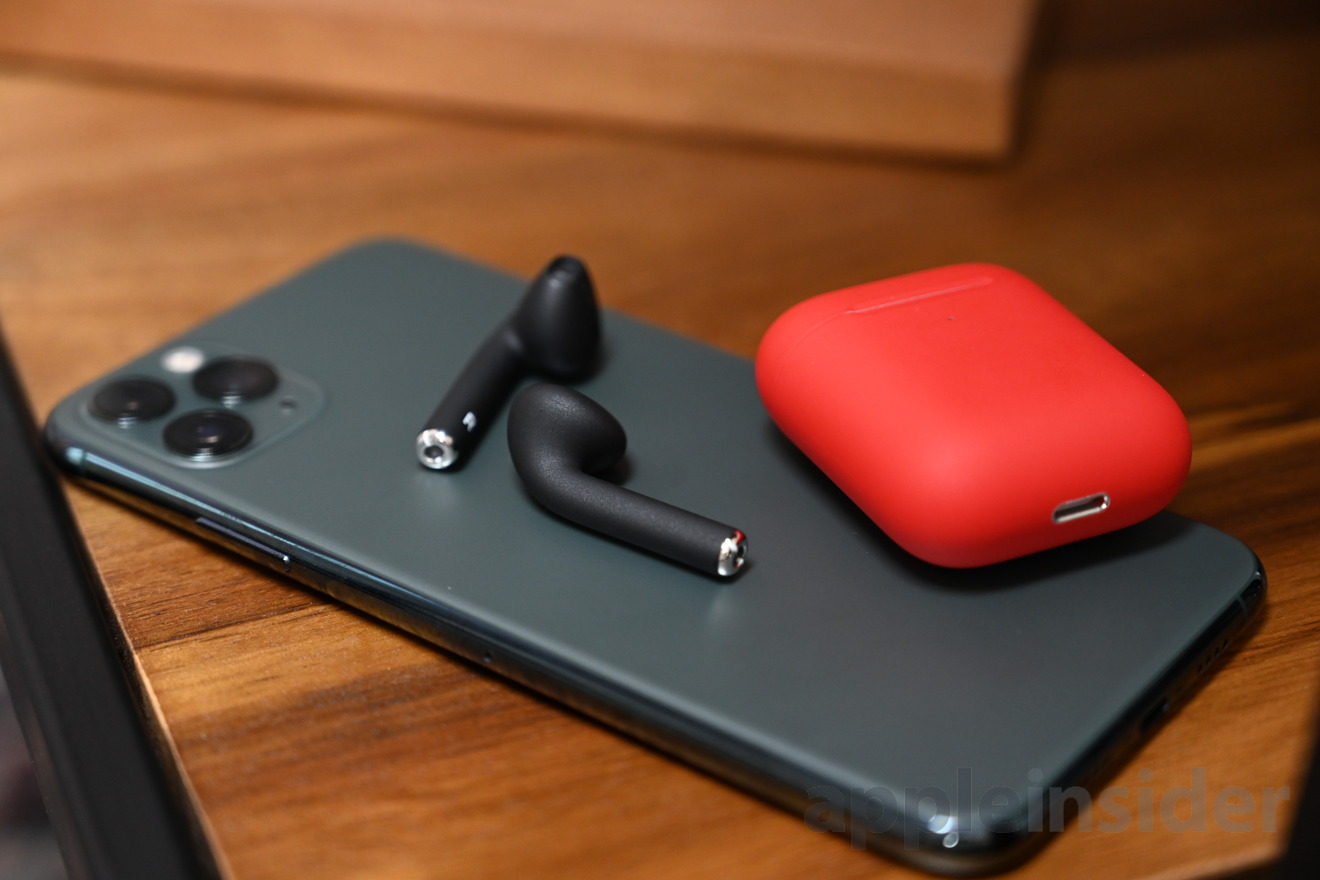 If you are tired of the normal white AirPods, a custom-painted pair of Apple's audio accessories from ColorWave could be a good alternative for people wanting a more personalized set. A matte black pair with a vibrant red case are put through their paces to see how they hold up under use.
To date, Apple has resisted this urge with the original and the updated version of AirPods — both only shipping in a glossy white with no alternate options available.
For years, ColorWare has been catering to those looking to mix up the color scheme of their gear, including many different Apple products.
In case you can't see where this is going, AppleInsider ordered a custom-painted set of second-generation AirPods to try out a more personalized version.
A custom paint job
ColorWare doesn't fully go in-depth of the painting process employed for AirPods, but it is certainly detailed. Each area of the AirPods case exterior and the AirPods themselves are expertly covered in our colors of choice.
When ordering the AirPods, it was possible to visualize it ahead of time using the interactive guide on ColorWare's website. Individual colors can be chosen for the left bud, right bud, and the case, with all able to be the same or completely different.
The colors offered are broken down into "solid" and "metallic" categories. Within each of those categories, you can choose each color in a glossy or matte finish.
As an example, if you want blue, you can choose from several shades of blue, then decide between metallic or solid, then matte or gloss. In total, there are 64 colors available, and over 250,000 combinations that can be chosen.
The metallic versions are very similar to the matte, but have small metallic flakes in to give it a bit of shimmer. It isn't overwhelming, but just a little subtle.
Attention to the details
When the custom AirPods arrived, they shipped in the standard AirPods box but with a ColorWare sticker sealing it.
Breaking the seal, you're greeted by custom AirPods in the original packaging, and accessories stored below. The company kept things as close to the usual Apple unboxing experience as possible.
At first blush, the AirPods looked phenomenal. We chose the matte Formula Red for the case with matte Carbon Black for the buds.
Supposedly, the Jet Black in matte (non-metallic) is a completely deep, stark black while the matte Carbon Black is very similar but slightly lighter. In the photos of the preview, we couldn't tell at all but it made sense when we had them in person.
The matte finish looked great though it did show slight fingerprints from the oils on our hands, but not much at all. We assume this is still less than a glass version would show.
Needless to say, the AirPods functioned exactly as they should. They immediately were able to be paired with our iPhone and sounded just as any other set of AirPods do — just in a cool matte black finish. They still even wirelessly charge without issue.
The paint job is very thin, so it doesn't feel like the AirPods are bulked up by the extra layer in any way. The button on the back still functions and is able to be depressed, the hinge works properly, and the individual AirPods slide in and out of the case without any added friction.
Attention to the details
ColorWare has gone above and beyond to get the details right on their modifications to AirPods.
Not only were they expertly painted, but they paid attention to the little touches, such as the L and R on the left and right buds respectively.
They kept the silver metal around the bottom where the Lightning port is — same with the rear hinge. The LED on the front is also unimpeded.
Closer scrutiny did reveal a few very minor imperfections. On one of the edges of the Lightning port's inside we saw a small amount of red paint that had made it in there, while the right AirPod had bit of black paint make its way onto the mesh of the earpiece.
Lastly, all of the edges have a ever-so-slight ridges. The ones you get when painting against an edge. On a large scale, these are never noticeable, but on something as small and precise as AirPods, they are there if you look for them.
These imperfections aren't problematic whatsoever and are part of the hand-painted nature of the product. It is truly impressive how good these look just from a simple paint job.
Over time
We've been listening to our custom AirPods for over a month now, to get a good idea of how the AirPods looked after a bit of use. Fortunately, they are holding up quite well, and there's no visible damage to the paint job yet.
It does make us nervous though. If you scratch your white AirPods you just notice it when the light hits it, but if you have your AirPods painted red or black and drop them on a rough surface, that white scratch is going to be much more prominent.
We will obviously continue to use the AirPods and update this if the color starts to wear more aggressively after an extended period of time, but for the moment it's hard not to be very happy with how our custom AirPods look, feel, and hold up.
Rating: 4 out of 5
Great attention to detail
Look great
Fully customizable
Holds up well
Paint can inevitably come off
A fall can scratch the paint
Quite pricey
Grab your own
If you'd like to pick up a pair of custom AirPods, you can pick them up from ColorWare's website. They have AirPods with the standard case, the wireless case by itself, and the updated AirPods with the wireless charging case.
Several limited versions of AirPods are also available to order including a retro AirPods case style with faux vents and a rainbow button inspired by the Apple IIe. Another sports an "illusion" paint job that shifts color as you move it.
To go with the launch of the new iPhone line, ColorWare has also debuted four color options designed to perfectly match the hues of the iPhone 11 Pro. That includes gold, silver, space gray, and of course — Midnight Green. Each of these has a matte finish, just like the new iPhones.
The limited-edition models will run you $399 (with the retro tacking on a $50 premium) and the standard AirPods with Wireless Case goes for $339. Cheapest is the wireless case which is only $129.
If you go with the AirPods and Wireless Case you are paying a $140 premium over retail — even more when you take into consideration how often they go on sale.