AirPods versus AirPods Pro — Apple's wireless earbuds compared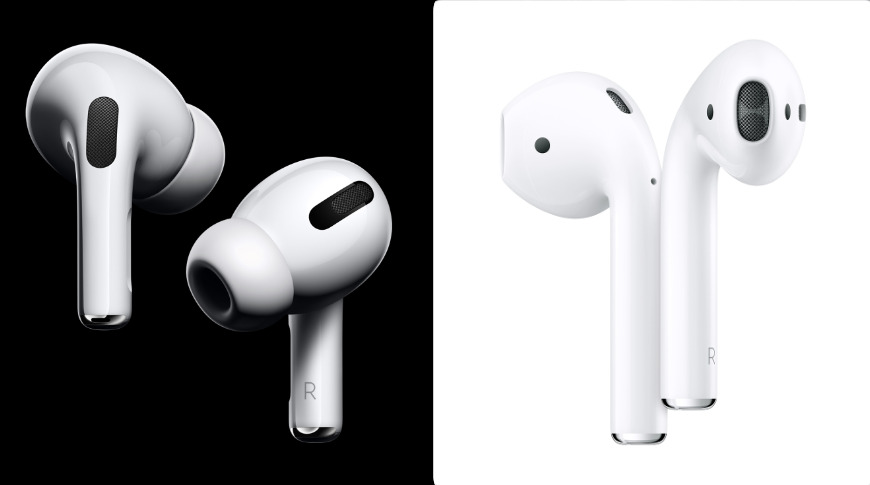 Apple's just-launched AirPods Pro are certain to be a desirable audio accessory this holiday season, but how different is it from the existing second-generation AirPods? AppleInsider runs the numbers on both sets of wireless earphones.
Launched on Monday and shipping from October 30, the AirPods Pro are a premium alternative to the existing and already highly-coveted AirPods. The key change for this version is the inclusion of Active Noise Cancellation, but there's far more changes to the model from what's available in its predecessor.
The Spec List
AirPods (Second Generation)
AirPods Pro
Dimensions (inches)
1.59 x 0.65 x 0.71
1.22 x 0.86 x 0.94
Weight (ounces)
0.14
0.19
Case Dimensions (inches)
2.11 x 1.74 x 0.84
1.78 x 2.39 x 0.85
Case Weight (ounces)
1.41
1.61
Battery Life (AirPods)
5 Hours
4.5 House with ANC, 5 with ANC off
Battery Life (with Case)
More than 24 Hours
More than 24 Hours
Connectivity
Bluetooth 5.0
Bluetooth 5.0
Microphones
Dual Beamforming
Dual Beamforming, Single Inward-Facing
Sensors
Dual Optical Sensors, Motion-Detecting Accelerometer, Speech-Detecting Accelerometer
Dual Optical Sensors, Motion-Detecting Accelerometer, Speech-Detecting Accelerometer, Force Sensor
Sweat and Water Resistance
No
IPX4
Active Noise Cancellation
No
Yes
Physical
The AirPods Pro are best described as shorter and squatter than the AirPods, having a shorter height of 1.22 inches against 1.59 but measuring wider and deeper at 0.86 by 0.94 inches against 0.65 by 0.71 inches. To external viewers, the main difference is the stem of the AirPods Pro is a fair bit shorter than for the AirPods, which is their biggest clue as to which version is being worn.
The short and squat changes also apply to the case, which measures 1.78 inches in height and with a width and depth of 2.39 inches and 0.85 inches respectively. The case for the AirPods is, again taller at 2.11 inches but not as wide at 1.74 inches, and with a comparable 0.84 inches in depth.
If the AirPods Pro case is rotated so it is on its side against the upright AirPods case, there's not much difference at all, with the Pro being generally slightly smaller in terms of overall volume. Just like the AirPods Pro, the case is also slightly heavier at 1.61 ounces, versus 1.41 ounces for the AirPods case.
Another big difference is the AirPods Pro use of additional silicone tips that can be switched between three different sizes to give an optimal fit to the ear cavity, something not offered by AirPods. Apple claims the fit helps provide an "exceptional seal for Active Noise Cancellation" to function optimally.
This arguably also accounts for the additional width of the AirPods Pro, and with the shifting of internals up into the earbud, this allows Apple to reduce the length to something that is less obvious.
Similar Functionality
The core functionality of both the AirPods and AirPods Pro are the same, mostly due to the use of Apple's H1 headphone chip in both models. The chip drives the connectivity with an iPhone or another device, as well as enabling voice-activated Siri, with Apple boasting it also reduces audio latency for gaming by up to 30 percent.
The built-in optical sensors and motion accelerometers work together to manage the audio experience, such as turning on the microphones for calls and for Siri, and for turning each AirPod on to play sound when it is placed in an ear. Taps of each earphone can be used to control music playback or answer a phone call, instead of needing a verbal Siri request to do so or to access the connected device hosting the audio feed.
The speech-detecting accelerometer is able to recognize when the user is speaking then, in concert with the beamforming microphones, can filter out external noise to try and focus on the user's voice for clearer audio.
The Big Difference: Active Noise Cancellation and Adaptive EQ
The main change potential AirPods owners will care about is Active Noise Cancellation, which is available on the AirPods Pro but not the AirPods. As with other noise-cancelling systems, the AirPods detects external sound to determine environmental noise, then creates an equivalent "anti-noise" to cancel it out before it reaches the user's ear.
The AirPods Pro include an extra microphone that is inward-facing, which listens towards the ear. Any remaining noise that is detected by the microphone is then dealt with in a similar way, further enhancing the ANC effect.
According to Apple, this process is performed 200 times per second.
Due to the use of an effective ANC as well as using the vented silicone tips that seal the ear canal, a Transparency mode is offered in the AirPods Pro that can let users hear the environment while still listening to music, making it safer for wearers to hear traffic or other potential hazards while out and about.
The system is similar to ANC in that it detects the environmental noise and processes it, but instead it reduces the volume.
The included Force sensor, new to AirPods Pro, is used to switch between the full ANC and Transparency modes, though it also helps assist with other tapping actions.
The introduction of Adaptive EQ also promises to make music better for users, by automatically tuning the low and mid-range frequencies of the music to the shape of the individual's ear. This, combined with a custom high dynamic range amplifier and a high-excursion, low-distortion speaker driver providing rich bass down to a level of 20Hz, promises to offer a great audio experience.
Power and Sweat
Both versions offer similar levels of power usage, though with ever so slight differences. While both are capable of up to 5 hours of music listening from a single charge, this drops slightly to 4.5 hours for the AirPods Pro when used with ANC. For talk time, the AirPods Pro come out on top with 3.5 hours to the AirPods 3 hours.
Wen used with the charging cases, Apple claims both models offer "More than 24 hours of listening time" in total, and "Up to 18 hours of talk time."
The specifications for charging the AirPods advise 15 minutes in the case will provide up to three hours of listening time. For the AirPods Pro, this is instead described as 5 minutes of charging resulting in around 1 hour of listening, making the two roughly comparable on that metric.
Apple also goes out of its way to state the AirPods Pro offer a level of sweat and water resistance, specifically at an IPX4 rating, whereas there is no mention of the feature for AirPods. It is likely that the additional silicone tips offer enough purchase to make the AirPods Pro more suitable for activities like running and working out, whereas the AirPods' slightly less secure seating make them less useful in that regard.
A Decent Upgrade
In theory, the AirPods Pro are the easy choice among the pair if someone wants to buy wireless earphones to go with their iPhone. The addition of ANC to the device makes it a no-brainer for people who hate having to deal with environmental noise and other distractions, while the Transparency mode still makes the user aware in situations where they need to pay attention.
As all other elements are largely the same, it becomes a question of whether the extra price is worth it for these additional functions. Considering other headphones with ANC can command a significant premium on top of non-ANC versions that can run to well over $100 in some instances, paying an extra $50 for the same thing in AirPods is actually quite reasonable.
This is of course in comparing the AirPods with Wireless Charging Case against the AirPods Pro, which uses a similar wirelessly-charged case. The price difference rises to $90 when comparing the lowest cost AirPods at $159 with the non-Wireless version of the Charging Case, but seeing as you gain the Wireless Charging Case as part of the upgrade as well, it's still worth going for it.
First-generation AirPods users looking to replace theirs may also want to opt for the AirPods Pro instead of going for the second-generation AirPods, though both they and second-generation model users may prefer to stick to their existing units instead of upgrading if they don't value ANC that much.
Where to Buy
AirPods Pro will be available only in white for $249 and are available to order from B&H, or Apple directly in the US and more than 25 other countries and regions. AirPods Pro will start shipping on October 30 and be available in stores beginning later this week. Apple's 2019 AirPods refresh remains available.