Breaking down Apple's AirPods Pro: 8 features that set them apart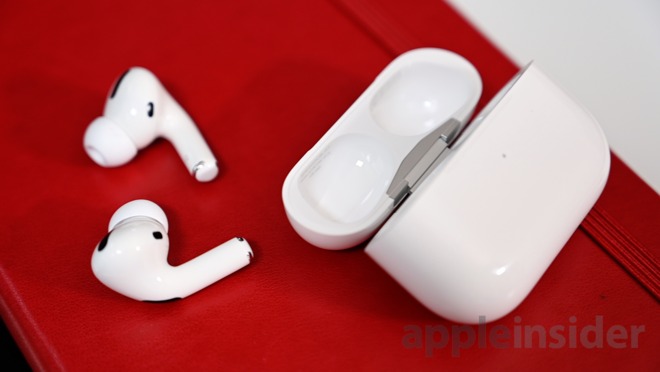 AppleInsider may earn an affiliate commission on purchases made through links on our site.
After a release on Monday, Apple's AirPods Pro are available for purchase at retail now. There are some features that set them apart from Apple's previous offerings and we take a look at all of them.
Wind-proofed Mic
The microphones on the new AirPods Pro now reside on the outside of the earpiece.
It now has an expanded mesh microphone port versus the older AirPods, which drastically improves call quality while out and about. In our testing so far in a variety of fall weather conditions, including sun, wind, and rain, the mic relocation and mesh have made a big improvement in audio quality based on feedback from our call recipients.
Audio Transparency mode
The microphone array on the AirPods Pro don't just improve call quality, they make Transparency Mode possible. Transparency Mode allows users to hear what is going on around them while AirPods Pro are in their ears by passing through the audio from the external microphone and mixing it with what's being played.
For instance, in an office Transparency Mode can be utilized to hear if someone is trying to talk to you while you've got your AirPods in. Additionally. pedestrians or cyclists can use the mode to keep an ear out for vehicles while on the go.
Active noise cancelling
Coming to AirPods for the first time is Active Noise Cancellation (ANC). Apple's ANC technology uses the microphones to monitor external noises, and block them out with a combination of software and hardware. This functionality is best with droning or repetitive noises, like background noise on a plane, the buzz of traffic you hear while walking down the street, or the hum of appliances at home.
Not only does it block out those noises, but it does so with a high-quality version of ANC. Instead of using feed-forward ANC which only uses an external microphone, it has a secondary internal microphone that listens inside your ear to cancel out any other internal noise it hears so audio isn't impacted.
Apple says it samples and corrects itself up to 200 times every single second to ensure the best possible noise cancellation.
Apple H1 chip
Baked into all of Apple's latest headphones is the H1 chip. It debuted with the AirPods second-generation earlier this year and has since shown up in other headphones such as the PowerBeats Pro.
This Apple-designed system-in-package is what handles everything for the headphones including audio processing, "Hey Siri" support, and noise cancellation. It is packed with ten audio cores for incredibly low latency and real-time noise cancellation.
It allows for the simple setup process with an iPhone, iPad, or Mac, and the effortless hand-off. It is unique to Apple and one of the biggest benefits any model of AirPods have, even if it isn't visibly noticeable from the exterior.
Force sensor
Within each of the AirPods Pro stems is a force sensor. This new sensor replaces the tapping gesture found on the original AirPods that could be awkward or dislodge the earpiece.
One squeeze can play/pause music or answer a call, two squeezes will skip to the next song, three squeezes will go back, and a long hold will change modes from noise-canceling to transparency.
Not much pressure is required to activate. When you've done so, you can hear a tiny click from the earpiece.
USB-C
This time around, Apple has included a USB-C to Lightning cable in the box — same as with the iPhone 11 Pro and iPhone 11 Pro Max. This is a great addition for owners of Apple's newest hardware. Every Mac currently shipping has a USB-C port, and the iPad Pro does too.
Of course, AirPods Pro can charge wirelessly with any Qi-enabled charging mat, but it is nice to have a cable included to work with all of Apple's latest gear. You could even use the cable to charge your AirPods Pro from the bottom of your USB-C iPad Pro.
Sweat resistant
Apple has given the AirPods Pro an IPX4 water and sweat resistance rating which means whether you are deep in a heavy workout at the gym, or getting caught in the rain, AirPods Pro will hold up.
You can't wear them swimming. You probably shouldn't wear them in the shower. But, you don't need to worry about sweat or a rain shower breaking them.
Available now
AirPods and AirPods Pro specifications
AirPods (Second Generation)
AirPods Pro
Dimensions (inches)
1.59 x 0.65 x 0.71
1.22 x 0.86 x 0.94
Weight (ounces)
0.14
0.19
Case Dimensions (inches)
2.11 x 1.74 x 0.84
1.78 x 2.39 x 0.85
Case Weight (ounces)
1.41
1.61
Battery Life (AirPods)
5 Hours
4.5 House with ANC, 5 with ANC off
Battery Life (with Case)
More than 24 Hours
More than 24 Hours
Connectivity
Bluetooth 5.0
Bluetooth 5.0
Microphones
Dual Beamforming
Dual Beamforming, Single Inward-Facing
Sensors
Dual Optical Sensors, Motion-Detecting Accelerometer, Speech-Detecting Accelerometer
Dual Optical Sensors, Motion-Detecting Accelerometer, Speech-Detecting Accelerometer, Force Sensor
Sweat and Water Resistance
No
IPX4
Active Noise Cancellation
No
Yes