Ex-Apple executive formerly in charge of 5G modem project joins wireless tech startup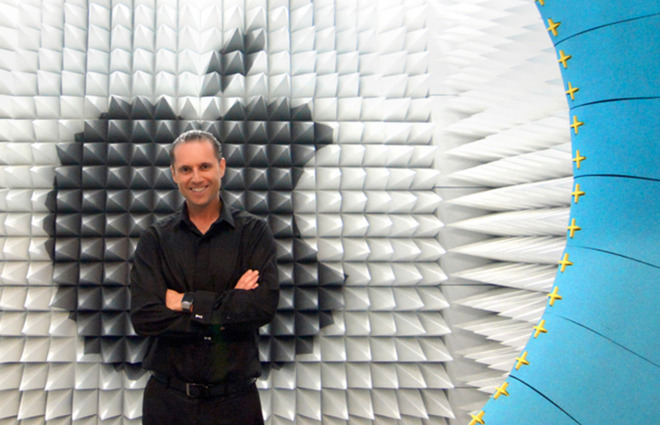 Former Apple executive Ruben Caballero, who previously led Apple's 5G modem initiative, has landed at startup Keyssa Inc., where he will act as the company's chief wireless strategist.
In his new role, reported by Reuters on Thursday, Caballero is developing wireless technology capable of transferring data nearly as fast as a wire. Keyssa is working toward a solution that can replace the need for cables which have until now been a necessity for mobile devices.
As noted in the report, nearly all smartphones come packaged with a cable, whether it be Apple's Lightning cable, USB-C or other suitable format, that pulls double duty for charging and data transfer. Modern smartphone platforms like Apple's iPhone are moving away from cords thanks to wireless charging and cloud storage solutions, but in both cases speed continues to be a problem.
For example, wireless charging is limited to 7W on iPhone — 10W on many Android devices — compared to double or triple the performance offered by wired fast charging alternatives like USB-C PD. At the same time, wireless data connections including Bluetooth and Wi-Fi remain slower than corded connections. Keyssa wants to shift the latter dynamic with high-speed wireless data chips.
"Every single consumer product would love to solve the external connector," Caballero said.
Caballero and his team at Keyssa are also looking to replace internal wired connections. Camera modules, for example, might use the company's tech to transmit imaging information to a logic board or processor wirelessly. The chips have no wires to break and avoid potential interference with other components or devices by relying on high frequencies.
"What's beautiful about this is the frequency," Caballero said. "It just fixes a lot of problems."
Keyssa's chip is already at work in LG's V50 dual-screen smartphone, where it ferries display information to the device's second display. The startup is exploring partnerships with display makers and a LIDAR sensor manufacturer, the report said.
As of this writing, Keyssa has raised more than $100 million from venture groups at Intel, Samsung and Foxconn parent company Hon Hai Precision Industry. Future Shape, a fund operated by former Apple executive and "father of the iPod" Tony Fadell, also contributed. Fadell initially brought Caballero into the Apple fold when he hired the former Canadian Air Force captain for work on the original iPhone.
During his 14-year stint at Apple, Caballero supervised wireless engineering of every iPhone up to iPhone 11. Prior to departing the tech giant earlier this year, he was thought to be leading a team tasked with developing an in-house 5G modem for future use in iPhone and iPad.