Apple launches new women's health, hearing, & heart and movement studies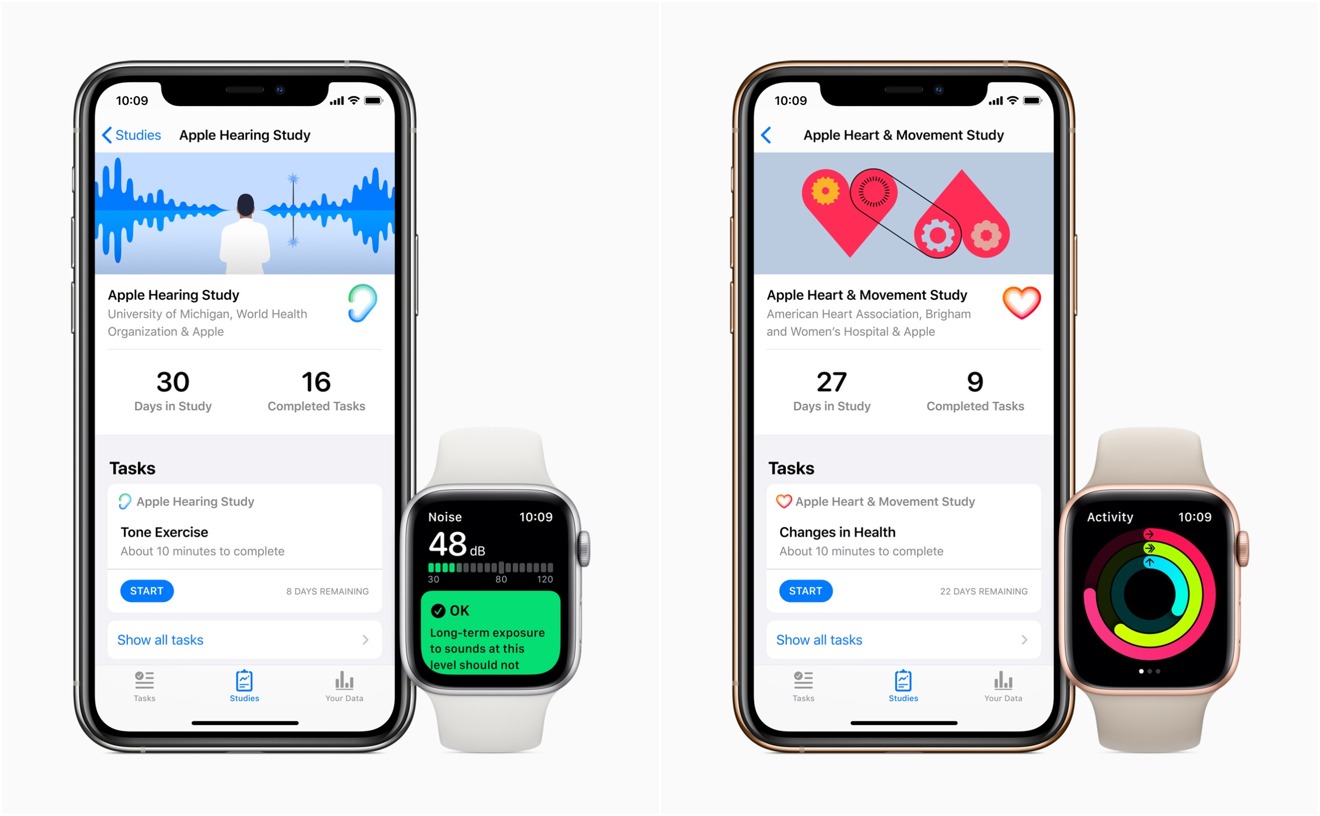 After an initial announcement in September at the iPhone 11 launch event, Apple and its research partners have opened up a trio of studies for participants with an Apple Watch and an iPhone utilizing the new Research app — Heart and Movement, Women's Health, and Hearing Studies.
Starting on Thursday, customers in the US can enroll in the three studies that it had previously announced. Apple has partnered with with leading academic and research institutions to deliver and produce the multi-year studies with data collection and reporting through the new Research app.
Apple says that participants can contribute to groundbreaking medical discoveries and help create the next generation of innovative health products.
"Today marks an important moment as we embark on research initiatives that may offer incredible learnings in areas long sought after by the medical community," said Jeff Williams, Apple's chief operating officer. "Participants on the Research app have the opportunity to make a tremendous impact that could lead to new discoveries and help millions lead healthier lives."
Apple notes that the Research app used for the study was designed from the start to only share data with the chosen studies when the user approves. Enrollment is clear, with detailed consent affirmations that explain how data will be used, and allows a user to control the type of data shared with each study.
Hearing study
The Apple Hearing Study will collect headphone usage and environmental sound exposure data through the iPhone and the new Noise app on Apple Watch. The data will be used by the University of Michigan to determine how long-term sound exposure can impact stress levels and cardiovascular health. Participants will be randomly assigned to two groups within the study to assess if receiving Health app notifications when loud sound exposure is detected can motivate users to modify listening behaviors.
Data from the study will also be shared with the World Health Organization's Make Listening Safe initiative to raise awareness of safe listening practices.
"The World Health Organization is pleased to note the announcement of the Apple Hearing Study which will contribute toward our Make Listening Safe initiative by improving our understanding of users' listening behaviors," said Dr. Shelly Chadha, technical officer of Prevention of Deafness and Hearing Loss at the World Health Organization. "With over a billion young people who could be at risk of hearing loss due to unsafe listening, WHO is addressing this challenge through raising awareness and setting new standards for safe listening. The knowledge gained through this study will contribute to future public health action in this field."
Heart and Movement Study
The Heart and Movement Study is part of a wider effort to promote healthy movement and improved cardiovascular health.
Apple has teamed up with Brigham and Women's Hospital and the American Heart Association, to research how mobility deterioration paired with details about heart rate and rhythm could serve as potential early warning signs of atrial fibrillation (AFib).
"At the American Heart Association, we are a relentless force for a world of longer, healthier lives, and we are committed to educating and empowering people to be proactive in all areas of their heart health and general well-being," said Nancy Brown, CEO of the American Heart Association. "We believe that emerging technology solutions that seek to provide deeper health insights offer great potential in getting us there. We are collaborating with Apple and Brigham and Women's Hospital on the Apple Heart and Movement Study to explore the correlation between a broad range of physical activities and a person's overall heart health to ultimately understand risks and interventions to improve health."
Users can participate by using the Research app on their iPhone and recording workouts on their Apple Watch Series 1 or later.
Women's Health Study
Apple's Women's aims to advance the understanding of menstrual cycles and their relationship to various health conditions, including polycystic ovary syndrome (PCOS), infertility, osteoporosis, and menopausal transition. The study is being conducted in partnership with Harvard T.H. Chan School of Public Health and the NIH's National Institute of Environmental Health Sciences (NIEHS).
"Women make up half of the world's population, yet even today there has been limited investment in studying their unique health needs," said Michelle A. Williams, a reproductive epidemiologist and dean of the faculty at the Harvard T.H. Chan School when the study was originally announced. "This study, unprecedented in scope, will greatly advance our understanding of the biological and social determinants of women's health, and lead to better health outcomes."
The study will use the iPhone paired with an Apple Watch to collect cycle tracking information, and use monthly surveys to understand each participant's unique menstrual experience. The data will be combined to analyze the impact of certain behaviors and habits on a wide breadth of reproductive health topics.
Apple's Research app
At its September event, Apple introduced these three projects it is now offering. The studies will use a variety of features built into the Apple Watch, including some features that arrived as part of watchOS 6.
The foundation to the Research app was developed during and after the Apple Heart Study. Stanford university published information that it gleaned from the study on Wednesday. Apple launched that study in late 2017, with the program later called the largest arrhythmia of all time by the American Heart Journal. Research concluded in 2018, with data from the work later used to gain FDA approval of the electrocardiogram introduced with Apple Watch Series 4.