X-ray shows how the iPhone 11 Smart Battery Case camera button works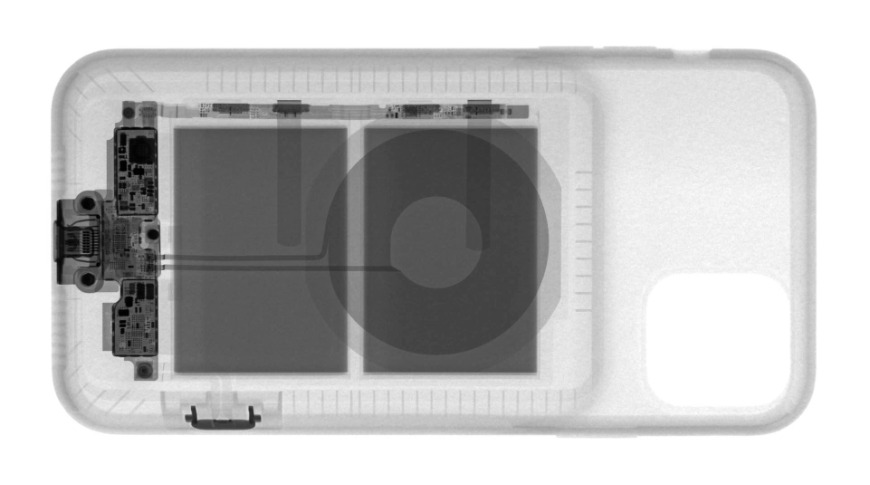 AppleInsider is supported by its audience and may earn commission as an Amazon Associate and affiliate partner on qualifying purchases. These affiliate partnerships do not influence our editorial content.
Apple's Smart Battery Case for the iPhone 11 has a slightly refined design to add the dedicated camera button, x-ray images of the case reveals, with the accessory including an extra circuit board to add extra hardware controls to the smartphone.
Apple launched a new set of Smart Battery Cases for the iPhone 11, iPhone 11 Pro, and iPhone 11 Pro Max on November 20, with the accessory updated with a larger camera cutout and a new camera button while maintaining the well-known battery hump design. Chiefly, the case is to protect the iPhone while also offering up to 50% more battery life, but this generation introduces the camera button for the first time.
A series of x-rays hosted by iFixit and performed by Creative Electron shows there are a few internal changes to the Smart Battery Case to accommodate the new button, both to position it and to connect it to the iPhone.
A small circuit board is embedded inside the case between the two battery cells and the Lightning port. The board is used as the conduit for connections of other components, including the induction charging coil and the batteries via wires, while a thin flexible circuit runs to the button.
The addition of a button is an interesting choice for Apple, as previously users had the ability to use the volume buttons to trigger the shutter instead of tapping the display. However, the orientation of the camera in relation to the volume button, which would be on the bottom edge if the iPhone is held in a typical landscape fashion, makes it harder to press, and can occasionally cause unwary users to press the power button by mistake.
Aside from being ideally located for taking a photo with the right index finger firing the shutter, the new button is also slightly recessed, minimizing the chance of it being pressed while in a pocket or bag.