Apple Arcade gains $49.99 annual subscription option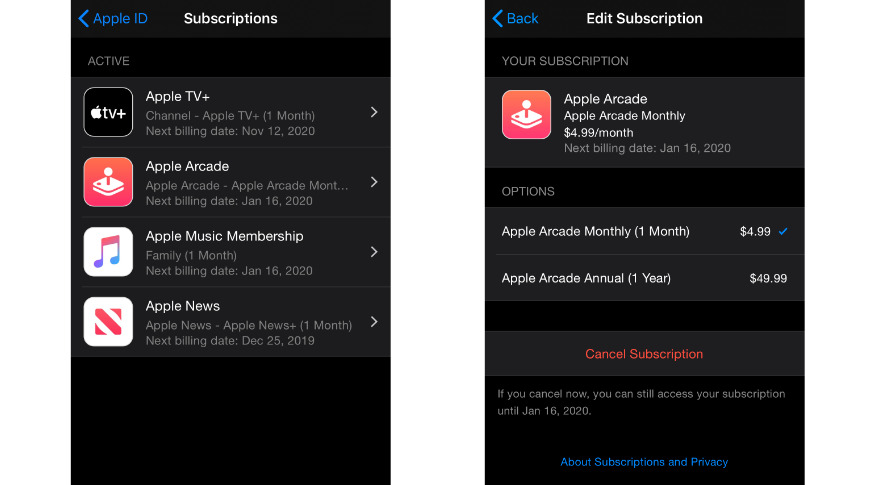 The Apple Arcade subscription is already a good value, but Apple has added an option for subscribers to pay annually instead of per-month, bringing the cost of the plan down to $49.99 per year.
The option lets subscribers change their Apple Arcade subscription from a monthly payment to an annual version. The change brings the subscription in the United States from $4.99 per month to $49.99 per annum, with similar offers provided in other markets.
As spotted by iFun, the cost difference between the monthly and annual Apple Arcade is substantial enough for many users to consider switching over, due to still being an accessible price. At $49.99 per year, this equates to $4.17 per month, while paying $4.99 per month normally would total $59.88 per year, $9.89 more than the annual version.
Changes to the subscription can be made by accessing the App Store on an iOS device, entering the Profile section, selecting Subscriptions then Apple Arcade, and then selecting "Apple Arcade Annual (1 Year)." The change will be made on the next scheduled billing date, visible within the same menu.
Apple Arcade joins Apple TV+ in providing an annual payment option, with the video subscription service offering it since its first day of operation.
Launched in September, Apple Arcade provides access to over 100 games from over 35 gaming studios, including major names in the industry and smaller independents. Games can be played on all compatible platforms — iOS, iPadOS, tvOS, and Mac — with support for up to six users on a single subscription via Family Sharing.