Tim Cook, Malala Yousafzai discuss teaching girls to code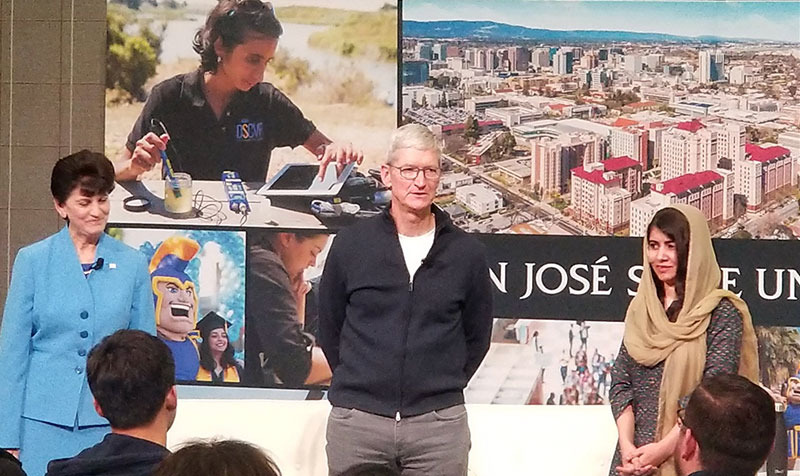 AppleInsider is supported by its audience and may earn commission as an Amazon Associate and affiliate partner on qualifying purchases. These affiliate partnerships do not influence our editorial content.
Apple CEO Tim Cook is back on U.S. soil after a whistle-stop East Asian tour and on Monday sat down with Nobel Peace Prize laureate Malala Yousafzai to discuss the role of technology in education and the company's ongoing collaboration with the Malala Fund.
Cook, Yousafzai and San Jose State University president Mary Papazian talked about Apple's role as one of the first organizations to partner with the Malala Fund, a non-profit dedicated to providing 12-year educational programming to young women living in war- and poverty-stricken countries.
"Education is embedded in Apple's DNA," Cook said, according to NBC Bay Area. "It is the great equalizer. If you fix that, you fix a lot of other struggles."
Apple first joined forces with Yousafzai in 2018, granting enough funding to double the number of grants provided by the fund's Gulmakai Network and expand funding programs to India and Latin America. At the time, the program sought to extend secondary education opportunities to more than 100,000 girls in those regions.
"If you focus on girls in the family, then the benefit to everyone is exponential," Cook said.
According to Yousafzai, Apple not only provides financial support, but the company's reach helps spread Malala Fund's message far beyond a typical nonprofit's sphere of influence, the report said.
"Apple has helped to expand and help our vision grow," Yousafzai said.
Cook in his own tweet about the event called Yousafzai an "unparalleled champion for access to education," which he views as a basic human right alongside data privacy and equality. "Apple is proud to continue our partnership with the @MalalaFund to help 130 million girls get a safe, quality education," he continued, thanking Papazian and the SJSU community for hosting today's discussion.
Yousafzai began advocating for girls educational rights when she was 11 years old living in Taliban-controlled Pakistan. In 2012, at 15 years old, Yousafzai was the target of an attempted assassination, but the attack only strengthened her resolve to shine light on the plight of girls who are actively denied access to a quality education.