Apple glasses could have hidden cameras and removable earphones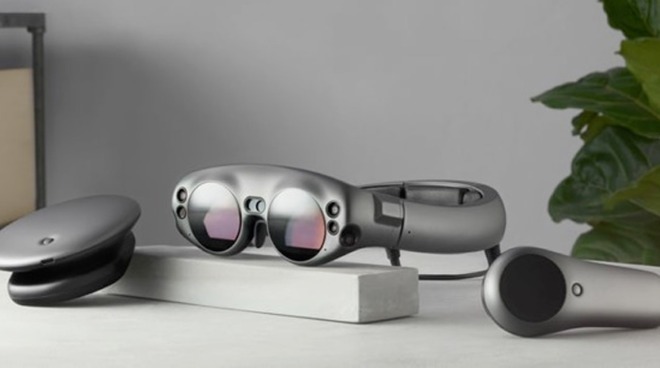 Apple's long-rumored AR or VR headset could keep some of its optical components behind an electrically-controlled layer to hide them from view when not required, as well as earphones that could be removed from the head-mounted display and used as speakers.
Apple has reportedly been working on a form of VR or AR headset or smart glasses for quite some time, with stories regularly surfacing over time for the supposed devices. While most stories have dealt with the technical aspects of the hardware, like display technologies Apple could use for virtual reality or augmented reality purposes, occasionally news surfaces about other elements.
Published by the US Patent and Trademark Office on Thursday, two patent applications show Apple is still concerned with how the headset could look, as well as unique ways it can provide an improved auditory experience to its users.
Hiding Sensors
The first patent application, "Electronic Devices having Electrically Adjustable Optical Layers," deals with the idea of hiding components. Sensors, cameras, and other elements may be required within an electronic device to drive certain features, with some needing a form of an aperture to the world to function properly.
While these openings can be hidden using windows and optical coatings, this isn't necessarily the best route, as it keeps the design static and unchanged throughout the product's life. The static nature also means the sensor could be affected by the covering in unfavorable situations, such as excessive light reflecting off the covering's window.
Apple's proposal is the use of an electrically-adjustable optical layer to hide the components. By applying an electrical charge, the transparency of the window can be adjusted, allowing the component to work optimally when required.
Changing the transparency also serves the purpose of hiding the component from view.
The layer can include adjustable light transmission, such as a guest-host liquid crystal layer or electrochromic layer. Other layers could also be added to create an adjustable haze, color, or reflectivity, which can be used to help the sensor work ideally when light and other conditions can interfere.
The application suggests this could be used for a variety of electronic device designs, including handheld device housings and head-mounted versions. This infers a system that could be used to hide externally-facing sensors on a headset, but also potentially elements on a smartphone, such as an iPhone's camera, to give a cleaner appearance.
Inventors for the filing are James R. Wilson, James W. Vandyke, and Matthew S. Rogers.
Wilson is a senior product design engineer primarily working as a materials scientist for Apple, and has several patents to his name. Vandyke is also a product design engineer, with a background in medical device and sound processing.
Rogers is a manager of product design materials and coatings for Apple, and has many patent credits in related fields. These include an application for an "Electronic Device with Infrared Transparent One-Way Mirror" and "Electronic Devices with Thin-Film Masking Layers."
Detachable Audio
The second application is for the simply-named "Display System Having an Audio Output Device," which deals with detachable speaker units for a head-mounted display. In effect, it refers to earphones that could be removed from a headset.
Some VR headsets on the market do already offer audio functionality, including in forms where the earphone elements can be removed. Some others rely on users adding headphones, earphones, or another audio source.
In the patent application, Apple suggests the movement of the speakers relative to the headset could make changes to a visual or audio element of the user's VR or AR experience. For visual feedback, this could be indicators to show its movement or position relative to the display, while audio changes could be adjustments to the speaker's volume, equalization, or dynamic range.
It is also possible the headset could use a set of built-in speakers along with detachable versions, with both variants able to be adjusted based on the movement of the removable elements.
The key part of the patent is that the user's experience is affected by the movement of detachable speakers within the real world. While this may provide some benefits for VR applications, such as with games, more practically, it could allow a wearer to know where their speakers are placed without needing to remove the headset.
At the same time, the earcups could switch between modes that allow them to be used for normal audio playback and a second where it plays louder as if it is a speaker.
Images accompanying the application suggest the speaker unit could be earcups on a pivot, allowing them to adjust to the user's ear. The earcups could feasibly be attached for easier storage and transport, and could also be attached using magnets.
Its inventors are listed as James W. Vandyke again, along with Neal D. Evans, Andrew M. Hulva, Robert D. Silfvast, and Christopher T. Eubank.
Silfvast works in product design leadership for Apple with experience in audio products and systems and has patents and applications to match. These range from "Ultra-Low Latency Audio over Bluetooth" to a "Distributed, Self-Scaling, Network-Based Architecture for Sound Reinforcement, Mixing, and Monitoring.
Eubank works in Apple's Technology Development Group as an engineering manager for audio. Evans is also an acoustic design engineer.
Apple files numerous patent applications every week. While the existence of a patent indicates areas of interest for the company's research and development efforts, it does not guarantee the concepts described will appear in a future product or service.
The first patent application is reminiscent of others dealing with sensors in displays. For example, the use of "Light-transmitting windows" keeps cameras and other sensors behind the display layer on an iPhone, with the overlaid area able to be used as part of the screen as usual, but disabled to allow the camera to work normally.
The second's conversion of earphones into speakers has also been raised, with the patent for "Dual mode headphones and methods for constructing the same" explaining how earphones can switch to an amplified speaker mode in specific positions.