CES 2020: Best of iPhone & iPad Accessories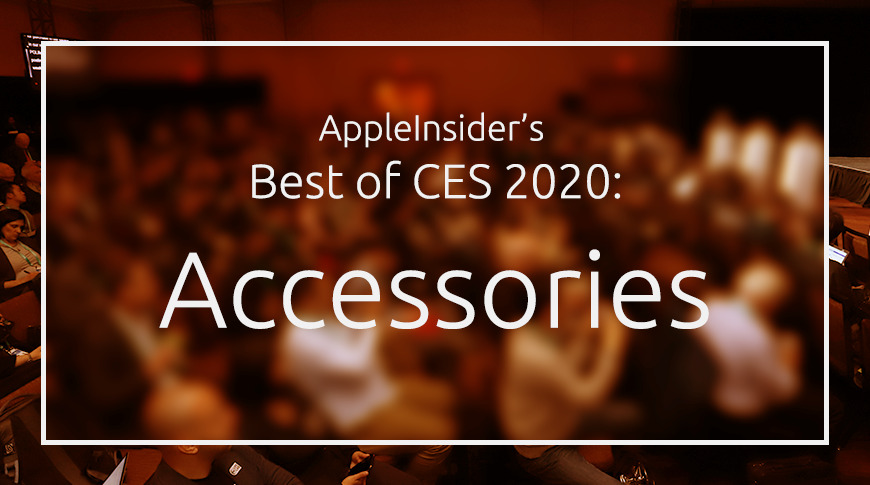 CES has always included a high number of accessory producers showing off add-ons for iPhones, iPads, and other devices, and this year is no exception. Here is AppleInsider's list of notable accessories that made an appearance at the trade show.
Incipio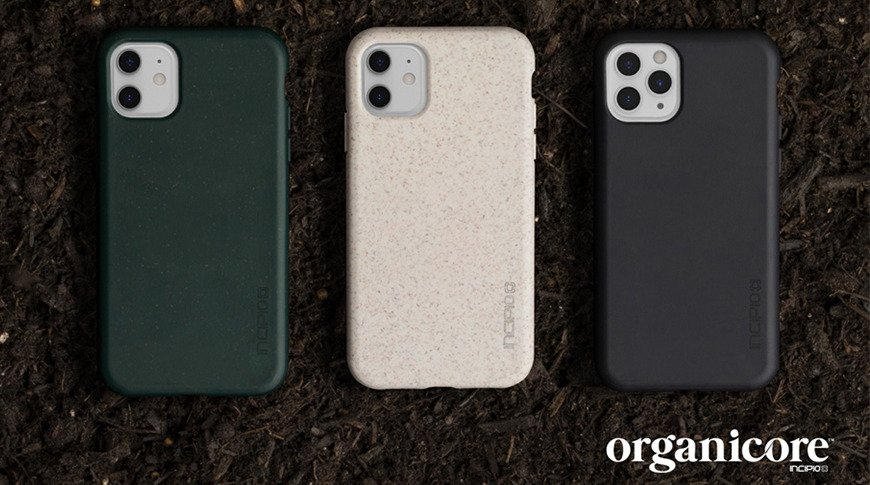 This year, Incipio is launching a new line of plant-based iPhone cases that are entirely compostable when they are no longer needed.
"As a leader in device protection, we recognized a need to bring eco-conscious solutions with proven protection to the category," said Brian Stech, CEO of Incipio. "By introducing a 100% compostable alternative to the market, backed by more than 20 years of industry expertise, we are able to provide a wide range of consumers with a slim, protective and quality case option that better serves the planet and our future — so everyone can do their part."
In a composting environment, the Organicore cases can break down in as little as six months. They are able to withstand drops from as high as six feet, support wireless charging, and come in Oatmeal Beige, Stone Gray, Black, and Deep Pine Green.
The cases are available now and retail for $39.99. Incipio says Organicore cases for AirPods, tablets, and other devices will launch in the coming months.
Mophie
The Mopie Powerstation Go is a universal battery that can provide a fair bit more than a normal power bank can offer to users. Mainly, it is capable of providing a jump start to any SUV or full-sized card via its included mini jumper cables.
Providing a giant 44,400mWh of power, the portable unit provides more than enough power to give a boost to a vehicle with a flat battery, though it is also able to be used for more typical purposes as well.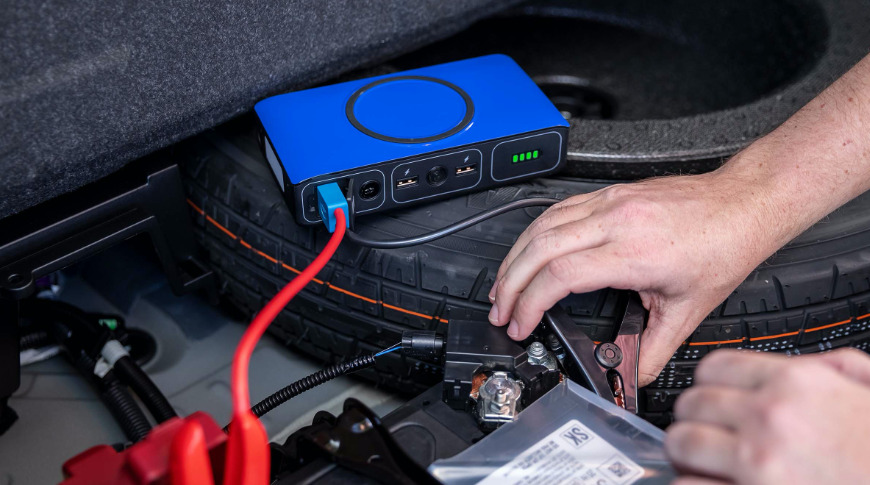 Using dual 2.4A USB-A ports, it can be used to charge two devices at the same time, while the top surface is able to provide wireless charging to any Qi-enabled device at up to 5W. An included 115V AC output is also available for charging notebooks and powering other devices, outputting at up to 65 Watts.
Even though it can hold enough power to jumpstart a car, the unit is still lightweight and portable, able to be held in a bag or stored in a glove compartment. As with many other power banks, it also offer an LED flashlight.
The Mophie Powerstation Go is available now on HSN.com for $159.95, and from Mophie's website from January 9. The power bank is available in a variety of colors, including Onyx, Cobalt, Flamingo, Camo, Sapphire, and Gold options.
Gear4
Releasing in February, Gear4 is dropping two brand new cases — the Battersea and the Brompton — to keep your 10.2" iPad safe from drops, bumps, scuffs, and more.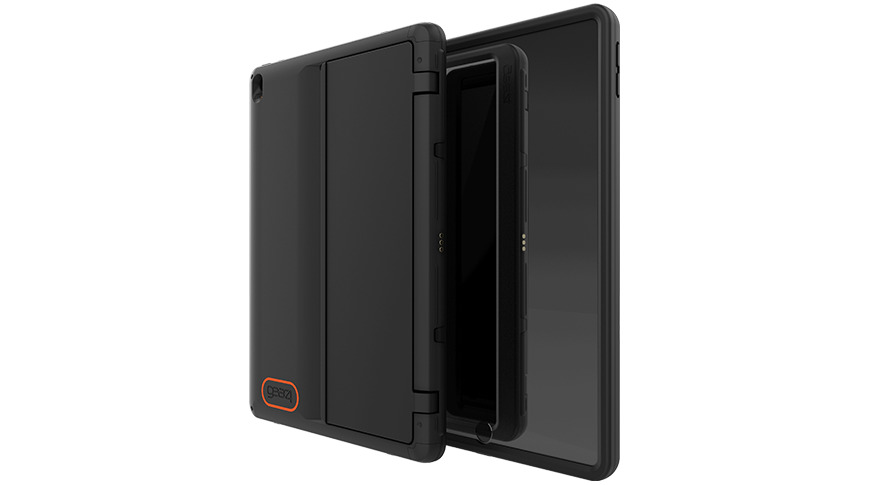 The Battersea is an ultra-rugged case that boasts 8-foot drop protection, a built-in screen protector, and a foldable infinity angle stand. The Battersea also features D3O protection, a material used in low-profile, high-impact protection scenarios, such as lining for football helmets, military combat gear, and motorcycle safety equipment.
It's fully compatible with Apple smart keyboards, so no case switching is needed when it's time to sit down and get to work. The slim design means it fits great in messenger bags, backpacks, and is easy to hold. The Battersea iPad case is available in black, and upon release will retail for $79.99.
If you don't need quite as much protection, the Brompton is a slightly sleeker, slightly cheaper case that still gets the job done. Featuring a 6.5-foot drop protection, a three-angle movie stand, and a removable fabric folio, it's perfect for those who are looking for a bit extra protection when taking their iPad on the go.
The Brompton comes in black or rose gold, and upon release will be priced at $49.99.
Pitaka Air Omni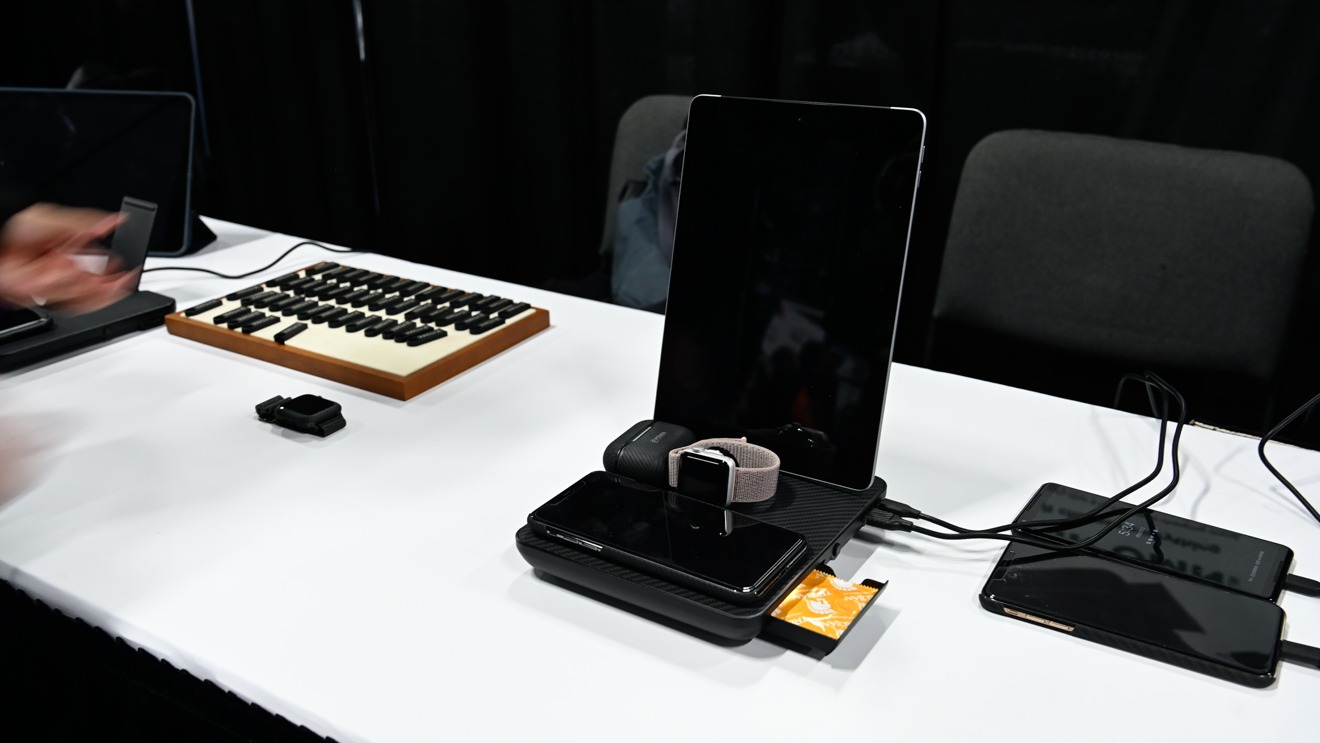 Air Omni is Pitaka's latest charging solution that allows users to power up to six devices at once.
The back has an iPad stand with a quick-changing USB-C or Lightning connector. it sits behind a 5W Qi charging coil for a set of AirPods and an Apple-certified Apple Watch charging puck that lies flat or props up for Nightstand Mode.
Up front is another Qi charger for an iPhone or Android device. What makes the Air Omni really different from the Air Quad is the USB-A and USB-C port on the right side as additional outputs. It also has a small illuminated drawer for holding small objects such as jewelry or SIM cards.
Alogic
Alogic's Dock Wave three-in-one device combines a USB-C hub, high-capacity battery and a wireless charger into a svelte, portable package.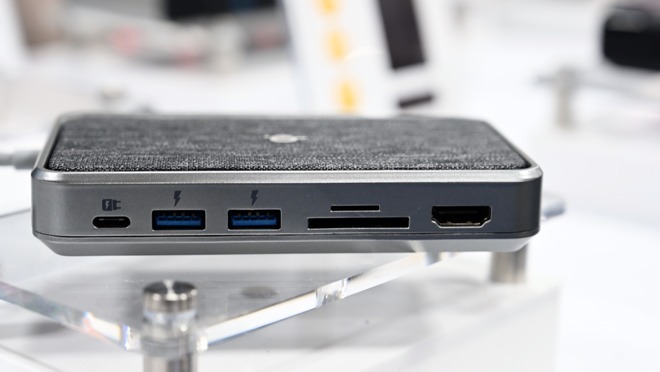 The Dock Wave works as an ideal road warrior solution with up to 60W power pass-through for juicing up an attached MacBook, an HDMI port capable of outputting 4K media at 30Hz and a pair of USB 3.0 (USB-A) connections. SD and micro SD card readers are also packed in, making life easy for those averse to lugging around dongles.
A 5,000mAh battery with LED status indicators is perfect for charging up mobile devices on the go. Built-in 5W wireless charging, accomplished through an inductive coil positioned under soft fabric, means users can also keep their iPhone topped up as they work.
Moshi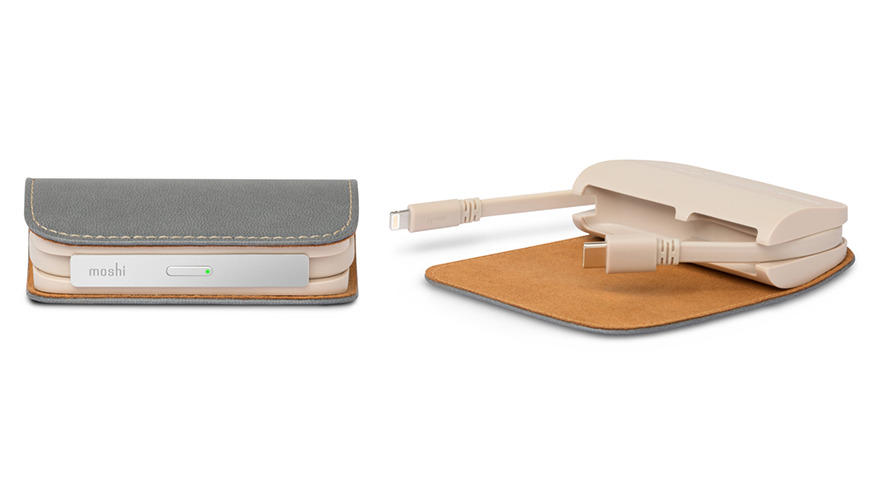 Accessory maker Moshi is debuting several new Apple-centric products at CES 2020 that blend Scandinavian design with the latest technology.
The new Moshi IonGo 5K Duo is a compact battery pack that is wrapped in vegan leather and includes an integrated USB-C and Lightning cables for easily charging an iOS or USB-C device. It comes in Azure Blue and will ship in mid-May for $70.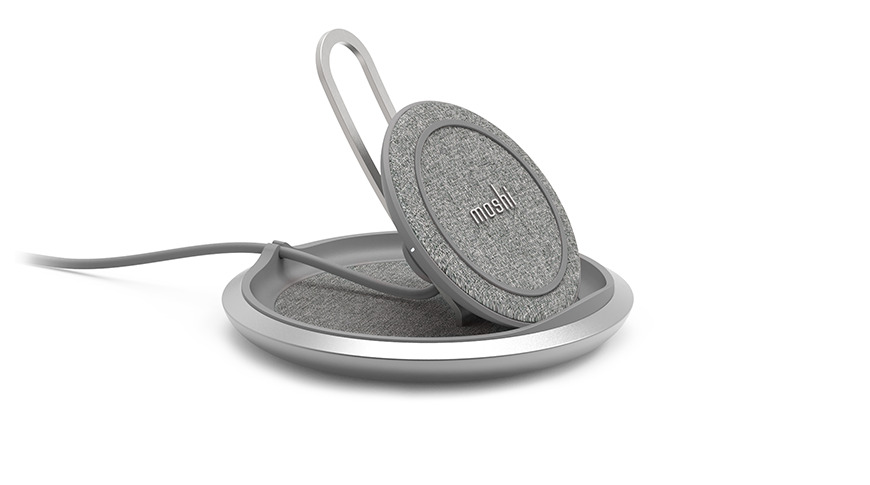 Additionally, Moshi is launching a new desktop charger dubbed the Lounge Q. This new Qi wireless charger can double as an adjustable stand for your phone and can support up to 15W of power or up to 7.5W for iPhones. It launches mid-April for $70.
For those who play content on a TV or monitor over HDMI, the new Moshi USB-C to HDMI Adapter will allow [email protected] and HDR content to be played back while simultaneously charging the device at up to 60W. It supports MacOS, Windows, Android, ChromeOS, and iPadOS. It will run $45 when it becomes available mid-April.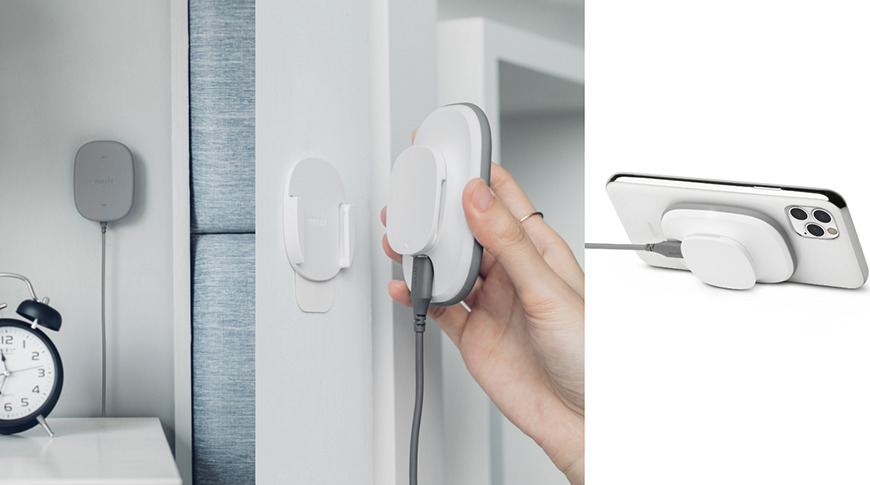 Finally, Moshi is introducing a new SnapTo wireless charger. SnapTo is Moshi's magnetic mounting system and the new wireless charger pulls double-duty as a Qi charging wall mount and a horizontal stand for you phone. It can provide fast wireless charing up to 10W and is available now for $49.95.
Scosche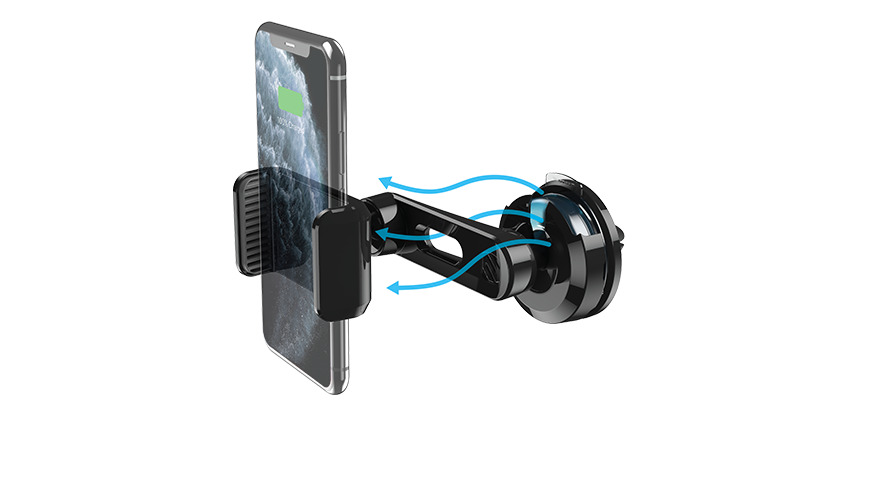 Scosche is releasing a new mounting system for smartphones, that aim to solve common issues with typical mounts. The new Fresche MagicMount line encompasses six different models, split between Qi wireless and standard designs.
The new MagicMount Fresche line features a rotatable arm that positions your device to the side of your vent to prevent blocking airflow or overheating your phone. The mount itself is circular with a vent holes to allow better air movement.
Within this FreeFlow open design is a replaceable air freshener that comes in several different scents including "new car smell."
The MagicMount Fresche vent mounts are available starting March 2020 at $19.99 for the standard models and the magnetic Qi wireless models will follow in June for $54.95.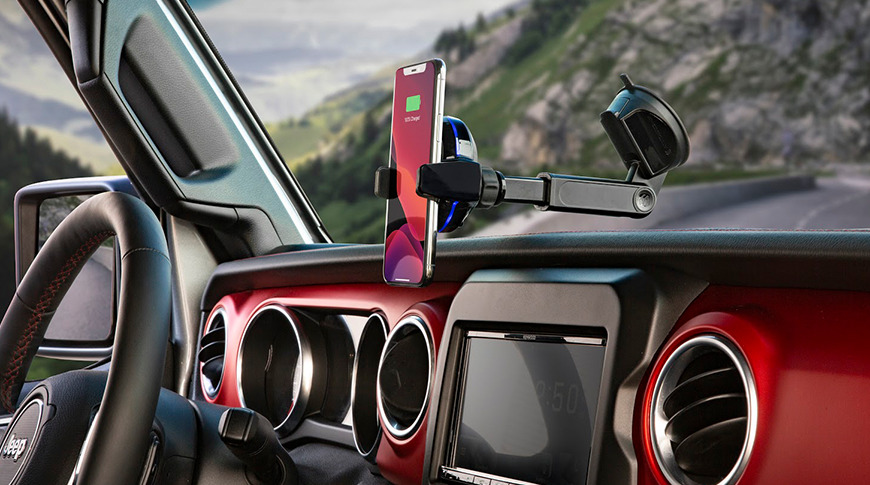 Following its announcement of the Fresche MagicMount lineup, Scosche is also announcing its new Extendo Phone Mount for vehicles and homes.
This new mount can be affixed to a windshield or dash and can extend and articulate until you get the perfect angle before locking into place.
It can also be used indoors on a counter or backsplash. Perfect for FaceTime or reading a recipe.
The arm extends from around five inches to eight and a half inches and has 220 degrees of adjustment. The head itself can rotate a full 360 degrees and works in both portrait and landscape orientations. The Extendo also comes in an Extendo Charge variant that includes a Qi-certified wireless charger into the mount itself.
Scosche's Extendo Phone Mount will start shipping Spring through Summer of 2020 and range from $24.99 for the universal to $69.99 for the wireless charging versions.
Satechi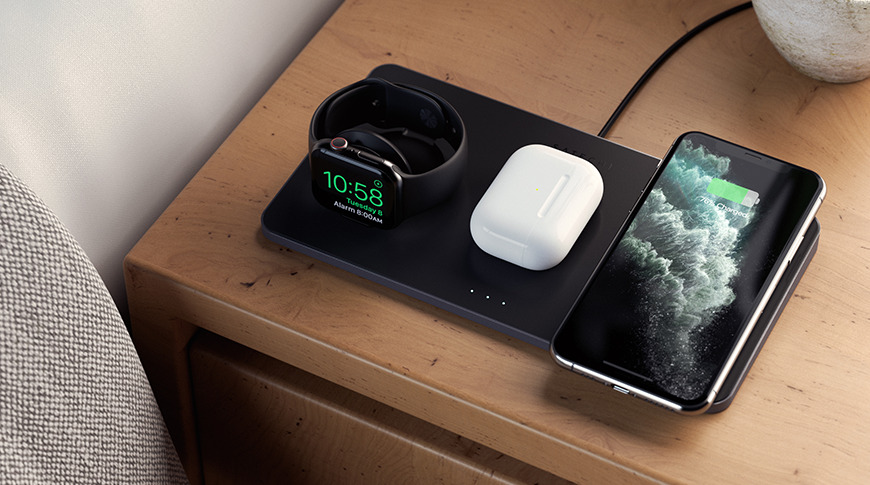 The latest desktop accessory from Satechi is the Trio Wireless Charging Pad that it debuted during CES 2020. It can easily charge up to three devices including an Apple Watch, set of AirPods, and an iPhone.
Satechi adopted a slim, aluminum design that is slightly tilted and is powered over a single USB-C cable. A 24W USB-C PD adapter is included. Three small LED status lights sit towards the front to let you know when your devices are charging. Charging Apple Watch supports Nightstand Mode for convenience when bedside.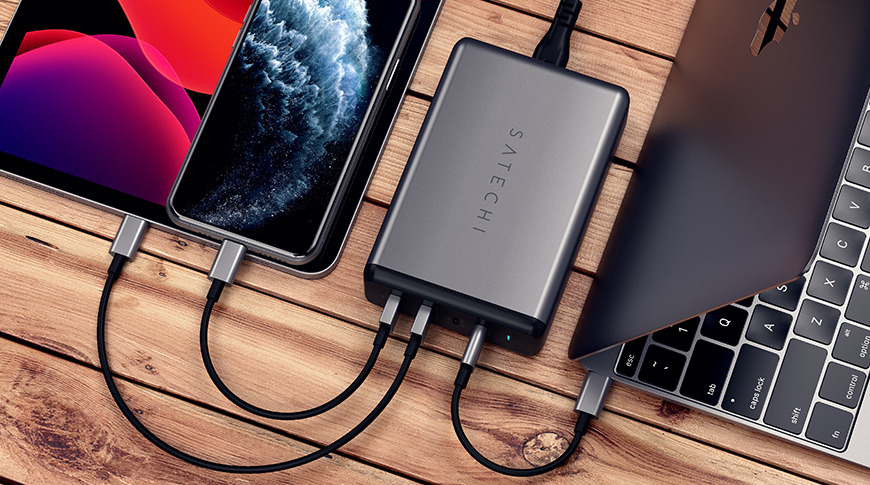 Satechi also launched its new 108W Pro USB-C PD Desktop charger — its most powerful yet. It is equipped with two USB-C Power Delivery (PD) ports and two USB-A ports.
One USB-C port supports 90W — enough to charge even the 16-inch MacBook Pro at near full speed, the second supports 18W, and both the USB-A ports support 12W total.
Jan 7 12pm ET - Scosche and Satechi added.
Jan 8 12pm ET - More Scosche.