'Mythic Quest' creator Rob McElhenney lauds Apple contributions to creative process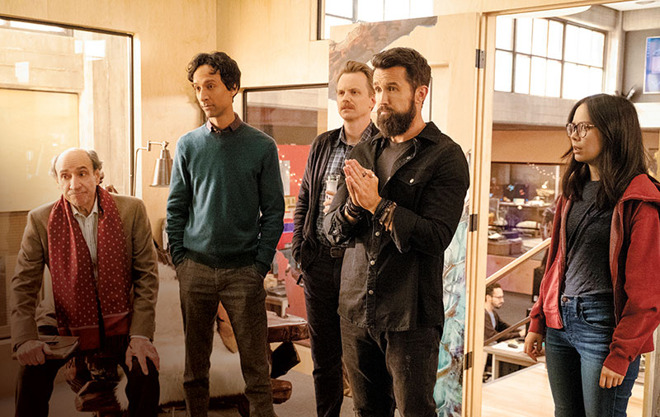 AppleInsider may earn an affiliate commission on purchases made through links on our site.
Ahead of the debut of Apple TV+ exclusive "Mythic Quest: Raven's Banquet," the service's first comedy series, creator and star Rob McElhenney expounds on working with the tech giant as it feels its way through Hollywood.
The former "It's Always Sunny in Philadelphia" star and executive producer said Apple's strategy is similar to that of FX in that it will provide notes and push back when it disagrees with certain aspects of the show. In the end, however, the decision falls to McElhenney and the showrunners, the report said.
Like other collective projects, pushback is vital to the process, McElhenney said.
"Deference would assume we always know what we're doing and when we walk into the room everyone should just be quiet," he said. "That is dangerous because then you have no opposition, and it doesn't make for the best process."
Matt Cherniss, head of development at Apple's Worldwide Video arm, explained why "Mythic Quest" became Apple TV+ property.
"It was really a combination of humor, smart social commentary, great characters and some surprising heart," he said. "That made us feel like it was a great show to have on our service."
Cherniss went on to praise McElhenney, saying the producer, writer and actor is "an incredible creator" and a "unique kind of talent."
As for Apple TV+, both Cherniss and McElhenney believe show producers have seen positive reactions to their respective launches.
"I feel like the campaigns have been really strong," Cherniss said. "Everyone that I've spoken to has been really happy with the launches of their shows. I think that's been the overwhelming response that's come our way. I think they've done a great job."
While "Mythic Quest" has yet to debut, McElhenney offered an insider's perspective on the platform as a whole.
"They're working out some kinks — but it seems like they have been worked out, at least a few of them," he said. "I know that getting episodes out to critics was a little tricky, but that's been ameliorated. Any time we've called and said we have an issue, it's all hands on deck and they fix the issue and we move forward."
"Mythic Quest" is written by McElhenney and fellow "It's Always Sunny" collaborator Charlie Day, and costars Oscar Award winner F. Murray Abraham, Danny Pudi, Imani Hakim, Charlotte Nicdao, David Hornsby, Ashly Burch and Jessie Ennis. The series delves into the challenges of running a successful video game studio.
Along with McElhenney and Day's RCG, the series is produced by Lionsgate, 3 Arts Entertainment and Ubisoft. "Mythic Quest" debuts on Feb. 7.