Trump tells Apple to 'step up to the plate' and unlock Pensacola shooter's iPhones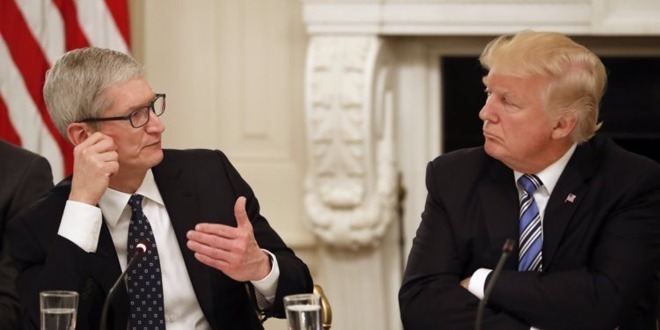 President Donald Trump waded into the encryption battle on Tuesday with a tweet calling on Apple to "unlock" iPhones at the request of law enforcement agencies, suggesting the company should do so because of help it receives on trade and "other issues."
"We are helping Apple all of the time on TRADE and so many other issues, and yet they refuse to unlock phones used by killers, drug dealers and other violent criminal elements. They will have to step up to the plate and help our great Country, NOW! MAKE AMERICA GREAT AGAIN," Trump said in a tweet.
The missive arrives as Apple and the FBI are at loggerheads over a data extraction operation related to a recent terror attack in Pensacola, Fla. Last week, investigators sent a letter to the tech giant asking for assistance in unlocking two iPhones owned by Mohammed Saeed Alshamrani, a Saudi Air Force cadet accused of killing three sailors and injuring eight others in an attack at the Naval Air Station in December.
U.S. Attorney General Bill Barr echoed FBI demands in a public plea on Monday, adding that Apple has yet to provide "substantive assistance" to the investigation. Apple denied Barr's request in a lengthy statement that rebuts the AG's claims by offering a detailed account of assistance it has provided and continues to provide to law enforcement officials.
"We reject the characterization that Apple has not provided substantive assistance in the Pensacola investigation. Our responses to their many requests since the attack have been timely, thorough and are ongoing," Apple's said in a statement Monday night. "We have always maintained there is no such thing as a backdoor just for the good guys. Backdoors can also be exploited by those who threaten our national security and the data security of our customers."
Trump in his tweet today implies Apple is in a tit-for-tat relationship with his administration and the U.S. government at large. His mention of help "on TRADE and so many other issues" suggests the company should respond in kind for favorable consideration in the ongoing China trade war. in December, Apple escaped hefty tariffs on iPhone, iPad and Mac when Trump inked a "phase-one" deal that roughly halved duty rates and scrapped a threatened $160 billion worth of new levies on Chinese-made goods.
With pressure applied by the FBI, Barr and now Trump, Apple appears set to face another high-profile battle over device encryption. The company first tangled with the FBI and Justice Department in 2016 when it refused to comply with demands to unlock an iPhone used by San Bernardino shooter Syed Rizwan Farook. At the time, Apple CEO Tim Cook vowed to fight a court order that compelled the company to create a special version of iOS with weakened encryption — or a backdoor — saying that doing so would be a threat to all iPhone users.
The DOJ withdrew its demands just prior to a court showdown that would likely have set legal precedent over proper handling of encrypted devices. Instead of going through Apple, the FBI turned to an unnamed third party to penetrate the San Bernardino gunman's iPhone 5c, a method security experts believe is viable in the current Pensacola case.