Apple & M. Night Shyamalan sued, accused of plagiarizing 'Servant'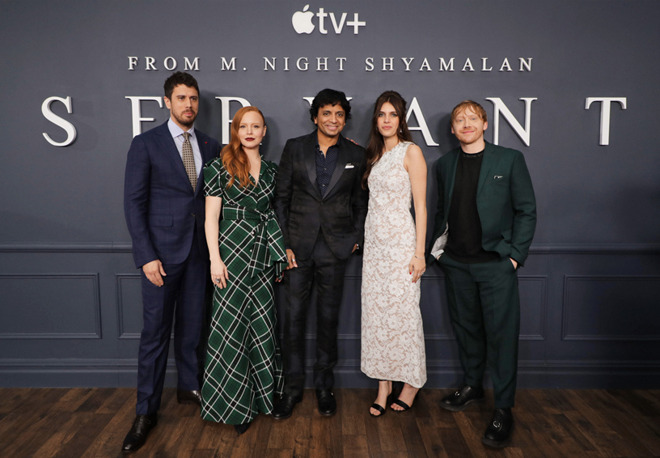 AppleInsider may earn an affiliate commission on purchases made through links on our site.
A lawsuit filed on Wednesday accuses Apple and filmmaker M. Night Shyamalan of directly copying much of 2013 film "The Truth About Emanuel" in the production of "Servant."
The lawsuit, filed in the Central District of California, Western Division, by Francesca Gregorini, discusses in detail the similarities in tone, plot, and style between Apple TV+ feature "Servant" and 2013 production of "The Truth About Emanuel." Both productions involve a "reborn" doll being attended by a hired nanny, with similar themes and film-making techniques alleged throughout.

"[The] plot description of 'Emanuel' could just as easily be applied to 'Servant,' made six years later. And that's just the beginning of the commonalities between the two works," alleges the filing. "These similarities include not just parallel plot points, but also strikingly similar— and highly idiosyncratic— characters, scenes, directorial choices, and modes of storytelling."
Gregorini claims that not just the core of the story was lifted wholesale — but also other elements including grief, and emotional attachment after loss.

As in Emanuel, a central theme of Servant involves the extraordinary and almost irrational reciprocal devotion between mother and nanny. In both works, the mother's adoration of the nanny stems from her grief and denial over losing a child. She delusionally channels her maternal instincts towards a doll— but also more genuinely directs them to the real-life vulnerable surrogate-daughter caring for her 'baby.' In both works, the nanny's strong feelings for her employer stem from longings for a lost mother, which she finds being fulfilled by a new mother figure in dire need of a child.
The lawsuit filing says that Apple refers inquiries about the production to Shyamalan's lawyer. When Shyamalan's lawyer was contacted by the plaintiff's attorneys, the response was allegedly that they cannot speak for Apple. Furthermore, unspecified defendants reportedly say that "Servant" was in some form of development long before the production of "The Truth About Emanuel."
The suit is not limited to Apple and Shyamalan. Also listed are four other production companies, five members of the production staff, and 10 "John Does" presumably other personnel involved in the production of "Servant."

Shyamalan has been accused of plagiarism before. In 2003 screenwriter Robert McIlhinney alleged that "Signs" had similarities to unpublished script "Lord of the Barrens: The Jersey Devil." The following year, Margaret Peterson Haddix discussed suing Shyamalan with publisher Simon & Schuster over similarities between "The Village" and "Running out of Time," a novel from 1996. Author Orson Scott Card has also claimed that parts of "The Sixth Sense" were taken from novel "Lost Boys" — but he never sued.
Gregorini is demanding all damages, an injunction against further production, a recall of any inventory of the infringing material, supervised destruction of any inventory, disgorgement of all proceeds, and punitive damages.