AccountEdge abandons Catalina compatibility, customers looking for alternatives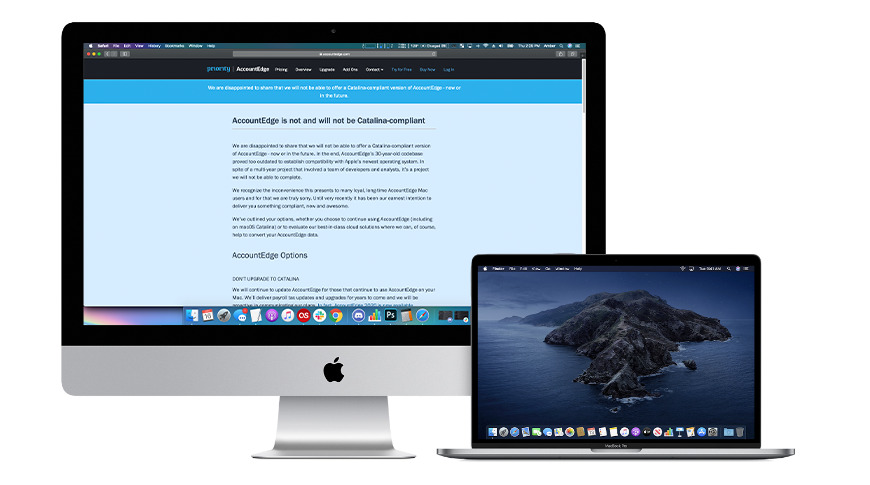 Priority Software, the developer of AccountEdge, has publicly announced that they will not be able to make its small business accounting software Catalina-compliant, much to the dismay of customers.
Priority Software has made a public declaration that despite its best efforts, it was unable to make AccountEdge's 30-year-old code work with macOS Catalina. Catalina requires programs to be 64-bit, with 32-bit apps no longer supported on the operating system.
Apple added support for 64-bit binaries over a decade ago. When macOS Catalina shipped, it had been 18 months since Apple said that the operating system would not support 32-bit applications.
While Priority Software had initially hoped they would be able to make AccountEdge compatible with Catalina, they learned along the way that it was beyond their abilities. Instead, the company offers a list of solutions for customers. The first solution tells customers to simply avoid upgrading to Catalina.
"We will continue to update AccountEdge for those that continue to use AccountEdge on your Mac," said Priority Software. "We'll deliver payroll tax updates and upgrades for years to come and we will be proactive in communicating our plans," reads the option, which then directs users to the page for AccountEdge 2020.
Another option is for users to use AccountEdge Hosted, a subscription service that is compatible with any Mac or Windows environment, including Catalina. Instead of paying a one-time cost of between $200 and $350, users would need to pay $40 per license per month, which may not be tenable for some small businesses.
They also suggest using Parallels, a PC virtualization software that would enable users to run the 32-bit version of the software on a virtual machine.
As a final solution, the company also suggests using AccountEdge for Windows, which assumes that a user has access to Windows in the first place. Priority Software has stated that they will convert Mac licenses to Windows licenses for users that choose this option.
Understandably, the current customer base has been less than thrilled to receive the news. One customer took to AccountEdge's Facebook page to declare that they've been thrown into crisis, and that AccountEdge has done nothing to recognize the crisis and to help customers.