Apple rolls out improved Maps to all users in the US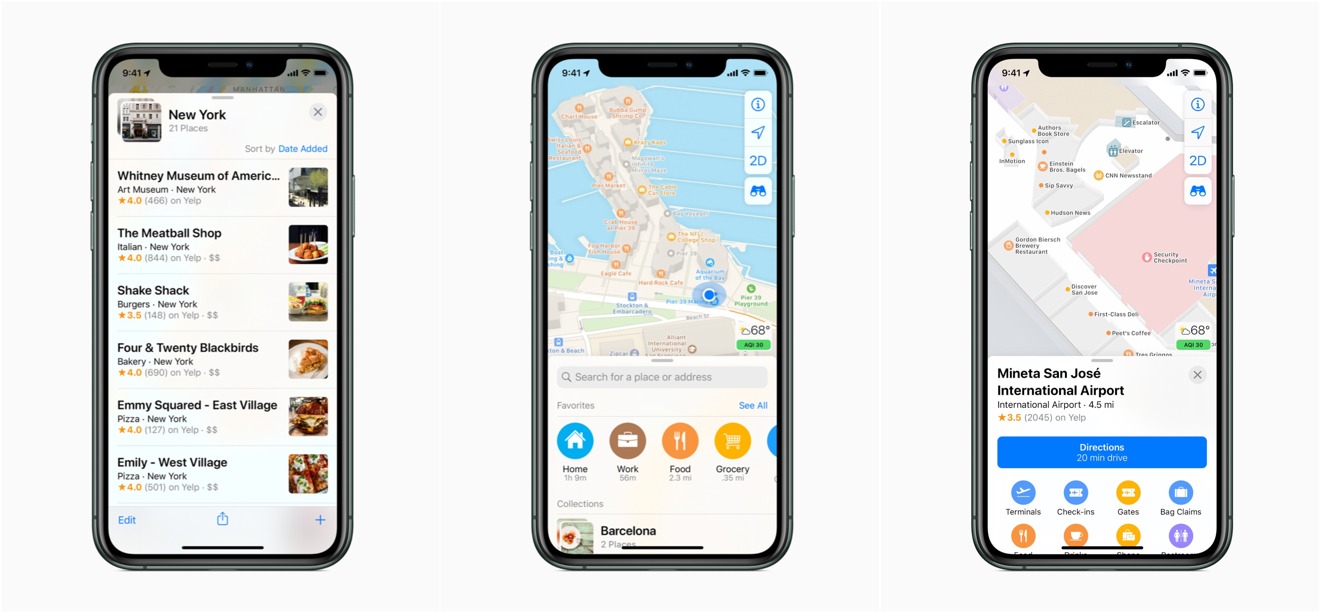 On Thursday afternoon, Apple announced that all users in the United States have access to a redesigned Maps with faster and more accurate navigation, plus comprehensive views of landmarks.
After years of work, Apple has completed the rollout of this new Apple Maps experience in the United States. It will begin rolling the new experience out across Europe in the coming months, as it builds the dataset.
"We set out to create the best and most private maps app on the planet that is reflective of how people explore the world today," said Eddy Cue, Apple's senior vice president of Internet Software and Services. "It is an effort we are deeply invested in and required that we rebuild the map from the ground up to reimagine how Maps enhances people's lives — from navigating to work or school or planning an important vacation — all with privacy at its core."
Apple's new Maps experience offers interactive street-level imagery with high-resolution, 3D photography and smooth and seamless transitions through major cities with Look Around. Customers from anywhere in the world can navigate through New York City, the San Francisco Bay Area, Los Angeles, Las Vegas, Houston, Oahu, and more.
Users can easily build and share lists of their favorite restaurants, places they want to visit or top sites for their next big vacation using Collections. Favorites allow for quick and easy navigation to frequent stops.
Apple is also noting more improved features in Maps, including:
Real-time transit info, now in Miami
Share ETA to family, friends, or co-workers
Flight status
Indoor maps for malls and airports
Siri Natural Language Guidance in the US
Flyover
In regards to Privacy, Apple is committed to keeping personal information safe.
"Any data collected by Maps while using the app, like search terms, navigation routing and traffic information, is associated with random identifiers that continually reset to ensure the best possible experience and to improve Maps," Apple says. "Maps goes even further to obscure a user's location on Apple servers when searching for a location through a process called "fuzzing." Maps converts the precise location where the search originated to a less-exact one after 24 hours and does not retain a history of what has been searched or where a user has been."
To create the new Apple Maps, which debuted alongside iOS 12, Apple collected mountains of mapping, navigation, routing and image data from dedicated platforms like Apple Maps vans. New features continue to be added to Maps, like the Look Around view in iOS 13. Similar to Google's Street View, Look Around provides street-level imagery for real-world navigation.
Apple developed the comprehensive mapping solution after the embarrassing launch of Maps in 2012, the company's first foray into the world of mapping after ditching most integrated Google services in iOS 6. The original deployment of Maps in iOS 6 was unreliable and incorporated incorrect data, while its signature feature — Flyover — suffered from graphical issues.
Criticism was so widespread that CEO Tim Cook issued an apology to customers frustrated by the dodgy software, and promised improvements.
"We launched Maps initially with the first version of iOS. As time progressed, we wanted to provide our customers with even better Maps including features such as turn-by-turn directions, voice integration, Flyover and vector-based maps," Tim Cook said at the time. "In order to do this, we had to create a new version of Maps from the ground up."