IBM CEO Rometty to step down in April, cloud SVP Krishna to take over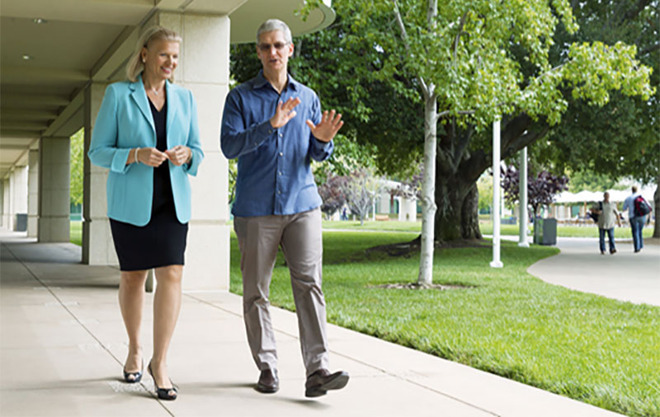 AppleInsider may earn an affiliate commission on purchases made through links on our site.
IBM CEO Virginia "Ginni" Rometty, who helped architect a fruitful enterprise partnership with Apple, on Thursday announced her retirement after more than four decades at the company.
Rometty will step down as chief executive of Big Blue on April 6, when board-elected replacement Arvind Krishna, currently IBM's SVP of Cloud and Cognitive Software, will take the reins, the firm said in a statement.
"Arvind is the right CEO for the next era at IBM," Rometty said in a prepared statement. "He is a brilliant technologist who has played a significant role in developing our key technologies such as artificial intelligence, cloud, quantum computing and blockchain."
Krishna, who has worked at Apple since 1990, played an integral role in executing a $34 billion acquisition of software giant Red Hat last July. Red Hat CEO and IBM SVP James Whitehurst has been tapped by IBM's board to serve as president.
Rometty served as CEO since 2012 when she replaced outgoing chief Sam Palmisano. Under her guidance, IBM acquired 65 companies, developed AI technologies including Watson and built out hybrid cloud, security, industry and data technologies.
In 2014, Rometty negotiated an unlikely partnership with Apple that sought to revolutionize mobile device deployment in enterprise. Marketed under the IBM MobileFirst banner, the initiative combined iPhone and iPad with custom-made iOS apps designed by IBM and supported by its backend technologies.
Rometty will continue as executive chairman of IBM's board through 2020, at which point she plans to retire after more than 40 years at the company.