You can now purchase a sim-free iPhone and pay over time with Apple Card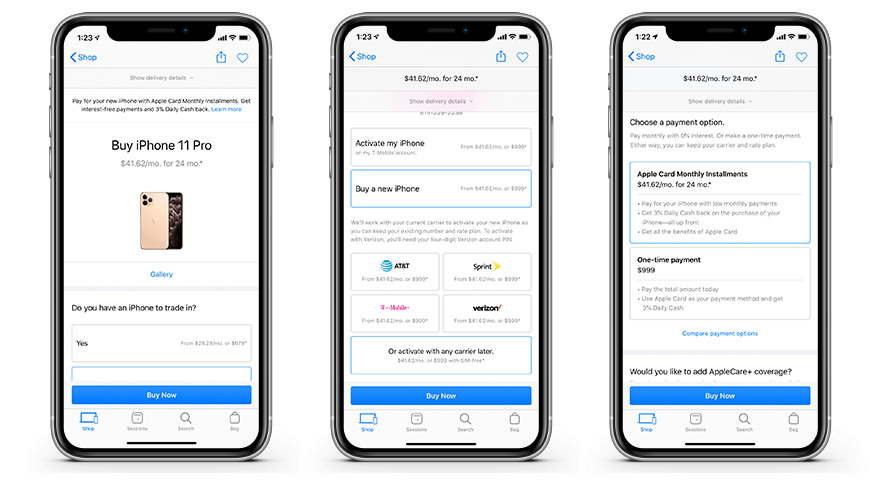 You can now snag yourself a brand new SIM-free iPhone and pay over time with no interest — if you have an Apple Card, and existing wireless service.
Apple is coming up with new ways to incentivize Apple Card cardholders to head to the Apple Store. For a limited time only, buyers can purchase a new sim-free iPhone and pay over time with their Apple Card. Before, users would need to pay the full retail price upon purchase or utilize another credit card. With the Apple Card, users will get 3% cash back on their purchase.
In order to view the option, you'll have to be using the Apple Store app, have an Apple Card already associated with your Apple Account, and have wireless service through a carrier on an iPhone associated with your Apple ID. Otherwise, you'll still have to buy an iPhone at the full retail price with no financing. You must use the Apple Store app as the option is not available in-browser at this time.
AppleInsider has confirmed with Apple that this is a limited time offer and must be completed through an existing iPhone with the Apple Store app.
Those on a major four carrier, such as Verizon or T- Mobile, have been able to enjoy interest-free financing on their iPhones since December of 2019.
The Apple Card monthly installment plan allows users to purchase an iPhone with their Apple Card interest-free for 24 months, rather than paying the full price up front. Customers are also able to make overpayments towards the installment plan itself. Contributing more money to a plan can help reduce the overall number of payments needed, however customers are still required to pay their regular installment plan payment the following month.
Apple is continuously looking for new ways to boost sales of its most important product, from the iPhone Upgrade Program and other strategies, and the Apple Card feature appears to be another avenue for growth.
Not only does the program incentivize Apple Card cardholders to buy new Apple gear, but it also encourages people to apply for and use the Apple Card. The Apple Card has had the most successful U.S. credit card launch ever, as stated by Tim Cook and Goldman Sachs.
Presently, only iPhones are available to purchase with this special financing, and it remains to be seen if Apple will will extend the program to other devices.