Apple activates limited on-site iPhone repairs in select US cities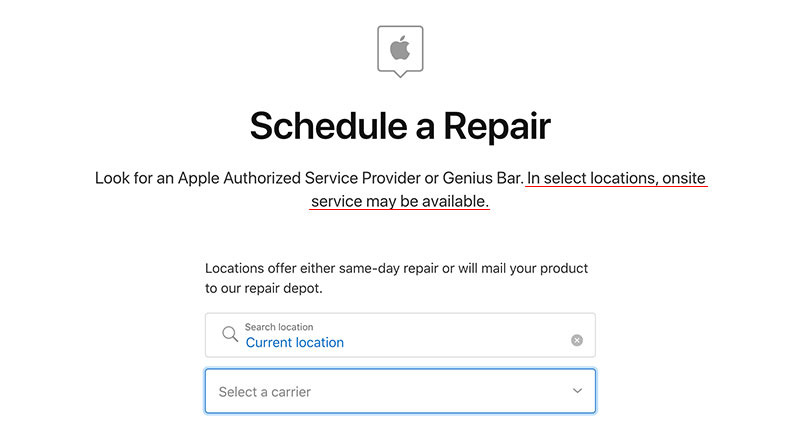 AppleInsider is supported by its audience and may earn commission as an Amazon Associate and affiliate partner on qualifying purchases. These affiliate partnerships do not influence our editorial content.
Apple recently added an option for customers to receive on-site service for certain iPhone repairs in select metropolitan cities across the U.S., with work fulfilled by Apple Authorized Service Provider Go Tech Services.
While repairs are not conducted by Apple itself, the new service option is a convenient and presumably expedient alternative to visiting an Apple Store or shipping a damaged device to a repair center.
Apple offers on-site repairs to enterprise customers, but until now has restricted consumer service to physical stores and mail-in service. Unlike its small business offerings, the consumer version appears limited to iPhone and is currently unavailable to owners of Apple Watch, iPad, Mac, Apple TV and HomePod.
The new feature can be accessed through Apple's Get Support webpage under "Schedule a Repair." Depending on the problem and location, Go Tech Services is listed as a viable alternative to Apple Stores and Authorized Service Providers. Clicking through sends users to Go Tech Services' website, where they can schedule a meet time.
It is unclear if on-site service warrants an additional fee, as pricing information is not available on Apple or Go Tech Services websites.
As noted by MacRumors, which spotted the option earlier today, Go Tech Services on-site repairs are accessible in Chicago, Dallas, Houston, Los Angeles, New York, San Francisco. Other areas might be covered, as Apple does not furnish a complete availability list. Whether the company intends to roll out the service nationwide is unknown.
It appears Go Tech Services is equipped to handle a limited range of repairs that at this point starts and ends with cracked front screens impacting recent generation iPhones. Other devices are not noted as eligible for on-site service on Apple's website, nor does the service selection process show on-site repair availability for other issues like water damage, cracked rear glass, malfunctioning buttons or battery replacement.