Apple under fire for onerous independent third-party repair terms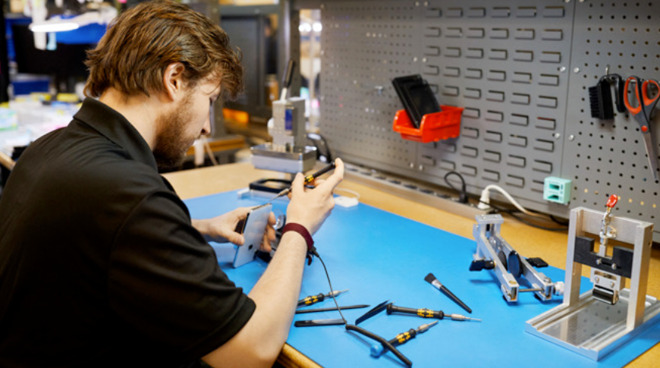 AppleInsider may earn an affiliate commission on purchases made through links on our site.
Right-to-repair advocates have taken a look at Apple's Independent Repair Provider program contract, and are calling it "perilous" and "crazy."
In August 2019, Apple opened up its Independent Repair Provider program, offering more independent repair businesses of all sizes the same genuine parts, tools, training, repair manuals, and diagnostics as its Apple Stores and Apple Authorized Service Providers.
The program was seen as a big win for "Right to Repair" advocates, who have pushed back against Apple's rules for repairing devices. Motherboard has acquired a copy of the contract that businesses are required to sign before being admitted to the program, which is now being placed under scrutiny by repair advocates once again.
Apple's Independent Repair Provider terms
By signing the contract, Independent Repair Providers are required to agree to unannounced audits and inspections by Apple. It seems as though the audits may be designed to identify the use of repair parts that are not permitted in Apple device repairs. These products include "counterfeit Products or service parts," as well as "products or service parts that infringe on Apple's intellectual property."
If found, Apple could, in theory, impose fines onto the Independent Repair Provider. According to the contract, if Apple determines that more than two percent of a repair business' transactions involve prohibited products, the business would be obligated to pay Apple $1,000 for every transaction that occurred during the audit period. This is not dissimilar to what Apple requires of its Specialists that participate in Apple service programs.
Repair shops are also required to display "prominent and easily visible written notice," that they're not an Apple Authorized Service Provider on both their storefront and website. Additionally, they'll need to obtain consent from customers showing they understand the difference. Customers must also provide consent that shows they know that Apple does not warranty repairs made by Independent Repair Providers, either. Right-to-repair advocates state that this forces an independent repair shop to advertise against itself and is designed to scare potential customers away. Specialists have Apple-authorized branding that they can display — and Apple typically supports their repairs.
It's also purportedly difficult to break with the program if a business decides it wants to opt out. The contract states that if a provider leaves the program, Apple reserves the right to inspect the shop for up to five years afterward. During those five years, the business must maintain records of customers it had serviced during its time as an Independent Repair Provider. This includes customers' names, addresses, and phone numbers.
It isn't clear if the five-year proviso in the contract is accurate or universal. In the process of confirming this report on Thursday morning, AppleInsider couldn't find anybody that was under the five-year requirement, nor that the clause existed at all. There is a possibility that it varies from provider to provider, however.
Motherboard had reached out to Apple for comment on the contract. In both Motherboard's questions and AppleInsider's calls, Apple so far has declined to answer any specific questions — but didn't dispute the overall accuracy of the report, either.
Apple's Independent Repair Provider program may not the be the best choice
Right-to-repair advocates have stepped forward, urging those interested in joining the Apple Independent Repair Provider program to think twice.
"They give Apple a huge amount of discretion, impose potentially business-destroying costs and penalties on the repair shop, and require that they grant access to Apple without notice," Kit Walsh, a senior staff attorney at the Electronic Frontier Foundation told Motherboard. "If you sign this agreement, then you repair non-Apple devices at your peril."
Despite the backlash from advocates, many Independent Repair Providers say they are happy to be part of the program.
"People like us are uniquely qualified to handle things that don't make Apple any money. We can keep battery repairs out of Apple stores and hopefully make a little money too," said Justin Carrol, owner of FruitFixed, a series of independent repair shops in Virginia. "That's something for me I would welcome because I know everything in our house we're selling is fine and above board."
The launch of the program on August 28, 2019, followed a pilot program launch with 20 independent repair businesses in North America, Europe and Asia. Just prior to the program roll-out, Apple extended service authorization to over 1000 Best Buy locations.
What Apple's Independent Repair Provider program is not, is distribution of circuit-level diagrams. Repair shops will still be limited to full assembly swaps, like replacing an entire motherboard. At present it still isn't clear what Apple will charge shops for parts, or the larger and more expensive equipment needed for things like a Secure Enclave calibration.
The program appears to be an evolution of the "Apple Genuine Parts Repair" program that was discovered in March 2018. The program appears to specifically allow repair shops to do things that Apple-authorized centers have been doing for years, without telling Apple. For instance, there are specific prohibitions on swapping in a "known-good" component not from Apple's stock for troubleshooting, requiring a service replacement part be ordered first.
Specifically, presentation slides discovered in 2018 say that providers can "keep doing what you're doing, with Apple genuine parts, reliable parts supply, and Apple process and training."