Apple to again skip US congressional hearing on Chinese influence in tech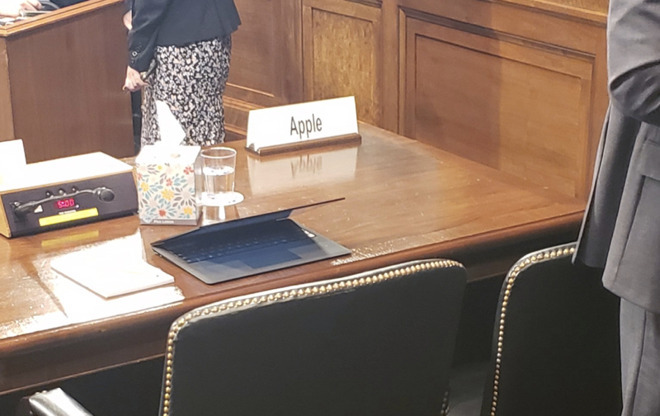 Apple has for the second time declined to attend a U.S. congressional hearing that would have scrutinized its relationship with China as part of a larger investigation into tech privacy and security.
Hawley invited both Apple and Chinese social media app TikTok to deliver testimony at the upcoming session. While TikTok said it plans to make a top aide available at a later date, Apple did not comment on its decision to skip the hearing.
The companies failed to appear at a similar hearing in November, a decision that left both defenseless against censorious commentary from Hawley. At the time, Apple and TikTok were given the "empty seat treatment," with placards for the firms sitting atop a witness table fronting a pair of conspicuously empty chairs.
Hawley at his November hearing presented a scathing rebuke of Apple's ties to, and reliance on, China and the country's government. The company's moves in the region risk "compromise with authoritarianism," he said at the time, noting Apple stores iCloud data of Chinese citizens on servers operated in China.
Apple maintains it is simply following Chinese law by transferring and housing user data on Chinese soil, but Hawley, citing Beijing's surveillance programs, said the arrangement could undermine customer security. The senator's concerns mirror those of privacy advocates who voiced opposition to Apple's strategy in 2018.
"We're accustomed in hearings like this one to hearing about Apple as a good corporate citizen," Hawley said in November. "But Apple's business model and business practices are increasingly entangled with China, a fact they would rather we think not too much about."
Apple's willingness to kowtow to Chinese officials is often viewed as antithetical to its well-groomed image as a bastion of human rights, data privacy and free speech.
Beyond iCloud, Apple has agreed to pull controversial apps at the direction of China's government. Most recently, the company yanked HKMaps from the Chinese App Store during the recent Hong Kong protests. When pressed on the decision, the company said the app was in violation of Hong Kong law, a dubious claim considering the title's core functionality did not contravene local regulations, nor did it break rules laid out in Apple's own App Store Guidelines.