Tim Cook sees Apple as 'fundamentally strong' in face of coronavirus threat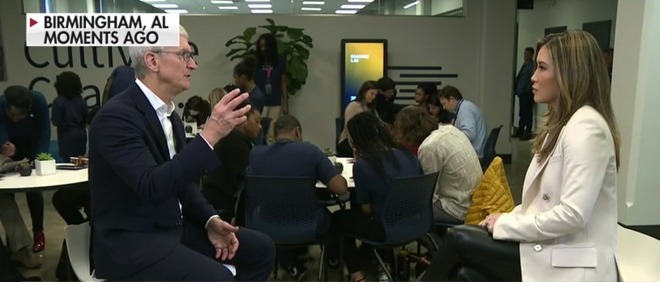 AppleInsider may earn an affiliate commission on purchases made through links on our site.
The coronavirus is only a "temporary condition" to deal with, Apple CEO Tim Cook suggests, but while he is uncertain about how it will affect the quarter's finances, he still believes Apple is "fundamentally strong" and will weather the storm.
In an interview recorded on Thursday during his visit to Birmingham, Alabama, where he helped launch the Ed Farm education initiative, Apple CEO Tim Cook covered a range of topics, from the global impact of the ongoing coronavirus epidemic and its effect on Apple, to education.
Speaking to Fox Business Network's Susan Li, an except of Cook's interview dealing with the coronavirus was released on Thursday, where he said China was "getting the Coronavirus under control." In the excerpt, Cook brought up how factories are starting to reopen in the country, with production being in the "third phase in getting back to normal" as well as being "in phase three of the ramp mode."
In terms of recovery, Apple has reopened most of its retail outlets in China, albeit with restrictions, while suppliers like Foxconn are paying workers extra to get back to the plants and to work, in a bid to regain lost production time.
In the extended interview, Cook's coronavirus commentary turned to how long to expect the effects of the virus to be felt by the iPhone maker. "Things are going pretty much like they thought they would go there in terms of bringing things back," said Cook, "and so it'll take some time, but by and large we think this is a temporary condition, not a long-term kind of thing. Apple is fundamentally strong, and that's how I see it."
When asked if he anticipates disruption into the second quarter, Cook replied by saying the company's currently in its second quarter, but he doesn't know the answer to that yet. "We're still in February, and there's reason for optimism, but we'll see," he suggests.
The second quarter query is important, as Apple warned it had revised downward the forecast due to the impact of the coronavirus, its second-such revenue warning in two years.
"I think the focus in the last few days has turned off of China onto Korea and Italy, so I think it's very important to see what happens there, and whether something new comes out of that," he proposed. "Our supply chain is relatively more important in China, but we have great businesses in Korea, we have suppliers in Korea, suppliers in Italy, and a great business there as well. So we need to see as that unfolds."
The Stock Market
Moving to the stock market's volatility of recent days, Cook admitted he doesn't "really focus on the short term gyrations of the market," and that he works with a long-term view.
"I see no long term difference between what was happening four weeks ago versus what's happening today," Cook advised. "And so the market takes time to recognize that and so forth, and it'll do what it's going to do. And I'm the last person to be able to predict it. But I would — you know, for me I look through that, look through the noise and — and concentrate on the future. And the future looks very bright."
The share repurchase plan was suggested by the interviewer, which Cook picked up on, admitting "everybody knows that we're buying" despite not wishing to announce anything on air.
China's Supply Chain
Asked about bringing elements of the supply chain to the United States or more out of China, Cook was keen to point out Apple products are "truly global products," with some elements produced in the US that are served to the world.
"so what will happen to the supply chain as we look back on this, I wouldn't want to say at this point, because the question for us always is what kind of resilience did the supply chain have" the architect of Apple's current supply chain states. "It's not was there a problem, because there will always be unpredictable things that come up, but as you know from following us, we've worked through earthquakes, tornados, fires, floods, tsunamis, SARS."
The operational teem is "very deep at working through these" according to Cook, and so the question is always whether there is resilience to the events or not, and if changes need to be made. "My perspective sitting here today is that if there are changes, you're talking about adjusting some knobs, not some sort of wholesale fundamental change."
Pressed on potentially moving to lower-cost countries such as Vietnam or Cambodia, Cook defends the use of China and the charge that "China's not cheap anymore" by suggesting there used to be that perspective, "but it hasn't been for a long time."
Cost is only one factor to Apple. "We're also fixated on quality. And we're focused on time to market, and the speed, and the depth of engineering in the different places. And so somebody would have to meet all of those in order for us to do something."
India Retail
The interview briefly touched on Apple's first India retail outlet, which will open by the year 2021.
I'm excited about that, because I see India as a huge opportunity for us. For years we could not enter there unless we entered there with a partner, into retail, and we did not want to do that, you know? We want to maintain control over our brand and so forth.
But the administration worked on this with the Indian government, and that change has been made. And so we are very, very positive about entering in there on online this year and retail next year.
US Workforce and Policy
Turning the attention to Cook's working relationship with President Donald Trump, the interviewer highlighted the differences between the two men, but asked how the relationship works.
"Well there are differences, there's no doubt about that," Cook admits, "but you look for intersections. And I care a lot about creating jobs, and I think the president does as well. I care a lot about training the workforce for the future, and the administration is really focused on this as well."
Training the workforce is a "major challenge" for the US to solve. Cook continued "we have to make sure our education is preparing people for the disruption and the creation. And I think if we do that we can flourish in this environment, but if we don't, we leave a lot of people behind. And that should be unacceptable for all of us."
The creation of jobs and education "should be non-partisan," with Apple "very focused on policy, not politics, that probably helps." Cook suggests Apple is "probably the most nonpolitical company out there. We don't give to political campaigns, candidate campaigns, and so forth. But we do focus on policy, because we want to be a contributing citizen of the United States and to help the country every way we can."
Speaking about criticism from trying to engage with the White House, Cook has the perspective that engagement is always best.
"Because just simply standing on the sideline and yelling doesn't accomplish anything but polarization," spoke Cook. "And so I want to suit up and play a role, and if I disagree on something, I want to try to influence it. If I agree on something, I want to try to amplify and figure out a way that I can help in some way and be a great citizen of the country."