Tim Cook's rapport with President Trump rare among company leaders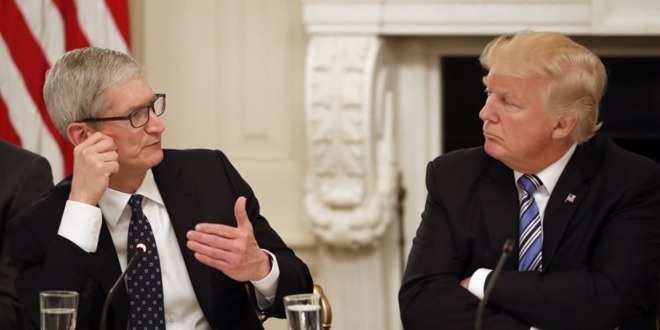 Apple CEO Tim Cook's ability to nudge the Trump administration into altering policies that could have hurt the iPhone maker is down to a carefully cultivated relationship between the CEO and the U.S. president, a report claims, one that functions despite each having different ideologies.
The ongoing trade war between the United States and China may have led to the implementation of tariffs on hundreds of millions of dollars worth of imports, but Cook has largely managed to delay the implementation of the charges on Apple's products for a considerable amount of time.
For example, Cook's call to President Donald Trump in August explaining why the tariffs would hinder the iPhone's ability to compete against rivals prompted the administration to delay tariffs against the iPhone until later on. The conversation also led to public praising of Cook by Trump as a "great executive," with the reason "because he calls me and others don't."
This line of communication is part of a carefully constructed relationship between the two men, sources close to Apple and the administration told the Wall Street Journal. The two have met for dinner at a Trump golf club in New Jersey, with Trump also referring to Cook as a friend, and according to one person, even calling Cook to wish him a Happy Thanksgiving.
University of Texas professor and presidential historian Jeremi Suri suggests this may be partly due to Trump's inclination to spend more time working with corporate leaders than his predecessors. Suri believes the relationships are focused on administration priorities like trade and tariffs, unlike past administrations that opt to work on the broader economy.
Cook's rapport with Trump has also led him to be able to simultaneously support and challenge Trump on various subjects, but without receiving major pushback or criticism from the President, nor from customers nor employees. Other executives have resigned from presidential advisory councils following disagreements with the administration or Trump's handling of events, such as violence in Charlottesville, but Cook manages to continue speaking to the President.
"There are only a handful [of executives] who have been able to thread the needle," suggests Yale management professor and informal pre-presidential Trump advisor Jeffrey Sonnenfeld. "This is a newfound capability for Apple. Steve Jobs didn't have influence in Washington, and Tim Cook has offered it."
Sonnenfeld did highlight the volatility of Trump means a relationship with Cook could change in the future, but it isn't likely to happen in the near term.
Cook's presidential influence also takes place despite the company's lower financial support of lobbying, with Apple thought to have paid $18 million since 2017, half the amount paid for by Alphabet or Amazon according to the Center for Responsive Politics. The Center also highlights how nearly 97% of Apple employee donations to candidates for the 2018 midterms went to Democrats, but employees are not criticizing Cook for his personal lobbying efforts.
Another part of Cook's relationship is his close ties with Jared Kushner and Ivanka Trump, which effectively provided him with a backchannel to the White House. Cook also regularly meets with administration officials, as well as attending publicly-promoted dinners and meetings with Trump, despite preferring to live as privately as he can.
In challenging a Trump policy, Cook has previously advised he relies on a simple set of questions before wading in to an argument, such as whether Apple has a right to talk on the subject, and if Apple has standing. Before a public challenge, Cook or a member of Apple's PR team brings the discussion up with Kushner or senior White House officials, to give them an advance warning.
There have also been times when Cook declined to say anything, such as the claim from Trump in 2018 that Cook had promised to construct "three big plants, beautiful plants" in the United States, as while Cook had discussed manufacturing around that time, he did mention three plants. A person familiar with the company suggested the lack of challenge would have "been a tweet war."
A former administration official explained about Cook: "In being measured and thoughtful, he doesn't create crisis when there doesn't need to be one, or antagonism when there doesn't need to be any."