How to rename AirPods or AirPods Pro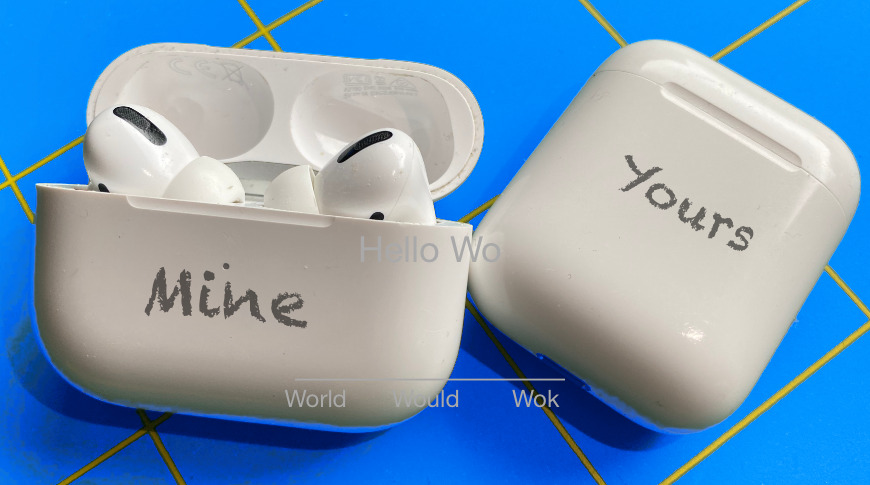 Whether you want to give your AirPods to someone else, or you just want those AirPods Pro to be more identifiable when you're looking through your Bluetooth connections, here's how to rename them all.
Apple wants you to enjoy listening to your AirPods instead of fiddling around with setting them up. So by default, your original AirPods, AirPods 2, or AirPods Pro get a pretty generic name — and you may never even notice what it is unless you want to change it.
During the setup, the sole thing that Apple really checks for is whether you already have a pair of AirPods.
If you do not, then yours will be called by your first name and the model of AirPods, so "William's AirPods," for instance. If you do have a second pair, the default becomes "William's AirPods #2."
Given the combination of how good AirPods sound, and how the battery is so small that its charge time shrinks to nothing after a couple of years, you are quite likely to get a second pair one day.
Then if you've got the original and AirPods 2, there may be little to distinguish between them. To be sure you're leaving your house with the pair you want, you need to know the name.
Flip open the AirPods charging case next to your iPhone and that phone will show you an image of the AirPods plus their name. As long as you remember to do this, you won't have a problem having two sets of AirPods.
Maybe you're not the only "William" in your household, though. Or at work, you could easily be sharing an office with people who have your first name.
And lastly, perhaps you either want to be individual — or you really do not people on your train to figure out your first name just because they searched for Bluetooth.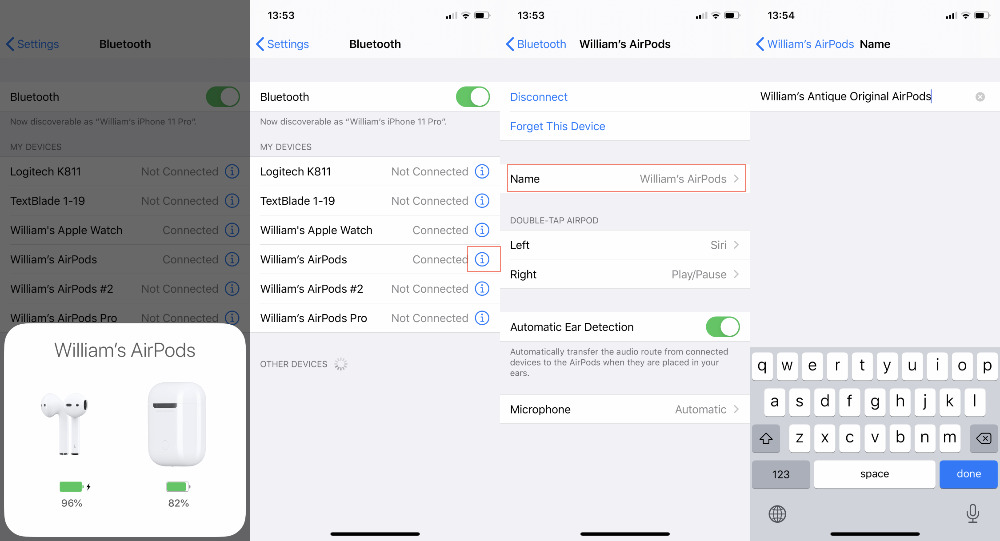 There are all these reasons to rename your AirPods, and you can do it quickly.
How to rename AirPods or AirPods Pro
You do this via the Bluetooth settings on your iPhone, and it is straightforward except for the fact that it's Bluetooth. If your iPhone loses its Bluetooth connection to your AirPods as you're in the middle of renaming them, it will fail, and you'll have to start again.
The best way to ensure that doesn't happen is to wear the AirPods. Rather than just opening the charging case with them in, actually pop them in your ears. You don't have to play anything through them, but equally you can.
Once you've done this, and the iPhone has shown its image of the AirPods, do the following.
Open Settings, Bluetooth on your iPhone
Tap on the i icon next to the AirPods you want to change
Tap on Name
Edit the name to whatever you want
Tap the back arrow twice
Check that the new name is displayed in the Bluetooth list, and you're done.