Apple partners with AR startup to become driving force in indoor navigation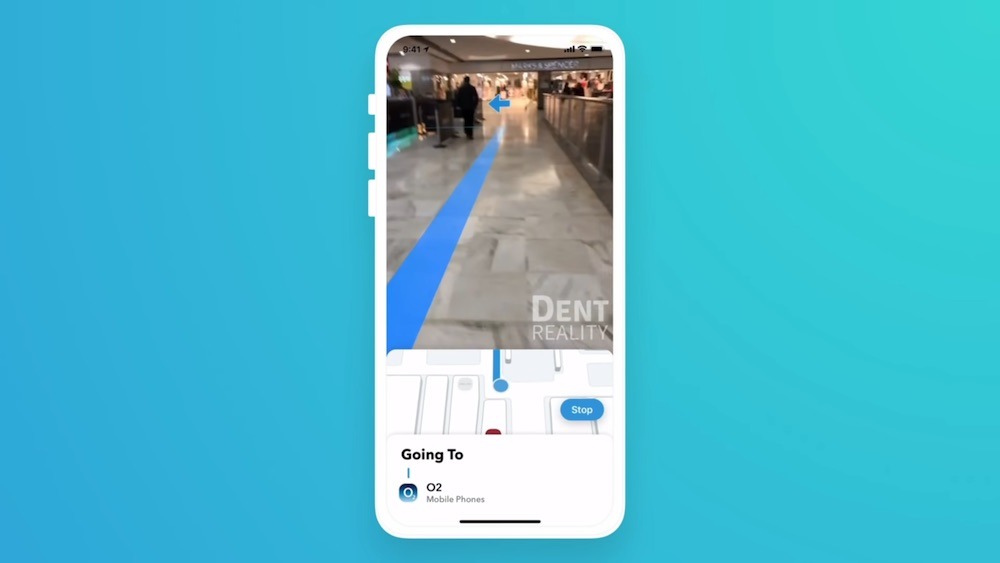 An augmented reality startup named Dent Reality has announced a new partnership with Apple Maps that could have wide-ranging implications for the Cupertino tech giant, the Apple Indoor Maps program, and augmented reality programs as a whole.
Apple has been working on AR systems for years. Those developments have manifested in platforms like ARKit, and Apple is still working on bringing AR to applications like cars and head-mounted devices. But it isn't the only company in this space, and a startup called Dent Reality has made significant advancements itself.
Dent Reality has become an official partner with Apple's indoor mapping initiative, specifically for AR-based navigation and indoor maps, the startup announced in a tweet on Tuesday.
Andrew Hart, CEO and cofounder of Dent Reality, told AppleInsider that Apple spotted what the company was working on "early on," and introduced them to what is now the publicly revealed Indoor Maps Program.
Hart first built an open-source ARKit project, which he posted to GitHub in 2017, that solved the problem of tying AR experiences to real-world locations. Since then, Hart founded Dent Reality, a startup that's been working in the AR sphere — including AR navigation — for a couple of years.
Apple, for its part, is providing the underlying Indoor Mapping Data Format (IMDF), a new file format for indoor maps, as well as Wi-Fi-based indoor positioning technology. Dent Reality has built on top of this with their own mapping AR navigation technology, which it provides as its own white-label or as a native software development kit (SDK) via the Indoor Maps Program.
Hart told AppleInsider that the overall goal of the program is to "enable (AR maps) to exist in other places, such as in individual apps which might be more specialized, and on the web." While Apple Maps supports some indoor mapping, Dent Reality is building out a development toolkit for other third-party developers to incorporate their own indoor AR navigation.
Dent Reality is Apple's only partner in the indoor AR navigation space, according to Hart, and it's listed as an official partner in Indoor Maps documentation. In other words, Dent Reality is the company building indoor AR navigation tools based on Apple's Indoor Maps platform that other businesses can implement in Apple Maps or in their own website and app.
As far as when the partnership will bear fruit, Dent Reality said in a tweet that it is currently "setting up projects for later in the year," but Hart said he couldn't reveal which specific companies they're working with.
"We are continuing to work with organizations to deploy AR navigation at key locations, and are also moving deeper into retail stores," Hart told us.
Dent Reality previously debuted a retail-focused AR platform appropriately named Retail AR. That's curiously similar to rumors of an Apple retail-based AR system revealed in an iOS 14 leak. Apple is said to be testing integrating the system at Starbucks and Apple Stores.
Apple's broader AR developments
Apple's AR endeavors, in their current consumer-facing form, mostly revolve around ARKit, its software development platform for AR experiences. But Apple has quite a lot of other AR-related initiatives in the works.
For one, Apple recently introduced indoor maps to its Apple Maps platform in iOS 13. Currently, the navigation was focused solely on top-down mapping, but Dent Reality's announcement suggests that actual indoor navigation using AR is soon to be added — both to businesses and to consumers.
Perhaps most notably, Apple is rumored to be developing some type of headworn AR or mixed reality (MR) headset or glasses. That's especially relevant in this case because indoor AR navigation is a technology that's seemingly much better-suited to a head-mounted wearable than a smartphone.
Apple is currently testing AR software systems using an HTC Vive-like controller. It also recently debuted a new version of ARKit that takes advantage of the LiDAR sensor in the new iPad Pros and filed a patent for AR virtual assistants.
There are also ties to unrelated technologies like Ultra Wideband (UWB), which appeared in the latest iPhone 11 and iPhone 11 Pro devices. While rumored to be a core technology of an upcoming Apple tracking device, noted Apple analyst Ming-Chi Kuo also believes that the UWB technology could also provide ultra-precise location data for indoor navigation.
Hart said that Apple hasn't revealed much about UWB to developers, but added that Dent Reality is "always open to newer technologies" that could help them build the best user experience.