Apple's loosening of App Store fees lets Amazon enable purchases, rentals in Prime Video app for iOS [u]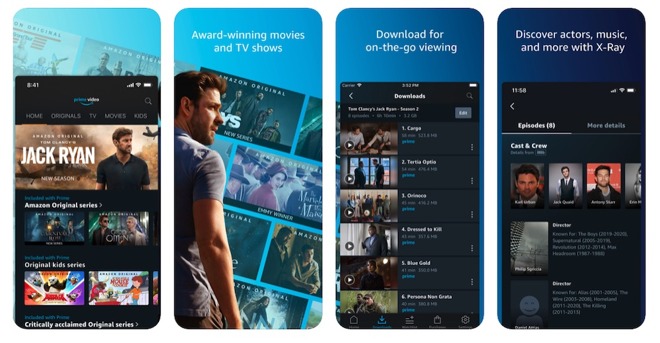 After years of going without, Amazon's Prime Video app this week finally added support for in-app purchases and rentals of video content on iPhone, iPad and Apple TV. The new capability arrives as Apple announced a program that exempts certain video subscription services from a statutory 30% cut of in-app purchases.
Previously, the Prime Video app forwarded users to a separate web page in a browser window to make purchases, a roundabout solution designed to avoid Apple's 30% cut of in-app purchases. That changed today when Amazon integrated in-app purchase options that allow users to browse, rent and buy new content within the Prime Video app. Going forward, a popup message will notify users of the change when they first open the app.
The online retail giant is apparently taking advantage of an "established" Apple initiative that affords special App Store dispensations for video apps.
"Apple has an established program for premium video subscription providers to offer a variety of consumer benefits. These include integration with the Apple TV app, AirPlay 2 support, Siri support, tvOS apps, universal search, and where applicable, single or zero sign-on," Apple said in a statement to AppleInsider. "On qualifying apps such as Amazon Prime Video, Altice One, and Canal+, customers have the option to buy or rent movies and TV shows using the payment method tied to their existing video subscription."
Typically, Apple charges a 30% fee for all in-app purchases and subscriptions, with the figure dropping to 15% on subscriptions over a year old. To offset the effective App Store surcharge, some app makers — like Google and Spotify — charge slightly more for subscriptions and in-app purchases processed by Apple.
The Verge reported on Amazon's Prime Video addition earlier today.
The new purchase behavior is now available in the Prime Video app for iOS, iPadOS and tvOS, each of which saw server-side updates to introduce a new Store tab in which users can rent or buy content, including films that have launched on digital early due to the COVID-19 pandemic.
Updated with statement from Apple.