ecobee launches HomeKit security system with camera, door tags, monitoring service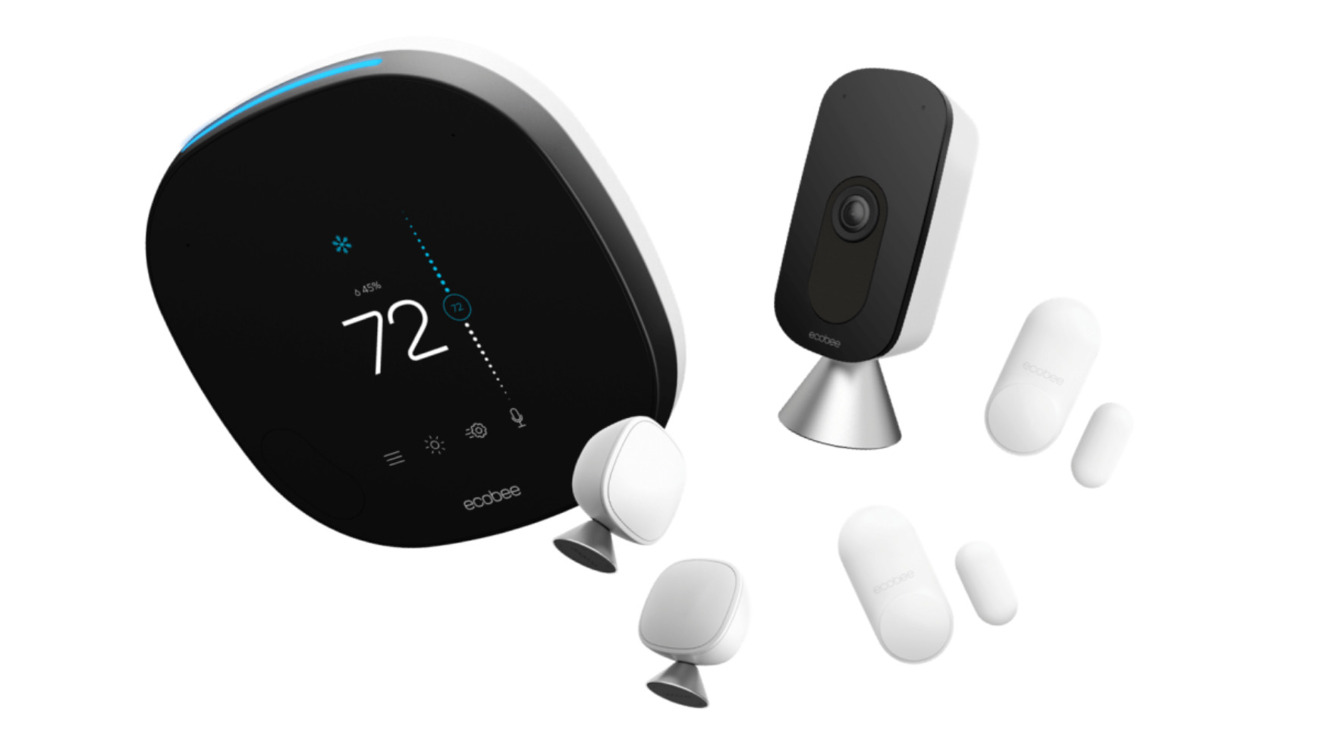 AppleInsider is supported by its audience and may earn commission as an Amazon Associate and affiliate partner on qualifying purchases. These affiliate partnerships do not influence our editorial content.
After months of leaks, ecobee has officially released its new HomeKit-equipped security camera, as well as a new set of door and window sensors which can all be paired with a new home monitoring service dubbed Haven.
After primarily focusing on its Smart Thermostat, the most recent of which launched last year, ecobee is launching a wave of new products.
There have been bits of information leaked out for months prior to the official launch. With the launch now here, the full picture is revealed.
The camera records at 1080p and features a 180-degree field of view. It features two-way talk, person detection, night vision, Smart Focus that keeps your eyes on the action, and activity zones to cut down on notifications. It also has Amazon Alexa built-in that can be triggered hands-free, similar to an Echo Dot or ecobee's Smart Thermostat.
All video is encrypted and processed locally, supports two-factor authentication, and shuts down when family members are around. Two weeks of video history is stored when subscribing to Haven.
HomeKit support is baked into the camera though HomeKit Secure Video is absent at launch. Ecobee says it is something they are actively working on and will likely come down the line.
The second new product for ecobee which previously focused solely on connected thermostats is a new set of door and window SmartSensors. The SmartSensors only monitor when doors and windows are opened or closed, and they have a presence sensor to detect when someone is or isn't in the room. This allows these sensors to know when someone is coming into the home versus going. They too support HomeKit.
Both the camera as well as the new sensors get more powerful when combined with ecobee's last new product — Haven. Haven is a home monitoring subscription that helps you monitor your home and nixes the need for keypads or fobs.
Haven monitors doors and windows to let you know when they are opened when you are away. It will auto arm and disarm as you arrive or leave the home and send smart notifications only when necessary. The service provides 14 days of video history for a connected camera.
Haven will run $5 a month for one camera or $10 a month for unlimited cameras and includes home monitoring. The new SmartSensors for doors and windows run $79 for a two-pack — the same as the standalone SmartSensors for the thermostat that also detect occupancy. Finally, the new ecobee SmartCamera costs $179 which is a bit on the high side when we see new HomeKit cameras launching for as low as $39.99.