Compared: Magic Keyboard versus Brydge Pro+ for iPad Pro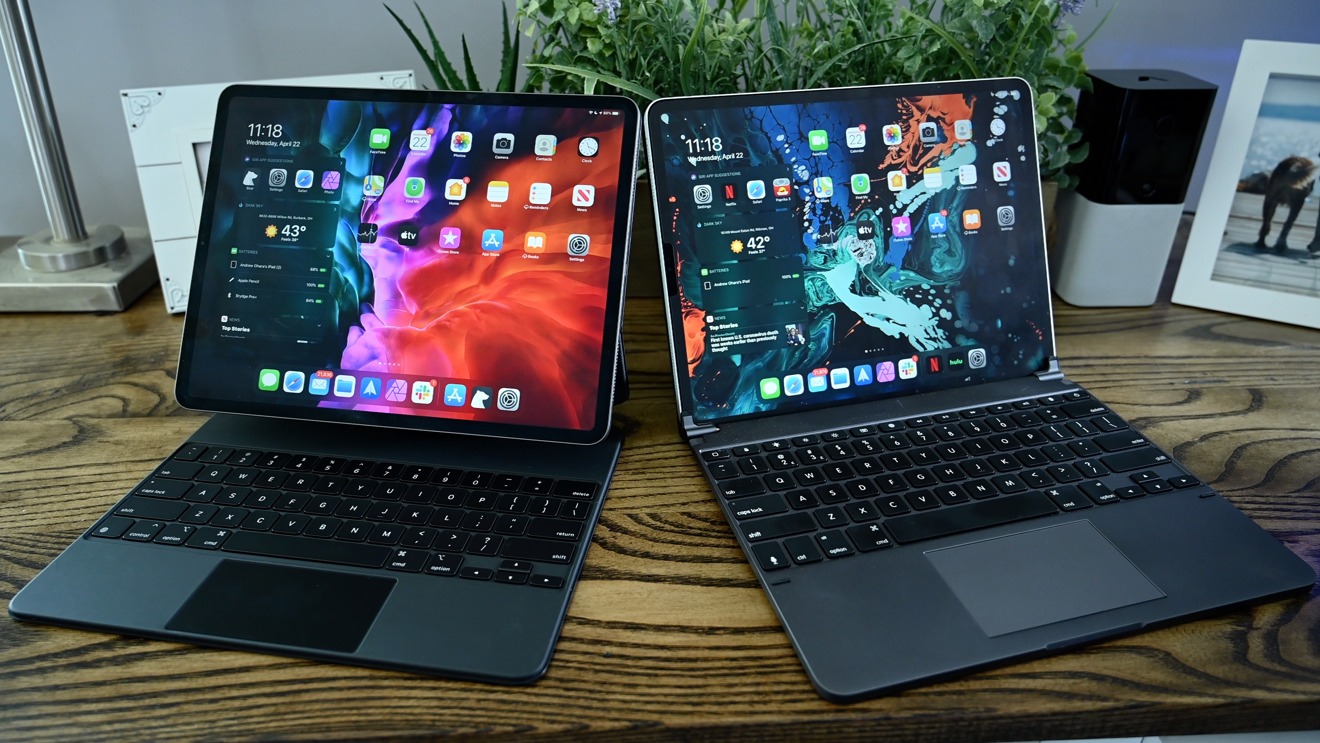 AppleInsider is supported by its audience and may earn commission as an Amazon Associate and affiliate partner on qualifying purchases. These affiliate partnerships do not influence our editorial content.
Apple's Magic Keyboard for the iPad Pro with a floating design, backlit keyboard, and glass multi-touch trackpad is now available. We compare it to the new Brydge Pro+ to see which device wins out in features and quality.
Brydge Pro+ and Magic Keyboard similarities
Both of these premium-quality accessories fit the same models of iPad Pro. There are versions for both the 11-inch and 12.9-inch sizes of the 2018 and 2020 iPad Pros. With the Logitech Combo Touch only available for older iPads at the moment, these are the only true options that users have if they want a keyboard and trackpad combo.
Each of them sport fantastic build quality, with Brydge being made up of aluminum with a glass trackpad while the Magic Keyboard has a vinyl exterior with metal hinges and a glass trackpad of its own. Both manufactures can also push firmware updates to these devices, making sure they stay up to date and compatible with the latest iPadOS updates.
There are full backlit keyboards on each, an adjustable hinge to set your preferred viewing angle, and protection for the display of your iPad.
From there, these two excellent productivity tools begin to diverge.
Apple's Magic Keyboard
Apple's own Magic Keyboard sets the bar in terms of what an iPad Pro keyboard should be. Rather than rely on Bluetooth, Apple uses the Smart Connector which means you never have to charge the keyboard. As long as your iPad Pro has power, so does your Magic Keyboard. An additional USB-C port on the hinge makes this even easier to manage.
To connect your iPad, just bring it near and the magnets do the rest. They pull the iPad into place and hold onto it well. As we adjusted it, it never misaligned or came free errantly.
The keyboard itself has a great amount of key travel with very solid keys. There is a small amount of key wiggle compared to the 16-inch MacBook Pro, but not much at all. Brydge has a higher degree of wiggle to the keys, often with us having the occasional keystroke not register.
The backlight is near perfect, with almost no light leak around the keys. Brydge has quite a lot of backlight leaking around the keys which can be distracting, especially depending on your viewing angle.
To no surprise, Apple nailed the trackpad as well. It is decently sized, though can feel cramped if you are used to the larger ones on a MacBook Air or MacBook Pro. It supports multi-touch gestures for going to the home screen, accessing the app switcher, and moving between apps. Not to mention two-finger swipes to go back inside of apps, two fingers for scrolling, and pinching for Maps and Photos.
Apple also managed to enable clicks around the entire trackpad surface. Brydge uses a diving board style trackpad which means the far end is fixed, allowing the rest to flex and click. This hurts the user experience when you try to press down and it simply doesn't let you.
Brydge Pro+
The Brydge Pro+ keyboard has a full row of function keys above your standard keys. These make it easy to control media, lock the iPad, adjust volume, and even control brightness.
Apple decided not to include these function keys, which is disappointing. It makes manually adjusting the keyboard backlight on Apple's offering much harder, requiring users to dig into settings.
A Control Center toggle for this could go a long way. Apple's keyboard does adjust automatically based on the room's ambient light, but if you do want to adjust it on your own it isn't as simple as it could be.
Brydge Pro+ also has a far better angle variance. Brydge Pro+ can go from 0 degrees while closed to 180 degrees when fully opened. Magic Keyboard restricts movement to only around 125 degrees. If you want it to go further back, you're out of luck.
The trackpad on Brydge Pro+ is bigger than the Magic Keyboard, which would be better if it supported all the gestures that the Magic Keyboard supports. But, in our testing, we're seeing some lag between user input, and the movement of the pointer on the iPad screen. This isn't great.
The Brydge Pro+ is much more affordable than the Magic Keyboard. It still maintains a premium price tag, but at $199 for the 11-inch, it comes in at a hundred dollars less than Apple's offering.
Which should I buy?
If money is no object, then go with the Magic Keyboard. It has a better design, keyboard, and trackpad. The physical Smart Connector reduces any lag, of which can be a frustrating problem with Brydge's trackpad.
| | Brydge | Magic Keyboard |
| --- | --- | --- |
| iPad support | 2018 and 2020 11-inch and 12.9-inch iPad Pros | 2018 and 2020 11-inch and 12.9-inch iPad Pros |
| Material | Aluminum | Metal and vinyl |
| Function keys | Yes | No |
| Backlit keys | Yes, adjust through function keys | Yes, adjusted automatically |
| USB-C Port | USB-C input for charging keyboard | Additional USB-C for charging iPad Pro |
| Connectivity | Bluetooth | Smart Connector |
| Supported angles | 0 to 180 degrees | 0 to 125 degrees |
| Price | $199 and $229 | $299 and $349 |
However, if you are willing to compromise and still want an excellent keyboard with a functional trackpad, Brydge can save you some cash while still delivering a quality typing experience.
Where to buy
The Magic Keyboard for Apple's new iPad Pro is available to purchase from Adorama, Amazon and B&H Photo. The 11-inch version costs $299, while the 12.9-inch version retails for $349.