Despite an unassuming nature, iPhone SE is the best deal in tech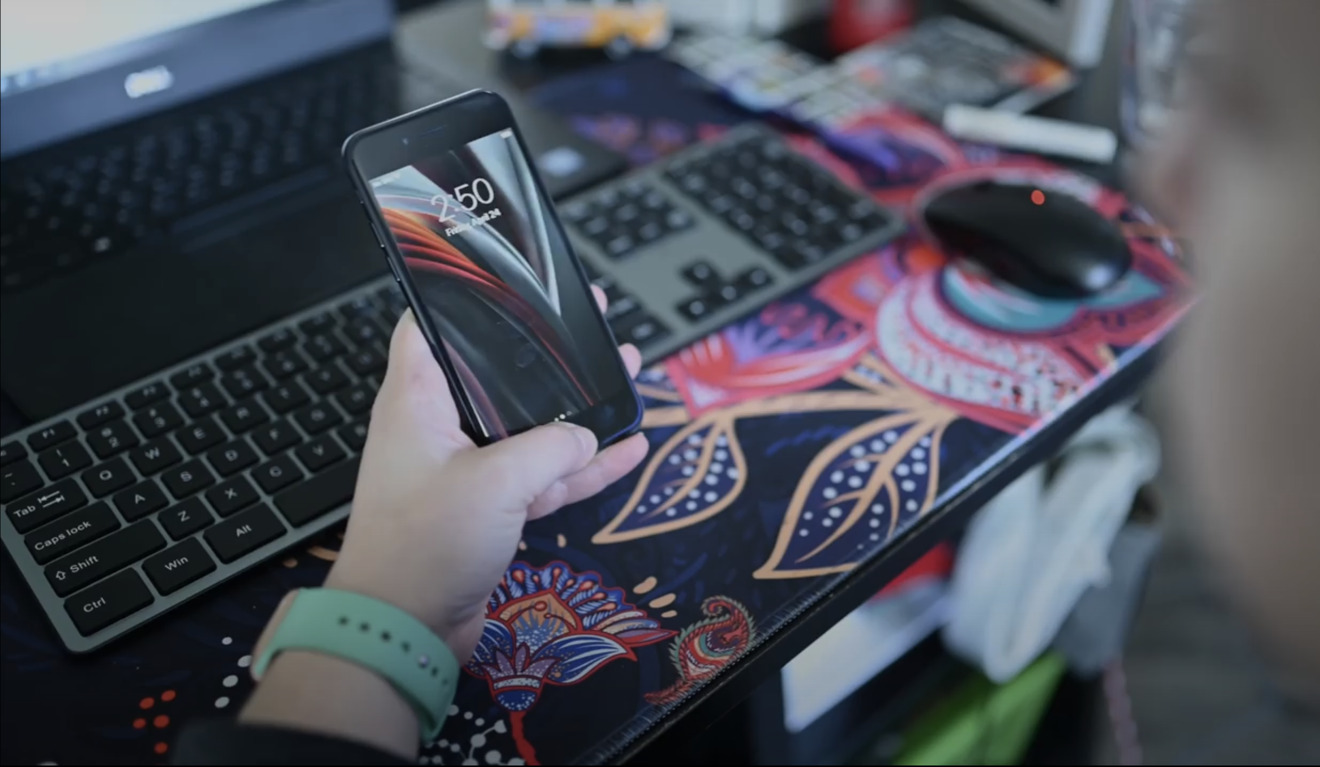 AppleInsider is supported by its audience and may earn commission as an Amazon Associate and affiliate partner on qualifying purchases. These affiliate partnerships do not influence our editorial content.
Apple finally answered the call many users had asked for with the 2020 iPhone SE. While the device doesn't come with a flashy new design, or a four-inch form factor, Apple's budget-friendly offering is an absolute steal.
The updated 2020 iPhone SE. Apple's replacement of a four-year old device that is much beloved for its low cost, compact size, and physical Home button. While this unassuming, mid-cycle, revamped iPhone 8 may not look as exciting on the surface it is absolutely the biggest deal in tech.
It is clear that the 2020 iPhone SE is a good value. It's an iPhone that costs less than $400 and holds up very well with comparable Android handsets.
It has a display that isn't too big, nor too small. It also has a comfortable amount of starting storage, a capable 12MP camera with portrait mode, Haptic Touch, wireless charging, a Home button, Wi-Fi 6, and more.
But detractors are quick to note some rather superficial deficiencies. For example, it doesn't have an OLED display (for the record, neither does the pricier iPhone 11). Nor does it have an ultra-wide lens, tele lens, or more than 12MP.
We look at the Pixel 3a which does have that OLED display or the Galaxy A51 which sports 48MP on that wide-angle camera. It would be easy to think that Apple is slouching and falling behind — yet it couldn't be further from the truth.
The most important aspect of the iPhone SE isn't the camera or display, both of which are solid — it's the A13 Bionic processor.
It's all about that A13 processor
Apple is using its A13 Bionic processor, and if that name sounds exceedingly familiar, it is because it is the same chipset used in the iPhone 11, iPhone 11 Pro, and iPhone 11 Pro Max. It's most capable phone processor used in its most affordable handset.
Comparing the iPhone SE against an iPhone 11 Pro, there is a bit of a difference. Apple's iPhone 11 Pro earned a 1323 and 3303 on the single-core and multi-core tests in Geekbench 5.0.2, compared to 1332 and 2322 for the iPhone SE. Single-core remains unchanged, but multi-core is a bit slower, possibly due to heat, concerns for battery life, or other physical restraints in the iPhone SE.
Even though Apple made that small concession, it still fares shockingly well against the other Android sets.
Even against the flagship Galaxy S20+, the 2020 iPhone SE holds its own. That Samsung flagship was only able to earn a 748 in the single-core compared to 1332 for the iPhone SE, and 2645 for the multi-core on the Galaxy S20+ versus 2322 for the iPhone SE. Apple's budget handset is able to trounce a high-end Galaxy phone in the single-core tests and nearly on par when it comes to multi-core.
2020 iPhone SE Value
When shopping for a budget handset, users are likely paying more attention that most when it comes to which phone is a better value, how long it will last, and what it may be worth when they decide to part ways many years down the line. Those all further contribute to why the iPhone SE is such a steal.
A recent Yale-backed study of over 500,000 smartphones revealed how iPhones have a longer lifespan than the corresponding Galaxy device. The study says on average, Samsung phones last 54.5 months while iPhones end their economic life after 67 months. That is more than a year of extra use over Samsung.
Part of that is manufacturer's support of these devices.Apple continues to bring new features and updates to this phone as part of iOS 13 five years after its release, like the iPhone 6s that is still supported in early 2020. That is a flagship so long support should be expected, but the budget-friendly original iPhone SE is also still supported by new features, four years after launch.
The Galaxy S6, which launched in a similar 2015 timeframe of the iPhone 6s, doesn't have quite the same story. It received its last major update in 2017 when it was updated to Android 7 Nougat. Android 7 launched nearly a full year prior to availability on the the S6. It received its last major security update in 2018, only a few years after launch — and the Galaxy S6 was a flagship device.
Because these phones work more years and are supported for longer amounts of times by their manufacturers, that contributes to their resale value too. Apart from just brand cache. This isn't exactly new, but it is worth looking at the current values of aging handsets on the secondhand market.
If we go back to the iPhone X and look at what the device actually sells for on eBay right now, we are seeing this phone go used for $350 and up on average. The comparable Galaxy S8 is selling for only around $100 in similar condition. If you take their original MSRP values into consideration, the Galaxy sells for roughly 15 percent of its value while the iPhone X sells for 35 percent of its original value.
The iPhone SE is an incredible combination of value and features
It's clear that iPhones retain a higher percentage of their original value, work for much longer, and are supported for larger bouts of time by Apple. If you are looking, and trying to decide between an Android handset and an iPhone SE that both cost roughly the same $399, one of those is absolutely a better value.
The fact one can pick up a $400 iPhone with the top-of-the-line processor that all but guarantees it will continue to receive updates and work for at least the next five years is incredible. You don't have to pay flagship prices to get a guaranteed reliable phone. There are plenty of people don't need the best camera or are in professions that make Face ID difficult, making the SE a perfect option without skimping on performance.
Say what you want about Apple using the iPhone 8 body or the lack of an ultra-wide camera. The 2020 iPhone SE was designed with a clear market segment in mind, and absolutely hits that target.
In the broader smartphone market, dominated by budget Android handsets, the iPhone SE still manages to be an absolute steal.
Ways to save on Apple's new iPhone SE
Wireless carriers are offering aggressive discounts on the new iPhone SE, from $200 off the device to a free iPhone SE 2 with eligible trade. Check out the savings in our iPhone SE deals roundup.