Apple on track for massive App Store growth in Q2, analyst says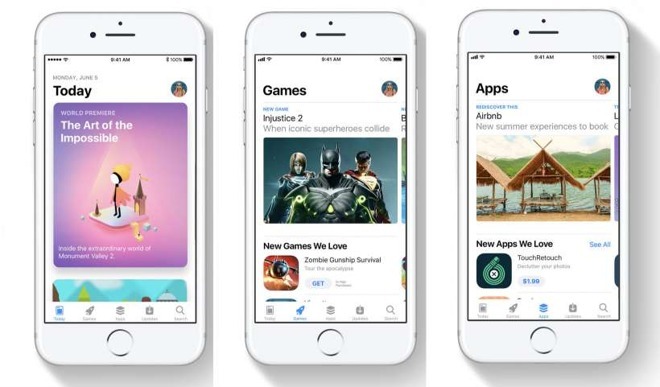 Apple's App Store growth has jumped to multi-year highs and consumer spending on electronics continues to improve amid the COVID-19 pandemic, according to investment bank Morgan Stanley.
In a research note seen by AppleInsider on Wednesday, Morgan Stanley analyst Katy Huberty said the firm is tracking improvements across several facets of the IT hardware industry.
For one, preliminary data shows that App Store growth is off to a strong start in the June quarter, with net revenues growing at least 31% year-over-year to $1.7 billion. That's well above the company's previous 18% year-over-year forecast.
Total App Store downloads also grew 40% from the year-ago quarter, the largest growth since Morgan Stanley began tracking download data in 2015. The analyst does expect App Store growth rates to peak in the June quarter as countries began to ease coronavirus lockdown measures — the primary factory that Huberty believes is driving the outperformance.
In another promising metric for Apple, Huberty writes that consumer electronics spending intentions continue to improve.
According to 2,000 respondents surveyed by Morgan Stanley's AlphaWise service, current and future consumer electronics spending intentions have reached their highest levels last week due to more respondents saying they'll spend more and fewer expecting to spend less.
As Huberty points out, this is an important metric to watch, since investors are questioning whether the uptick is due to government stimulus or something more sustainable.
Morgan Stanley has also updated some of its China air quality graphs, indicating that Apple's supply chain in cities like Shenzhen and Zhengzhou have reached historically "normal" levels as of May 4.
Lastly, the analyst said it expects Apple to continue reopening stores as countries ease travel restrictions. By May 7, Apple is set to open 75 out of its 510 total brick-and-mortar locations, including Apple Stores in South Korea, Austria and Australia.
In the coming weeks, the investment bank will also keep a close eye on metrics like early Apple supply and demand data points from China and IT hardware data from IDC.