Review: Sony X800H HomeKit TV is an excellent mid-tier set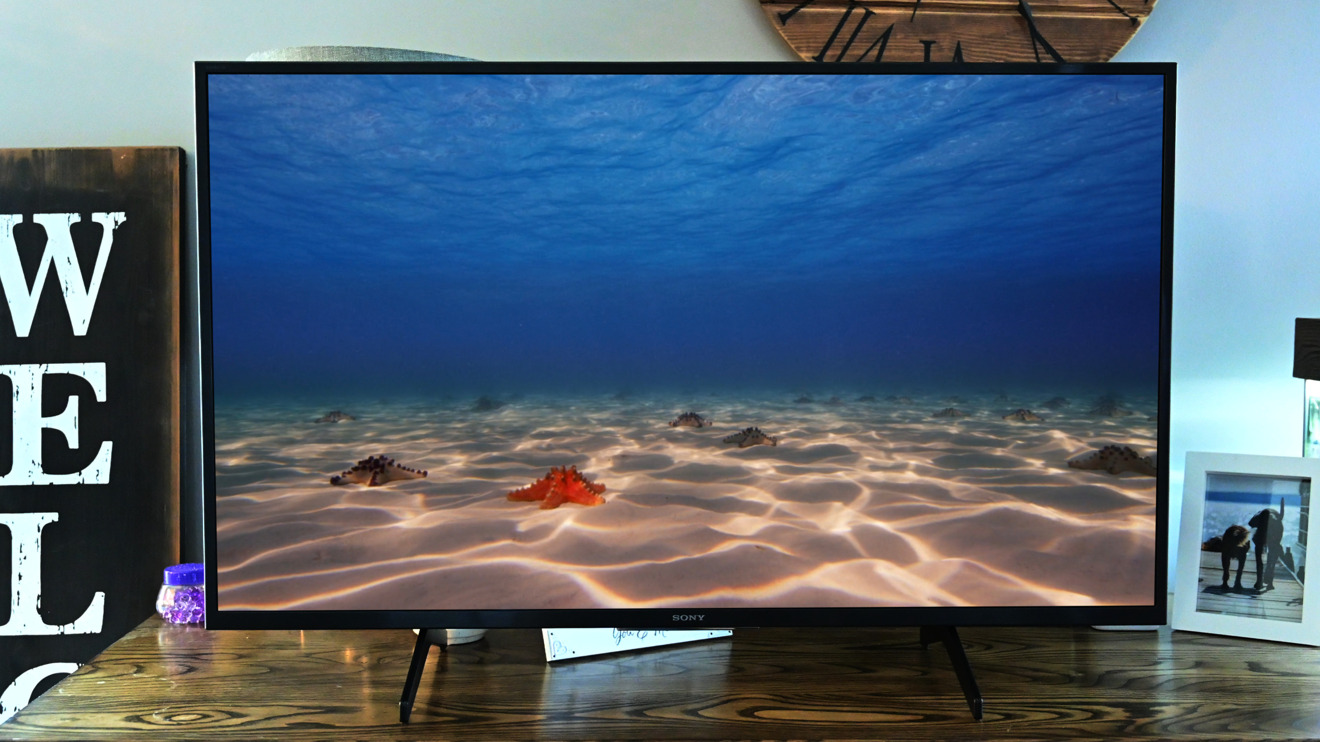 At CES 2020, Sony unveiled a new line of 4K and 8K TVs, destined to be released during the year. They finally have now gone on sale and we were quick to pick one up to test it out.
The 2020 Sony TV lineup is quite encompassing, spanning several different sizes in both 4K and 8K variants. We chose the X800H 43-inch model, which features a Sony X1 processor, 4K resolution, HDR10 and Dolby Vision support, Dolby Atmos support, dual 10W speakers, 802.11ac Wi-Fi, Google Assistant voice search, and HomeKit.
Design
Sony has kept a relatively modern design with its new line of TVs. The bezel is very narrow around the edges which helps it blend in — or gives you an excuse to jump up a size. We replaced a 46-inch set with a 43-inch set, and between the smaller bezels and overall smaller size, we wish we'd have opted for the 49-inch instead.
The stand is comprised of two angled arches that go on the left and right side and are installed with a Philips screwdriver. These look nice with a brushed finish, but do feel a bit plastic-y. This is an entry-level set and the whole thing has a bit of a plastic feel, but Sony does a good job of masking it until you touch it.
We'd say the biggest thing with the legs is because they do stick out towards the front, if you plan on placing a soundbar in front of the TV it will have to sit out a little bit. If you mount it on the other hand, this won't be an issue.
As far as ports are concerned, there are two USB ports on the side, above three HDMI ports. One of the side HDMI ports is the ARC port if you are using a soundbar such as the Sonos Beam or Polk Command Bar that rely on the audio return channel for processing audio.
The back of the set includes another HDMI port, composite video input, an RS-232C serial port, optical audio output, and a 3.5mm audio output.
This is a solid, if unexciting, medley collection of ports. We are most thrilled by the inclusion of four HDMI ports for connecting a multitude of devices, though we'd have preferred perhaps two HDMI ports on the back, because it looks a bit cleaner and it is easier to hide the cables. If you unplug your devices a lot, side ports are obviously better.
As is typical, Sony has hidden the on-TV controls around back. They reside behind the back-right side of the display, easily reachable with the tips of your fingers while looking at the front of the TV. The physical controls include volume rockers as well as the power toggle.
Sony did its best to keep the TV slim, which is why it has an external power brick. This is a technique more often seen with portable electronics such as Apple's MacBooks, as Apple could integrate the power supply and leave you with just a small AC power cable, but includes the 61W to 96W power bricks to keep the main unit portable.
Devices that are typically plugged in — Apple TV, Mac Pro, Mac mini — all have internal power supplies but it adds to their size.
Here, the cable plugs in with a simple barrel connector and an inline power brick must be dealt with. It is rather hefty and we can see it possibly being an issue with some mounted TVs if you are tight on space.
Again, it is a compromise because the set itself is quite thin, especially towards the top. Most people, won't rightly care or notice this aspect.
The remote is a simple affair, not much different than the year-ago versions. Due to this being a cheaper set, it still has a brushed exterior but it is plastic rather than the metal the higher-end sets receive.
Setup
The setup process for televisions continues to elongate. With this TV, you have to first go through the Android TV setup process before going through the Sony Bravia setup process which is more annoying than it is helpful.
This is felt especially when it gets repetitive, such as asking for what country you are in multiple times.
It's what happens when a TV manufacturer puts Android on top of its own OS. The Sony setup process is about setting up inputs and TV preferences whereas the Android setup is more about installing third-party apps and connecting to Wi-Fi.
Speaking of which, if you have an Android smartphone, it does simplify the process a little bit by automatically signing into your Google account and configuring Wi-Fi. This is very similar to Apple's setup process for new devices via proximity.
During the setup process the TV also asks you to set up HomeKit and/or AirPlay 2. More on that in a moment.
Video quality
A TV isn't worth anything if it produces a crummy image. But for an entry-level set, the Sony X800H is a great bargain for many forms of content.
We tested the TV with some of the built-in Android streaming apps as well as with an Apple TV HD and an Apple TV 4K. We wanted to test the quality of streaming via the included apps, with legit 4K Dolby Vision HDR content from iTunes, and how upscale 1080P content would look.
Upscaled content from our Apple TV HD looks a million times better than it does on a 1080P TV. We've seen some questionable upscaling but Sony did a fantastic job thanks to its X1 processor in there that results in no errant artifacts.
There are pretty great viewing angles which are great for a big living room but also when used as a monitor. This TV has no chance of burn-in which is perfect for a monitor as well as is the spectacularly low response time, while Gamers will also love this TV for that low input lag.
Color accuracy seems quite good out of the box and vivid colors overall, with HDR and Dolby Vision content offering a solid experience. It shined most with explosions and other content where brightness ramps up. The TV can get very bright during these HDR moments, to incredible effect.
The biggest drawback we saw with the picture quality was the contrast level, as blacks came off as grey in dim rooms. There is no local dimming, which doesn't help those dark shades.
HomeKit and AirPlay 2
For Apple users, HomeKit and AirPlay 2 are some of the most important features in a good TV these days. Fortunately, it is Sony's spot-on HomeKit implementation that caused us to once more choose a Sony set.
Last year, we picked up the X950G series as a replacement for our Vizio set, which had an abysmal HomeKit setup. It never responded and we struggled every time we tried to use HomeKit with it.
The Sony X950G never had that issue, and is also top-notch in this regard. That is part of the difference between a budget-friendly Vizio set and an upper-level Sony.
HomeKit setup happens right as you walk through the getting started guide but it can also be set up later via settings. The TV can be configured to just use AirPlay 2 to cast audio and video or it can be set up also with full HomeKit support.
With HomeKit enabled, the TV can be powered on and off from within the Home app and the input can also be changed. These can be changed through Siri too, or configured into scenes. This means it can be automated, such as turning off when you leave the house or tell Siri goodnight.
The Home app can also open up TV settings. Each input can be named in the Home app to make swapping between them from the app or via voice easy and intuitive.
HomeKit TVs can be controlled via the Remote widget in Control Center as well. Right from Control Center, you can play or pause video playback (think those third-party video apps), go back, navigate around, and pull up the on-screen menu.
There are a lot of TVs that support apps but having it built right into the OS is clearly better and much easier to use. HomeKit is the best of all as it works through any Siri device. The Apple TV can tell the TV to turn off, as can Siri on HomePod, Mac, Apple Watch, iPad, and iPhone.
Because the TV also has AirPlay 2, it can act as a receiver for any audio or video cast from your bevy of Apple devices. Mirror the screen of your Mac, cast a YouTube video from your iPhone, or stream music to multiple rooms and TVs via HomePod.
If you have an Apple TV, this is less useful and can confuse as both show up.
Should you buy Sony's 2020 X800H TV?
The picture quality on the X800H is fantastic, with high brightness, sharp images, great color accuracy, and wonderful upscaling. Once again, our only complaint is the just ok contrast ratio.
Due to its Android operating system, the TV has a ton of apps available from the Play store and the remote even double-downs on Google with a Google Assistant button right on the remote. If you are looking for a smart TV, this will likely suffice.
If you are in the Apple ecosystem though, you will be pleased with its excellent support of HomeKit as well as AirPlay 2. Without an Apple TV, you can cast audio and video right to the TV.
Mid-tier price with high-end features
Perfect HomeKit & AirPlay 2 support
Great color and 4K upscaling
Dolby Vision a HDR10 support
Many inputs on back and side
Clean, modern look
Contrast is only average
Comprising build quality replaces metal for plastic
Side ports can messy-looking depending on your home setup
Android setup can be repetative
Rating: 4 out of 5
Where to buy
The new lineup of Sony's TVs is available now. The budget-friendly X800H series begins at goes from 43 inches to 85 inchesstarting at $598 on Amazon with Prime shipping.