Magic Keyboard teardown reveals 'elegant' lever-based trackpad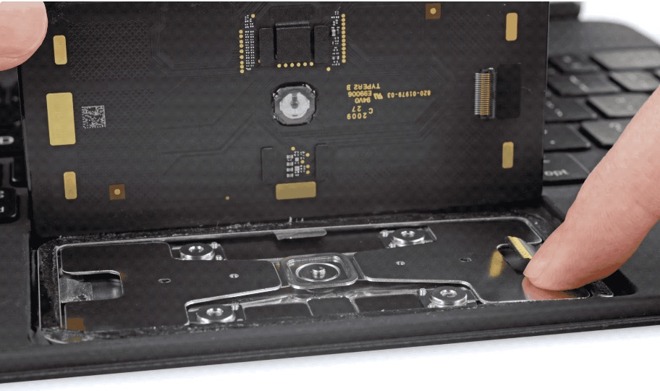 AppleInsider may earn an affiliate commission on purchases made through links on our site.
Repair site iFixit has completed a preliminary teardown of the trackpad on the iPad Pro Magic Keyboard and revealed a few interesting details about the accessory.
Due to the coronavirus, iFixit hasn't been able to complete a full teardown of the new Magic Keyboard accessory. But earlier in May, the site did share a series of X-ray photographs revealing the innards of the device.
Since the so-called X-ray teardown, the folks at iFixit were actually able to deconstruct the trackpad of the Magic Keyboard with just a "little bit of heat and an opening pick."
Once they got past the adhesive holding the assembly down, they discovered that the trackpad is actually just a single button with an "elegant lever system." Previously, iFixit theorized that the trackpad featured multiple physical buttons.
"When you apply pressure near the center, whether top, middle, or bottom-center, you are directly pressing the button," iFixit writes. "Press near the top, bottom, or one of the corners, however, and the lever system comes into play."
That lever mechanism actually forces the contact plate in the center upward, which results in a click. The site also notes that the lever system covers the perimeter of the trackpad as well as the corner areas. Unlike most trackpads, the switch and circuitry are embedded in the assembly's top section instead of the accessory's chassis. This design change allows for an even distribution of input points across the entire trackpad surface area.
The site notes that the trackpad appears to be the only part that can be disassembled without major deconstruction of the Magic Keyboard. Because of that, the site says it's likely the last teardown they can carry out until a full repair guide is written.