'iPhone 12' image leak claims to show L-shaped mainboard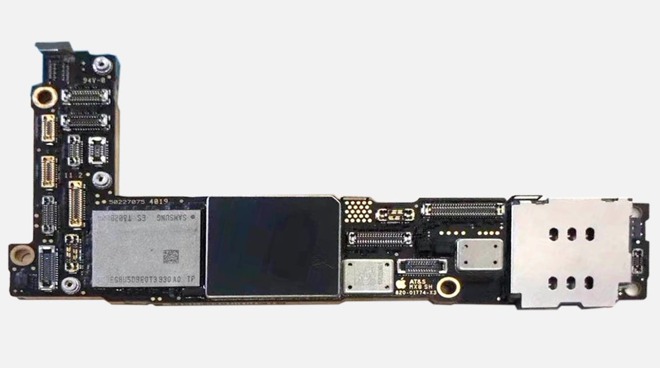 AppleInsider may earn an affiliate commission on purchases made through links on our site.
A leaked photo has surfaced via Chinese social media that allegedly depicts the mainboard used for the "iPhone 12," a circuit board that was supposedly produced around the time of the launch of the iPhone 11.
Teardowns of iPhones in the past have revealed changes in Apple's design philosophy for the internal components over time. For the iPhone, it moved from a single-layer mainboard to a double-decker version which is still used in the iPhone 11, but it may make more changes for the "iPhone 12."
An image leaked by @Mattia_fb on Twitter, in response to a statement made by Apple leaker @L0vetodream, is said to be intended for use by Apple in the iPhone 12. The image is claimed to have been leaked out via Chinese social media, and was produced in 2019.
The original tweet in the thread mentioned that the board was produced "in 2019, the 40week," presumably describing when it was made. The 40th week of 2019 runs from September 29 to October 5, roughly a week and a half after the release of the iPhone 12.
The photograph itself, if genuine, offers few clues about the upcoming model's capabilities, aside from being equipped with Samsung memory, but it does hint at Apple changing how it designs the mainboard once more. The version seen in an iPhone 11 teardown is a long rectangular piece consisting of multiple layers, but the image shows an L-shaped board instead.
Apple has used L-shaped mainboards in the past for its products, shaping the circuit board to fit around other components, such as the battery. On iPhones, the iPhone 8 was the most recent design to take advantage of an L-shaped mainboard.
It seems plausible that Apple could still continue using a multi-layer design with the "iPhone 12" based on the image. Combining the two techniques will allow for a densely-packed mainboard that takes up only as much space as it requires.
While both @Mattia_fb and @Lovetodream have favorable track records on Apple product leaks, it is still entirely plausible that the image shows something else. Aside from Apple branding on the board itself, it could be used in another product, or may even be a prototype that isn't intended for production.