Just as it ends, 'Defending Jacob' looks like the most popular Apple TV+ show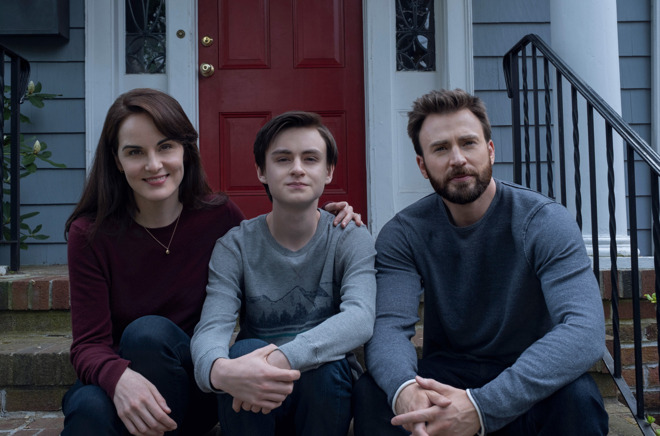 AppleInsider may earn an affiliate commission on purchases made through links on our site.
Apple doesn't release ratings data, but third party data says the limited series "Defending Jacob" is the closest thing the service has to a breakout hit.
Since Apple TV+ launched in November 2019, it hasn't had seen any of its shows emerge as a massive, culture-grabbing smash. But in recent months, there have been various indications that Defending Jacob has been something close to a breakout for Apple.
What are the "Defending Jacob" ratings?
There are, it's important to point out, no "official" numbers for the viewership of Apple TV+ shows. Apple has never released such numbers, while Nielsen, usually the arbiter of network and cable TV ratings, does not measure Apple's shows.
"According to sources, Defending Jacob ranks among the top three series premieres for Apple TV+, logging a big opening weekend with viewership continuing to build in Week 2 and the audience growing by five times in its first 10 days (April 24-May 3) to rank among the two fastest-growing series premieres for Apple TV+," Deadline's Nellie Andreeva wrote.
Whether the "sources" quoted came from within Apple or not is unclear, but Andreeva also reported that the series "is believed to be setting Apple TV+ records for viewer engagement," and that most viewers who watched the show on its premiere weekend watched all three episodes that were made available at launch.
Demand is high for "Defending Jacob"
AppleInsider has obtained some other data that seems to indicate that Defending Jacob is indeed the most popular recent Apple TV+ show.
The research firm Parrot Analytics measures demand for TV shows. It ranks shows by a variety of factors. Parrot calls its methodology "a holistic measurement of the whole consumer journey what we're looking at is a combination of different buckets that we include- social media, social video, research and probably, most importantly, peer-to-peer downloads."
The company also found that demand over the previous 30 days for the show had increased 141.7 percent.
In the May 12 to May 18 period, Parrot showed the demand distribution of Apple TV+ shows. The highest score went to Defending Jacob, then at 27.6 percent, which was nearly triple the second-highest-rated show, See, which debuted at the service's launch last year.
The Morning Show was third, followed by Carpool Karaoke, which is not an Apple TV+ original show, but is included in Parrot's calculations as an Apple-produced show.
Parrot's Global Television Demand Report, which took into account the entire year of 2019, found that while none of the Apple TV+ shows that debuted in 2019 had as much demand as Disney+'s The Mandalorian (demand score: 25.34), several of those early Apple shows — including See, The Morning Show, For All Mankind, Servant, and Dickinson — had higher demand scores than the second-highest Disney+ original show, High School Musical: The Musical: The Series.
"Right now, I'd say Defending Jacob is actually doing quite well, over the course of its run," Wade Payson-Denney, Parrot Analytics' press insights analyst, told AppleInsider in an interview. "It was the fifth-biggest digital original series [its first week], the only shows that beat it out in the U.S. were Star Wars: The Clone Wars, The Mandolorian, Stranger Things,and La Casa de Appel [Money Heist]."
Payson-Denney added that Apple shows, at least until Defending Jacob, have rarely made it into Parrot's weekly top ten lists. The most recent of those lists, covering the dates May 17-23, has Defending Jacob ninth on the list of digital originals, with a score of 29.5.
He also said that such recent Apple TV+ shows as Amazing Stories, Truth Be Told and Servant have gotten decent bumps from their first episodes, although they dropped once more episodes began showing.
Parrot ranks shows in five categories, ranging from "Below Average" to "Average" to "Good" to "Outstanding" to "Exception." According to Payson-Denney, several Apple shows have reached the "Good" category (of between 2 and 8 times average), while a handful have reached "Outstanding" (between 8 and 32 times average.) Among Apple shows, only Defending Jacob, he said, has touched the "Exceptional" zone.
Whether Defending Jacob will have any coattails is another question entirely. Payson-Denney said that "we can track what people are watching after they watch Defending Jacob, and of the top ten shows viewers are going to, none of them are on Apple TV+."
JustWatch weighs in
According to data provided to AppleInsider by the streaming website JustWatch, the top movie or TV show on Apple TV+ in the month of April was the documentary Beastie Boys Story, with Defending Jacob second, followed by another recent debut, Home Before Dark. The Morning Show was fourth, with the April movie The Banker fifth.
However, both Defending Jacob and Beastie Boys Story debuted on April 24, meaning they were only available to watch for about a quarter of the month of April.
JustWatch also found that Apple TV+ has seen a 159 percent increase in streaming since the start of the coronavirus lockdowns, which while positive is considerably less than the increases by Netflix (332 percent), Disney+ (290 percent), Amazon Prime Video (266 percent) and Hulu (159 percent.)
The site was described by JustWatch's Leo Brahm as "an international streaming guide with more than 20 million monthly users across 46 countries. We measure popularity based on different metrics like: how many times was the title added to their watchlist, direct searches, click outs to the streaming service, etc."
The verdict
The rub for Apple, of course, is that Defending Jacob is a limited series, and almost certainly won't be returning with new episodes . Prestige limited series based on novels, such as HBO's Big Little Lies, have had their runs extended before, but the structure of Defending Jacob makes it an unlikely candidate for such a revival, unless the creators want to produce multiple future seasons in which Jacob is accused of a different murder each year, while his father continues to defend him.
It's still very early in the game for Apple TV+, and no matter what happens, Apple has the financial war chest to weather any storm. Recent news about the service, including deals for movies with Tom Hanks and Martin Scorsese, points to prosperity and possibly even Oscars in the future.
However, data indicates that the most popular current TV show on Apple TV+ is the one that's about to go away for good.